South Carolina Gamecocks Football: How Steve Spurrier Plans to Win SEC East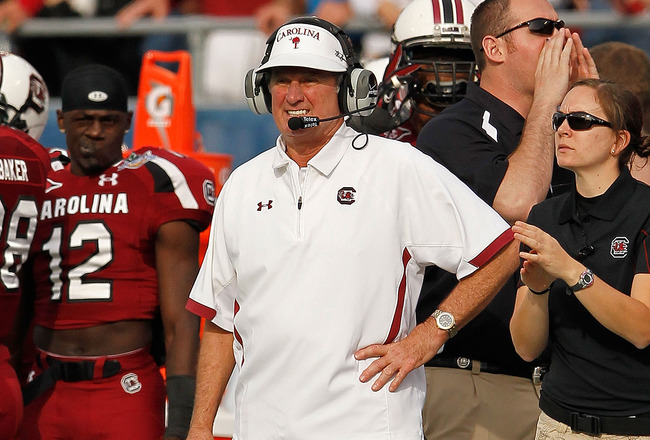 Mike Ehrmann/Getty Images
It's true. The South Carolina Gamecocks face an uphill battle in trying to win an SEC East title.
Georgia is loaded and got lucky with their schedule. Florida and Tennessee should be improved. Missouri is no slouch. Vanderbilt could be a tough opener. Kentucky sucks.
However, Steve Spurrier has a team built to win now and win big.
He's got every piece in place to make a big run, and if the ball bounces in his direction once or twice, you could easily see the Gamecocks hoisting the big hardware at the end of the year.
Power Running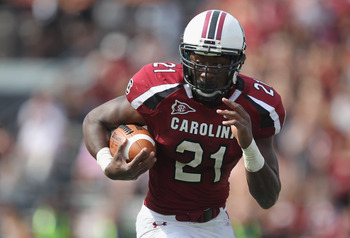 Streeter Lecka/Getty Images
The offense will begin and end with a power running game led by the incomparable (and healthy) Marcus Lattimore.
He's not all they have though. The team is loaded at running back. Kenny Miles and Brandon Wilds could start on numerous SEC teams. They have two speedster/change-of-pace backs in Shon Carson and Mike Davis.
This team will be devastating in its ability to run the football.
Stifling Defense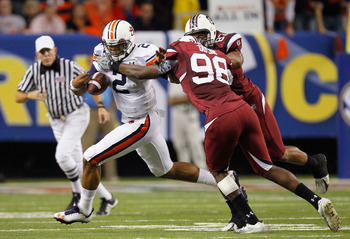 Kevin C. Cox/Getty Images
The defense for South Carolina will be outstanding in 2012.
With arguably the best front seven in college football and an athletic (albeit young) defensive backfield, the Gamecocks will be able to shut down almost all offenses.
The big question mark is the youth of the defensive backs, but they are talented and will be able to make plays.
Big Plays from Connor Shaw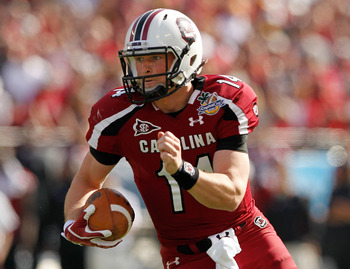 Mike Ehrmann/Getty Images
Connor Shaw started slow in 2011, but once he got going, he became a big-play machine.
He can run, he can pass and he can lead. He's going to be the X-factor for the Gamecocks and a guy that I contend will be the number one key to an SEC East title.
You can check out my last piece involving him here.
Unrelenting Pass Rush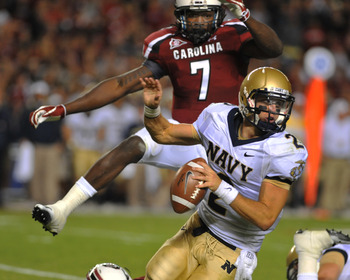 Al Messerschmidt/Getty Images
Devin Taylor and Jadeveon Clowney are the best defensive ends in the country.
While other programs can lay claim to top-flight college DEs, only the Gamecocks sport two potential top-10 NFL draft prospects. Expect Taylor and Clowney to feast on quarterbacks this season.
That's not all. Kelcy Quarles is a high-quality defensive tackle who can rush the passer. The list of great pass rushers goes on and on.
The defensive scheme will also favor more blitzes, which will only assist in destroying opposing quarterbacks.
Depth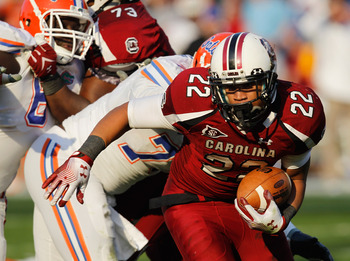 Streeter Lecka/Getty Images
The Gamecocks have finally acquired depth from top to bottom. We are talking about top-notch SEC depth.
The skill positions are loaded. The offensive line is almost two deep at each position this year. The defense is nasty.
The thinnest area on the team is by far the defensive backfield. If the youth steps up, they will be fine. Top-notch recruiting has finally paid off.
Calculated (Most of the Time) Risks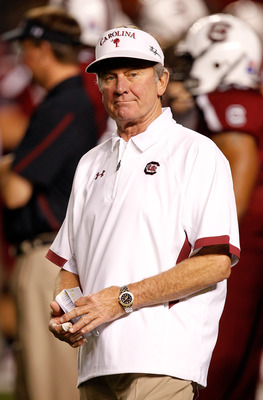 Streeter Lecka/Getty Images
4th-and-2? Go for it. 4th-and-5 on the 50? What the hell, go for it. Two-point conversions? Why not. Fake punts to a defensive end? Who wouldn't?
Steve Spurrier is desperate to win at South Carolina. He's built the program the right way. It is primed for sustained excellence. On the field, Spurrier will call an aggressive game plan and allow the team to make the plays necessary for victory.
This is why Spurrier is one of the greatest coaches of all time. He has the stones to make the tough calls.
Keep Reading

South Carolina Football: Like this team?