St. Louis Rams President: 'I Can't Even Fathom Letting Down Our Loyal Fan Base'
June 8, 2012

Elsa/Getty Images
St. Louis Rams President and Chief Operating Officer Kevin Demoff joined fans for a chat on StLouisRams.com today in which he answered several questions regarding the future of the team in Missouri.
While Demoff's answers could be construed as public relations talk in an effort to mask uncertainty about the Rams' future in St. Louis, he did go on record to answer many questions from fans.
On whether or not the Rams are for sale, as reported by NBC 10 Philadelphia reporter Howard Eskin:
Sometimes reports are so baseless they don't even merit a response. Stan Kroenke is as excited about this year's team and the Club's future as he has been at any point during his ownership tenure.

 
On fans getting behind a team with a five-year record of 15-65, lease uncertainties and the St. Louis Cardinals football team leaving town:
As many of you know, my grandparents lived in St. Louis for over 40 years and were devastated when the football Cardinals left and overjoyed when the Rams returned. I remember my grandmother yelling at Martz when the Rams won by 25 that it wasn't enough. This city has tremendous passion for football and the NFL. That being said, because a team has already left once people seem to think that it can happen again very easily. I'm amazed that we are years removed from even having a lease that goes year to year yet there is more angst in St. Louis than there is currently in San Diego or Oakland where the lease issues are more pressing. There is more angst in St. Louis than there was in Minnesota and the Vikings lease was year to year. The reasoning is simple -- we've been burned before and now there is another lease issue to be resolved. Fans don't deserve to have this hanging over there head which is why we are excited about our proposal for a first tier facility which will give St. Louis a great NFL stadium. Then we can finally put the lease/stadium/team moving discussions to bed and focus on improving this football team and building the winner that St. Louis deserves.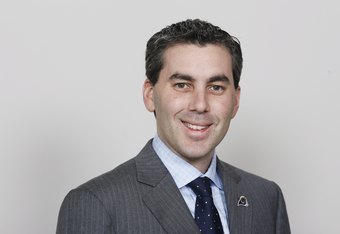 NFL Photos/Getty Images
On whether the Rams will be in St. Louis come 2015:
I know people want to paint a doomsday scenario, but Stan has been emphatic on this point: He didn't lead the charge to bring the Rams back to St. Louis to lead the charge out of St. Louis. Everything we have done as an organization -- the hiring of Jeff Fisher, the countless hours in community service (our 4th playground build is Monday in Fairmount City), the re-connecting with partners, the lowering of ticket prices at the EJD, has been done with the St. Louis fans in mind. Our goal is to build a winner in St. Louis not only in 2012, but in 2022, 2032 and beyond. This city deserves better NFL football and that is what we are focused on every day.

 
On fans feeling too many signs point to the team leaving St. Louis:
I know our fans look at the stadium situation as half full. But in the past six months, we have hired Jeff Fisher, the third winnnigest active coach in the NFL. We hired Les Snead, a bright young NFL mind. It is the first time since the Club moved here that we hired a new coach and GM in the same year. In the first three days of free agency we spent over $100m on players. We pulled off one of the biggest draft trades in NFL history to set ourselves up for the future, getting 10 draft picks this year (5 in top 65) and two extra first round picks in 2013 and 2014. We turned over our entire roster with nearly 50% of our players being new. We submitted a plan to make the Edward Jones Dome a first tier facility. We expanded our regional broadcast footprint to eight states and our radio network is larger than ever. We held ticket prices flat and lowered many others at the Edward Jones Dome. Sam Bradford is the honorary chair of the Komen Race this month and Team Georgia is partnering with the Siteman Cancer Center and KSDK to have one of the largest presences on race day. Yes, the lease issue is on many people's mind and I know some are frustrated about London, but the overwhelming majority of signs points to our engagement with the community and our fans.

 
On this season of football and getting the Dome situation cleared up:
We couldn't be more excited about this season and the returning winning football to St. Louis. There is a lot of noise about the stadium situation, but its just that, noise. Our focus is on improving the football team and bringing our long-suffering fans the joy you deserve. Being bad for so long has fractured our fan base -- winning will re-unite Rams fans and give them hope. Coach Fisher and Les Snead have done a great job this offseason laying the foundatino for the future. I know our fans are optimistic and excited about this season and years to come. Focus on the positives and we'll figure out the stadium situation. I can't even fathom letting down our loyal fan base.

 
On what the team is willing to do to keep the Rams in St. Louis:
There isn't anything our staff isn't willing to do. We have a great organization that is 125 strong and each day their goal is to make St. Louis proud and deliver the team this city deserves on and off the field. We continue to look for ways to grow our brand both within St. Louis and within the region. We are trying to improve the in-game experience and lower the price for families and fans to attend Rams games. We are in the community every month with a Rams day of service, being the first sports team in St. Louis to be named the "Philanthropic Organization of the Year" in the 30 years that award has been given. We are here for you everyday, and our hope is the stadium process proves that.

 
On if he is doing "damage control" or "public relations talk" when discussing the lease so attendance isn't hurt over the next few years in St. Louis:
Let's be honest, no matter what we say or how we say it, our fan base may view it as PR. How do we get people to stop focusing on the negative -- win football games. We created our own problems by going 15-65. If we were winning games our fan base would be more excited. Our attendance problems are the result of us being a lousy team. No excuses, we put ourselves in a hole and winning games is the only way we can get out of it.

 
On the possibility of the St. Louis Convention & Visitors Commission (CVC) and Rams going to arbitration:
Why waste time getting to the lease issues since I know many of our fans are paying close attention to the first tier process. Once the CVC did not accept our May 1st proposal, a window in the first tier process called for the two sides to get together face to face to discuss the issues and ways to bridge the gap. While the lease outlines a two week process for discussions, I want to stress that we have an excellent working relationship with the CVC and will continue to do so. Even if the process winds up in arbitration, there can still be progress in numerous other ways. As for a timetable, let's face it, lease issues and stadium issues often take years to resolve, not months. The arbitration process should be resolved by the end of 2012, but we are only in the 2nd quarter of the stadium discussion. Our goal remains the same: a first tier facility for St. Louis that can attract signature events -- Super Bowls, Final Fours, Mizzou/Illinois, a college bowl game, the Olympic Swimming trials. Our vision is for this building to be a centerpiece of downtown.

 
On future development of the Edward Jones Dome:
It's hard to look at stadium issues in a vacuum. It would be great for all of us to get together and view the re-development of downtown with a master plan that incorporates the new bridge, the arch grounds project and improving the waterfront. I feel like we've said this before, but Indianapolis is a great model that we've studied and I know many local leaders have as well. They unified the city and county to create Unigov, and that fostered the vision that led to a new airport, a new convention center and Lucas Oil Stadium. That vision turned into a Super Bowl and numerous Final Fours, the Big Ten Championship and other events. St. Louis is a great city, we should be able to compete for those kind of events. But this is all much easier said than done, but if we focus on what's best for St. Louis, we will figure out a great solution.