New York Giants Smart to Reward NFL's Best Coach
June 6, 2012

Jamie Squire/Getty Images
Based almost entirely on two four-game winning streaks in the winters of 2008 and 2012, Tom Coughlin has earned the right to be considered the best head coach in the National Football League.
In addition to that, he's also earned his second post-Super Bowl contract extension in a five-year span—this one even more of a foregone conclusion than the previous deal.
To avoid a lame-duck season, the New York Giants gave Coughlin a one-year contract extension prior to the 2007 campaign. 
He won the Super Bowl, earning himself a four-year deal.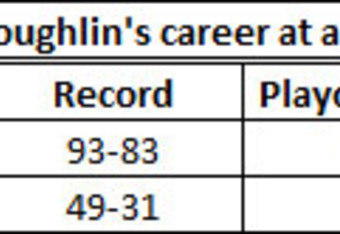 To again avoid a lame-duck season, the Giants gave Coughlin a one-year extension prior to the 2011 campaign.
He won the Super Bowl. Again. And he's again earned himself a new deal, this one for two extra years. 
Coughlin has succeeded most astonishingly with his job on the line, and those do-or-die accomplishments have now given him the comfort of being able to operate his team without having to fear for his job for at least the next two seasons.
But don't expect him to walk away anytime soon, and don't expect him to get too comfortable. Here's what he told Gene Frenette of the Florida Times-Union last month:
"I'm not mentally, not physically, ready [to retire]. I feel I have good energy. I'm excited every day. The competitiveness, the nature of the business, is something that I'm still excited about.

"I don't wander down that path. I don't think about retirement. I enjoy the situation I'm in. I appreciate the backing I've received from [Giants] ownership and the way the players have responded to our program. 

"I really don't feel any pull or tug in another direction. I look at it on a yearly basis. In our business, no matter how many years they give you on the contract, it's a one-year deal anyway."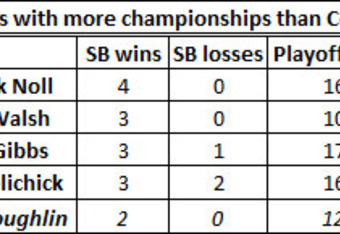 If he coaches beyond the final year of this new deal in 2014, Coughlin will be coaching as a 69-year-old man. He's already the oldest head coach in the NFL, but the Giants would be foolish to operate going forward with the mentality that Coughlin now has anything other than a lifetime membership as head coach.
Barring a Paterno-like dillydally—and I can't see Coughlin going that route—the man has earned carte blanche until the day he decides he's had enough.
In addition to that luxury, Coughlin should undoubtedly be the highest-paid coach in the game. If Bill Belichick is making $7.5 million per year, Coughlin deserves $8 million. We don't know the terms of this extension yet, but Coughlin made about $5.25 million each of the last four years.
If winning the Super Bowl for the second time in half a decade—this time with the league's worst running game, the league's worst offensive line and more injuries than all but six other teams—doesn't land you a 60 percent raise, nothing will.
(Update: Nothing would. A source tells Ralph Vacchiano of the New York Daily News that he'll be making about $6.7 million per year.)
Aside from wins and losses, we don't really have statistics in place to measure a coach's success, but that's what's sort of awesome about it. It's simple. In the world of coaching, only the end-of-season result really matters. Coaches who go 13-3 in the regular season and then one-and-done in the playoffs are underachievers. Coaches who go 9-7 in the regular season and win the Super Bowl are true maestros of the game.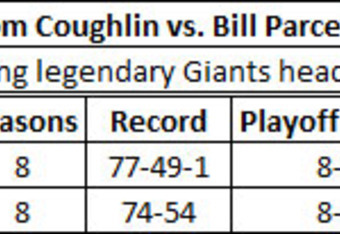 In the last decade, only Belichick has won as many Super Bowls as Coughlin. But Belichick's teams were supposed to do what they did. New England has been a powerhouse for a dozen years. 
Coughlin's Giants were never supposed to win championships.
In 2007, he took a 10-6 team with a point differential of plus-22 and won three straight road games before slaying Belichick's 18-0 Patriots to steal the Lombardi Trophy.
In 2011, he took a 9-7 team with a point differential of minus-six and led them to five straight do-or-die victories before again out-coaching Belichick in the grand finale. 
Regular-season success be damned—those feats make Coughlin the best coach in football.
Now, with his extension finalized and his future secure, Coughlin has a chance to cement his legacy. He's already a Hall of Famer with as many Lombardis as Lombardi, but now he can make a run at legends like Chuck Noll, Bill Walsh, Joe Gibbs, Tom Landry and Don Shula.
Oh, and don't forget Bill Parcells. Coughlin is probably still fighting just to become the greatest head coach in Giants history.
Coughlin and Parcells have each won two Super Bowls with the G-men, but Parcells won his championships with dominant teams that were a combined 27-5 in the regular season. Coughlin has again seemingly done more with less—his Super Bowl teams were a full eight games back of that at 19-13.
It still feels odd putting Coughlin in with names like those, and part of that comes from Coughlin's no-nonsense, anti-flash approach to his job and his life. He's modest and meticulous and probably a little OCD, and it works.
He doesn't strike you as a current or future icon, but he's a lunch-pale legend who's allergic to excuses and simply gets results, no matter the cost.