The NBA Boston Celtics Are One Win Away from Saving the World
June 6, 2012

When you're building a Dream Team, the goal is to play fantasy basketball in real life. You have a blank check with which to sign any player your little heart desires. Michael Jordan? Check. Magic Johnson? Check. Larry Bird? Check. When you construct a sledge hammer, you get the 1992 Olympic Dream Team.
But NBA teams aren't supposed to be Dream Teams.
Building an NBA team is a painstaking process, but it's a subtle process, too. It's a complex thing to arrange, and far more tedious and aggravating than assembling a Dream Team. The points on the dart board are far more narrow to hit.
It's not about assembling a collection of superstars, it's about building personality through chemistry. It's about building a strong unit of diversity. Not every guy on the team will be a celebrity. Some guys will be white collar, others will be blue collar. Some will be kings, others will be worker bees. Some will be on the cover of magazines, others won't be in magazines at all.
But at the end of the day, your sixth man is as vital to your success as your most famous player.
To be a successful team in a professional league like the NBA, you need pride. You need sacrifice. You need heart. You need love. You need dedication. You need players who put the team ahead of themselves. You need a hard-working bench. You need unknown heroes who burn bright when the stars shine, and unknown heroes who burn their brightest when the stars don't shine at all.
You need the Boston Celtics.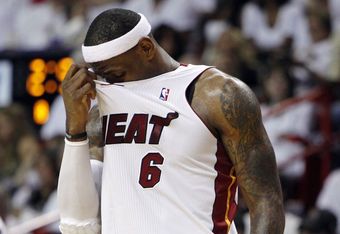 Kevin Garnett, Ray Allen and Paul Pierce spent their elite years playing for a variety of teams and places, ranging from Milwaukee to Minnesota to Seattle. It was only in the tail end of their careers when they decided to join forces in Boston and sacrifice their individual glory for the sake of a common goal which had painfully eluded them for so long: A world championship.
In 2008, they won that championship. They won it as a team, with a roster in which every single member contributed and left their fingerprints on that trophy. Yeah, Garnett was important, but Tony Allen was just as important. James Posey, too. Even P.J. Brown was essential. And who could forget about Eddie House's timely three-pointers? From top to bottom, that was a great team.
Two years ago, the Heat decided to reconstruct their team in the image of the '08 Celtics. They followed a similar pattern, but they went about it in a totally warped way.
They brought three superstars together, but they used little-to-no effort or imagination in building the rest of the roster. It was LeBron James, Dwyane Wade, Chris Bosh and a bunch of other guys.
But their warped ways ran deeper than that.
James, Bosh and Wade were all in their 20's when they joined forces in Miami. They were just entering their elite years with their best basketball ahead of them. Unlike Boston's Big Three, Miami's Big Three joined together as they were all hitting their prime. James just won his third MVP award.
There's nothing wrong with being a great player or having great players on your team, but teams are supposed to be about more than just their superstars.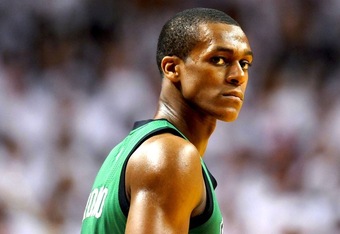 Ask yourself this: Is Miami really about more than LeBron James and Dwyane Wade? Is this team greater than the sum of its parts? No. The Celtics are greater than the sum of its parts. The Heat are exactly what their parts are. That's the difference between Boston's Big Three and Miami's Big Three.
Also ask yourself this: When James Naismith invented basketball, are the Miami Heat really what he had in mind? Between the Celtics and the Heat, which of them feels more like a basketball team? Which of them represents the true grace and beauty of this sport?
If names like Robert Horry, Sean Elliott, John Paxson, Jeff Hornacek and Steve Kerr mean anything, then how can the Heat win a championship? What does that say about the modern NBA?
If the Heat win, what does that say about the importance of the Sixth Man of the Year award? Or the Most Improved Player award? Or the Coach of the Year award? Would these awards carry any meaning at all?    
The Heat tried to establish an Olympic team in the NBA. Whether or not this experiment works out in the end, I can't say. But this much is true: They lost to a very complete Mavericks team last season in the NBA Finals.
And this is also true: The Celtics are one win away from saving the world.