NBA Playoffs 2012: Celtics Over Heat Is David Stern's Worst Nightmare
June 6, 2012

Patrick McDermott/Getty Images
David Stern is one game away from actually living his nightmare. The Miami Heat losing to the Boston Celtics in the Eastern Conference finals can summarily undo all the great things this lockout-shortened season has provided for the NBA.
In what could be Stern's last go-round as commissioner, he is so close to having LeBron James face off against Kevin Durant for the NBA title. 
So close. And suddenly so far.
After Boston's inspired Game 5 victory in Miami, holding the Heat to just 39 percent shooting, Stern's dream final is turning into a nightmare.
For all the lockout nonsense that ruined the start of the season, the NBA seems completely unaffected. The league is as popular as ever. Ratings for the playoffs have shattered cable television records.
Having this season culminate with the Thunder and Heat would be the perfect ending to this season in the NBA. It might even be the perfect way for Stern to walk away.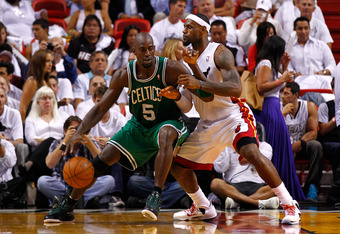 Mike Ehrmann/Getty Images
Don't get me wrong, the San Antonio Spurs would be a formidable champion, but fans have seen that four times already. Even the Celtics, as grind-it-out-boring as they play, would be a well-respected champion.
However, no matter how good the Spurs are or how resilient the Celtics prove to be, this season needn't look back to repeat champions. This season—this lockout-erasing sprint—needed to be the beginning of a new era in the NBA.
OKC coming back in the Western Conference finals was a beacon of light for Stern—a dream he never imagined becoming reality after Durant and company went down two games to none against the Spurs.
But Durant, Russell Westbrook, James Harden and that host of young, exuberant talent tied the series at two and got the job done in Game 5 on the road, putting themselves one win away from the NBA Finals of Stern's dreams.
That is, if the Heat would hold up on their end.
It was somewhat of a foregone conclusion that the Heat would win Game 5 over the Celtics. Prevailing wisdom had already pegged the Heat for a series lead heading into Game 6, needing just one win in the final two games to reach Stern's dream final.
Now, with the loss in Miami, we are that much closer to Stern's worst nightmare: an NBA champion winning a closeout game shooting 41 percent from the field. I know, I got chills too.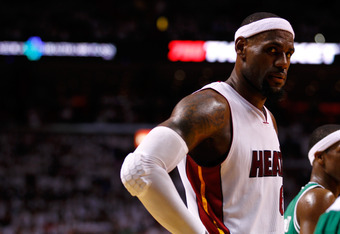 Mike Ehrmann/Getty Images
There is still time for Miami to come back and force a Game 7 at home. In fact, there is still time for a lot of things to happen. There is no reason to write the Spurs off just yet.
But after the Game 5 loss for the Heat, a look inside commissioner Stern's head (and his secret journal I just made up right now) shows that he is already living a Boston nightmare.
---
12:30 a.m.: Can't sleep. Can't believe this is happening on my watch. (Note: expense new watch.)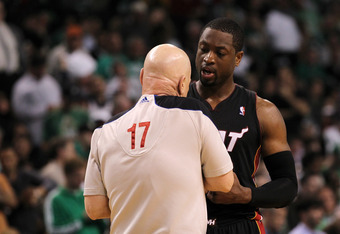 Jim Rogash/Getty Images
12:32 a.m.: Need to figure out a way to keep Joey Crawford away from remaining games of the conference finals. The crew of Ed Malloy, James Capers and Ken Mauer have gotten the winning team "right" in their games. Dan Crawford and Tom Washington, too.
Must figure out a way to have them ref all remaining games. Must lock Crawford, Monty McCutchen and Ron Garretson away in secret dungeon.
12:33 a.m.: Must stop writing words like "secret dungeon" in case anyone finds this journal when penning my posthumous memoir. 
12:49 a.m.: Could this be my fault? Is this basketball karma for not growing the lockout beard this year? I knew I should have grown the beard.
1:12 a.m.: Finally fell asleep, woken by the haunting screams of Kevin Garnett telling me anything is possible. 
Mike Ehrmann/Getty Images
1:34 a.m.: Had the strangest dream. I was tied to LeBron James. Rajon Rondo appeared as some sort of zombie king, flamboyantly passing rocks to zombie Ray Allen and zombie Paul Pierce who kept shooting them at us. 
I looked closer and realized they weren't zombies at all. 
Woke up soaking wet.
1:35 a.m.: Call marketing department in case Celtics win title to prepare pitch for a Walking Dead: Boston series.
2:24 a.m.: Siri: Text Bill Simmons, "Are you happy now???" Add emoticon: frowny face.
3:16 a.m.: Our NBA.com website is amazing. In an instant, I was able to research that the Celtics have played 18 playoff games and shot under 40 percent in four, under 45 percent in 14. Note: destroy NBA.com website in the morning.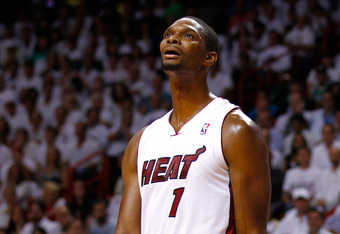 Mike Ehrmann/Getty Images
3:43 a.m.: Dozed off again. Woke up in a cold sweat after staring into the weeping eyes of a velociraptor chained to the Heat bench.
4:17 a.m.: Just read Adrian Wojnarowski's 4,537th thrashing of LeBron James and the Heat since "The Decision." Can I lock Woj in that secret dungeon too? At least until LeBron is given—I mean wins—a title? 
4:44 a.m.: Still can't sleep. Must figure out a way to get Doc Rivers to start working TV right now.
5:17 a.m.: I wonder if I can just convince people the Western Conference finals are the actual NBA Finals. That might be easier than fixing this Heat mess. 
5:18 a.m.: Did I say fixing? Hmm…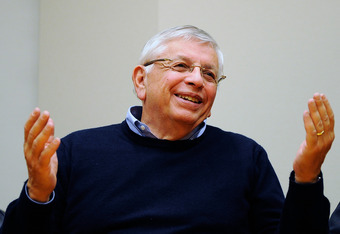 Patrick McDermott/Getty Images