NBA Playoffs 2012: Ranking Conference Finals' Most Important Players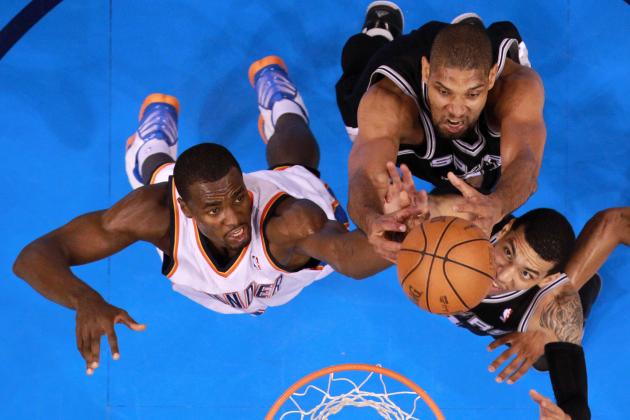 Ronald Martinez/Getty Images

While analysts debated the possibilities of a San Antonio Spurs vs. Miami Heat NBA Finals matchup, the Oklahoma City Thunder and Boston Celtics have silenced their critics, tying both series at two games a piece. So which teams will win two of their final three games?
Here is a list of the most important players that will lead their team to the NBA Finals.
Begin Slideshow

»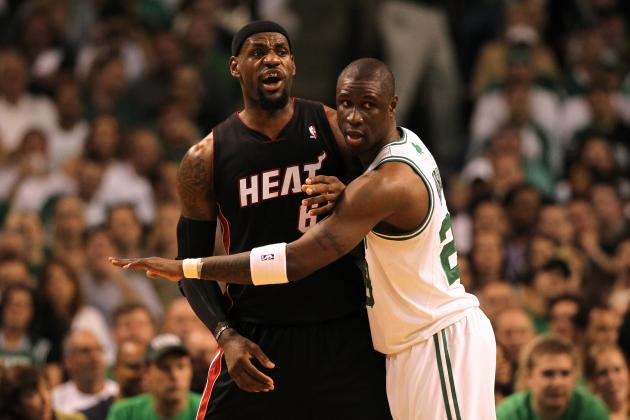 Jim Rogash/Getty Images
Mikael Pietrus locking down LeBron James
We all know these games rest on the shoulders of the superstars (LeBron James, Rajon Rondo, and Dwayne Wade), but in the two Celtics victories, the bench players are the ones bridging the gap between a win and a loss.
In Game 4's win, Mikael Pietrus and Keyon Dooling stepped up in big ways to even the series at two games each. Dooling scored a surprising ten points, knocking down two three-pointers in the second quarter, as Boston took an 18-point first half lead.
And while Dooling was the offensive spark plug, Pietrus was the top defensive contributor off the bench. Pietrus was the one who forced the ball out of LeBron James' hands in the final possession of regulation. In overtime, Pietrus drew the crucial charge that gave James his sixth foul, disqualifying him from the remaining 1:51 in the game.
It was the first time James had fouled out since April of 2008.
"Our second unit, they come in and they give unbelievable effort and energy," said head coach Doc Rivers. "I think, in a lot of ways, it inspires the starting unit when they see it. It's been terrific."
In the Celtics' Game 3 win, Marquis Daniels was the final piece to the collective puzzle, shooting four of six from the field for nine points, as well as grabbing five boards.
On any given night, the Celtics are able to rely on these three guys off their bench to step up however their services are needed.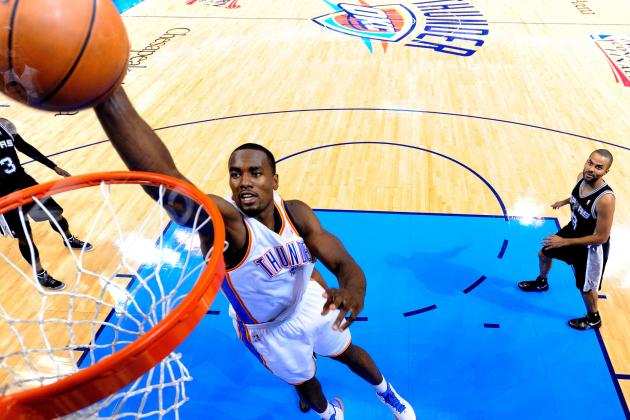 Pool/Getty Images
Serge Ibaka
Tim Duncan seems to have rejuvenated his career this season, so who better to step up in Game 4 than Oklahoma City center Serge Ibaka.
Ibaka scored a career-high 26 points Saturday night, making every single shot he took. The offense did not spoil his attributed defensive play either—the Republic of Congo native continued to contest shots, racking up three blocks in the game.
As great as Ibaka's stat line read, it is the intangible aspect of his play that creates all the difference for the Thunder.
Ibaka was able to spread the floor on the offensive end, forcing the Spurs defense to collapse on the hot hand. The court was so open for OKC that even Kendrick Perkins was able to reach double figures (for just the second time all playoffs).
Additionally, think about what all this means for Tim Duncan on defense. Having to shut down Ibaka must take a toll on Duncan's stamina for the entirety of the game. If he has to play those kind of tough minutes for the remaining three games of the series, it is only going to become harder and harder for him to put up 20-point offensive nights.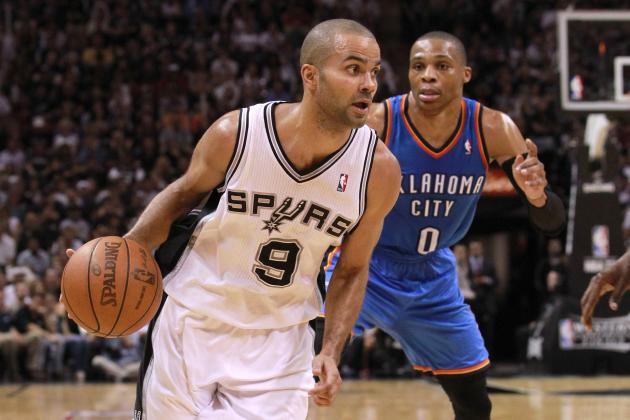 Ronald Martinez/Getty Images
Tony Parker
Duncan's counterpart Tony Parker was sensational in Game 2 for San Antonio, scoring 34 points, missing just five shots all night. But ever since, Thunder coach Scott Brooks seems to have figured out a way to contain the Spurs' star guard.
In Game 3, Brooks assigned 6'7'' guard Thabo Sefolosha the task of defending 6'2'' Parker. The matchup worked beautifully—Parker turned the ball over five times that game. Since implementing the strategy, Parker has not had a 20-point game, and he has not totaled more than four assists per game.
Parker has to find a way to shoot better against the taller defender, but perhaps more importantly, he has to find a way to get others involved in the offense.
The Spurs have lost two games in a row for the first time in over two months. With the team traveling back to San Antonio, expect to see Parker regain his rhythm.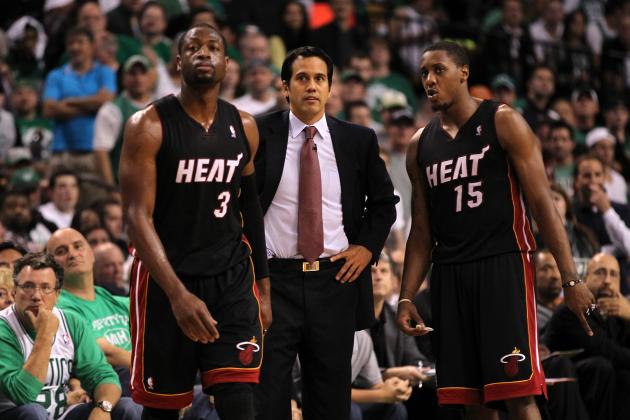 Jim Rogash/Getty Images

Obviously Erik Spoelstra is not a player, but his role in late game possessions makes him just as important as any member of the Heat out on the floor.
In last night's overtime loss, Miami had the ball when time expired at both the end of regulation and overtime. They failed to score both times, and the fault has to rest on the Heat's shot selection.
In the final seconds of the game, it is as if James and Wade forget how they are so successful in this league. The two are by far the most dangerous players at attacking the rim, yet they always settle for long jumpers and three-pointers when the game is coming to a close.
Can I make this my opportunity to rant? (No?...Well, try and stop me anyway.)
I am sick and tired of watching all these late game "heroes" stand outside the three-point line until there are four seconds left on the clock. We all know you dream about hitting the buzzer-beater three in your driveway as a kid, but why not take a higher percentage shot when a two is all you need?
After the game, Wade called his three-point attempt a "50-50 shot." But guess what, when your career three-point percentage is 29 percent you do not have a 50-50 chance. No disrespect to Marquette's statistics program, but come on Wade. Do what you do best—drive to the line for a mid-range jumper, take it all the way and draw a foul—do anything other than jack up a triple. And that goes for you too, LeBron.
Spoelstra has to preach this message to his team or else nothing will ever change from what has become Miami's standard, dismal shooting percentage late in games.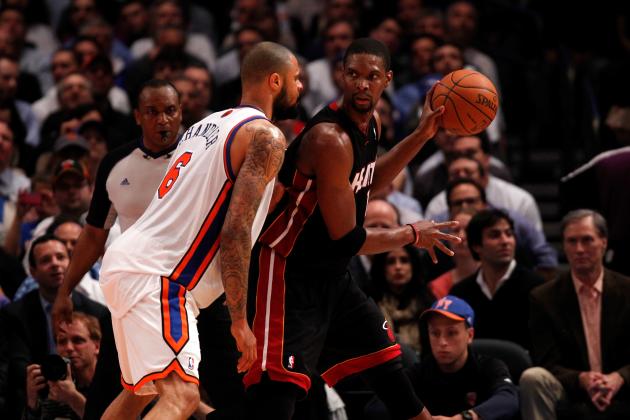 Jeff Zelevansky/Getty Images
Chris Bosh
According to ESPN.com this morning, Chris Bosh will be back in the lineup for Miami in Game 5 on Tuesday night. Bosh has missed the last nine playoff games with an abdominal strain that he suffered in last round's series opener against the Indiana Pacers.
With Bosh back, the Heat become the clear favorites to win the Eastern Conference Finals. Bosh fills significant roles for Miami both on offense and defense.
Arguably one of the best power forwards in the game, Bosh averaged almost 15 points and seven rebounds in the playoffs before his injury. He completes the three-headed monster that everyone began to fear when James, Wade, and Bosh all signed with Miami two years ago.
Bosh will be key in shutting down Boston's PF Kevin Garnett. Garnett is averaging a double-double against Miami this series, but those numbers will only fall if Bosh plays in Game 5.
Miami has played a much smaller lineup with Bosh inactive, starting veteran Shane Battier at the four spot. The added height and offensive firepower could be the ace in the hole that lifts the Heat into their second-straight NBA Finals.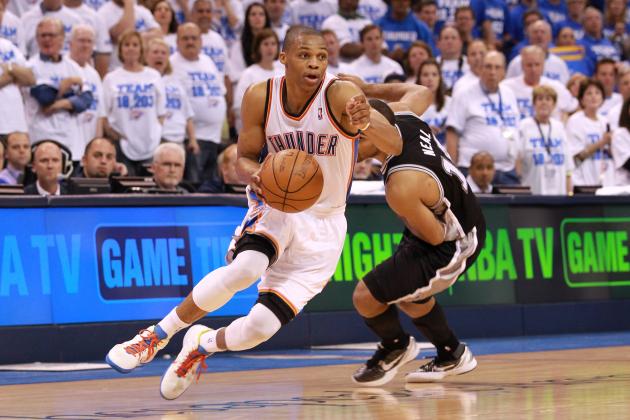 Ronald Martinez/Getty Images
Russell Westbrook
I'm a little biased when it comes to Westbrook, so if it sounds like I'm screaming at you through the computer screen, I apologize.
Remember those days back in middle school when that kid at recess refused to give up the ball? He would throw up shots every trip down the court, missing most but still making some, refueling his confidence, only to have you shaking your head in disgust because you knew it meant you would never touch the ball again. I feel this kind of sympathy for Kevin Durant.
In the first two games of the Spurs-Thunder series, Westbrook shot more (and of course, missed more) than Durant in both of OKC's losses. In Games 3 and 4, however, Durant finally reclaimed control of his offense, leading his team to victory on both occasions.
Oklahoma City's ability to win this series rests with Russell Westbrook's understanding of his offensive role.
As much as he might think so, Westbrook does not need to be shooting 15 to 20 times a game. Look at Game 4 as evidence. Westbrook was the sixth leading scorer and the Thunder still won.
There should never be a game in which Durant shoots less than Westbrook. ESPN analyst Michael Smith said it best in last year's playoffs when he tweeted, "They used to say the only person who could hold Jordan under 30 was Dean Smith. Only person who can hold Durant under 30 is Westbrook."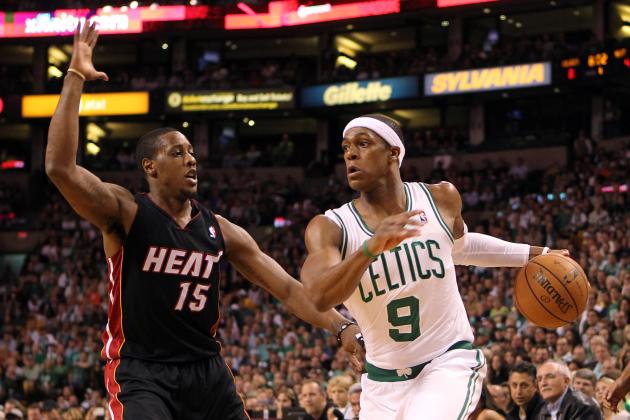 Jim Rogash/Getty Images
Rajon Rondo
Rondo finally got some rest in Game 4 after he played all 53 minutes of regulation and overtime in Game 3 against the Heat—that is if six minutes can even be considered "rest."
Rondo has been the heart and soul of the Celtics squad this series, averaging 24 points and 10 assists per game. In last night's performance, he had 10 assists in the first half alone, helping six different players reach double-digit figures.
The Heat began double-teaming Rondo in the second half last night, but the Celtics were still able to walk away with their heads held high.
Rondo's incredible ability to weave passes into the tiniest of holes makes him a threat on every inch of the court. In Game 2, he was even able to dominate with his jump shot, scoring a career-high 44 points. Notorious for poor shooting, everything he threw up in the air that night was a sure-fire make.
Rondo is the ultimate X-factor for Boston. If he plays poorly, which he has yet to do this series, the Celtics do not stand a chance. He must continue to put up double-doubles and even triple-doubles if the Celtics want any sort of shot to play for the title.