Tom Coughlin vs. Bill Parcells: Who Is the Better New York Giants Coach?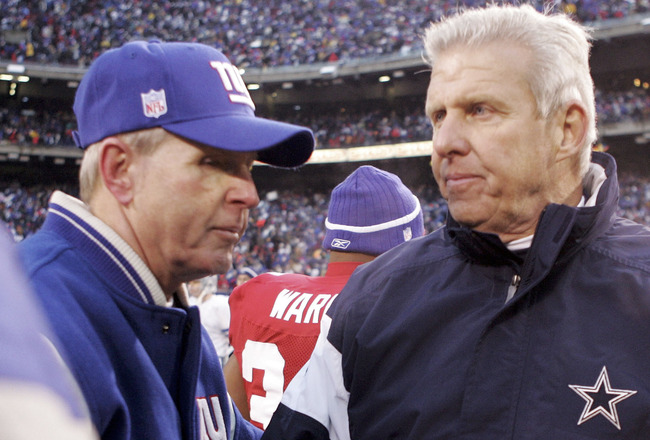 Jim McIsaac/Getty Images
When you think of who is the greatest coach in New York Giants history, who comes to mind?
For most up until now, you probably said Bill Parcells, and I said that for a long time too.
But what about Tom Coughlin?
Two Super Bowl appearances and two Super Bowl wins with the Giants in a span of four years, and he changes the debate a little.
In a recent story done by Gary Myers of the New York Daily News, he debated who was the greatest coach between the two for the Giants.
Now it's going to be my turn here, and our turn to debate.
Who's the better coach between Coughlin and Parcells?
Let's break this down by certain categories and attempt to come up with a fair conclusion.
Overall Record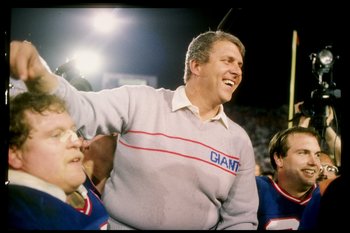 Mike Powell/Getty Images
Bill Parcells' record with the Giants: 77-49-1
Bill Parcells' playoff record with the Giants: 8-3
Tom Coughlin's record with the Giants: 74-54
Tom Coughlin's playoff record with the Giants: 8-3
In the regular season, Parcells has more wins and fewer losses.
In the postseason, their records are the same.
Edge: Parcells, but only by a little bit.
Assistant Coaches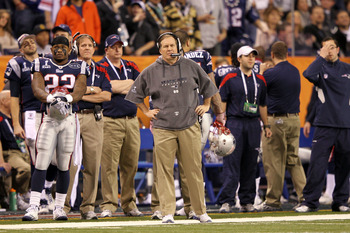 Jamie Squire/Getty Images
Both Parcells and Coughlin have had assistant coaches that have gone on to win many things in the NFL and NCAA.
Under Parcells, the best one has been Bill Belichick with the Patriots. The former Giants defensive coordinator has been to five Super Bowls and won three of them, and is considered one of the top coaches in the NFL today.
Another Parcells graduate is Sean Payton. OK, yes, he is suspended for 2012, but even so, he's still been very successful with the Saints and won a Super Bowl.
Under Coughlin, his best assistant coach may be Steve Spagnuolo, who was so brilliant during the Super Bowl XLII run, he got the St. Louis Rams coaching vacancy.
Spagnuolo didn't have a great tenure with the Rams, but is looking to jump-start his career as the defensive coordinator in New Orleans.
Dom Capers is another assistant under Coughlin, who did well as the Jaguars defensive coordinator, which then landed him the Houston Texans coaching vacancy in 2002.
Capers didn't have much success in Houston, but he did find success as the defensive coordinator of the Super Bowl Champion Green Bay Packers team in 2010.
Edge: Parcells. Belichick alone ends a lot of arguments on this section.
Talent During Tenure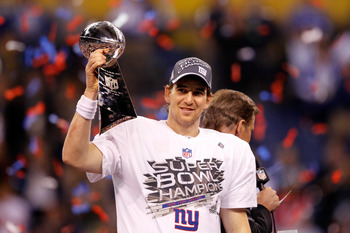 Rob Carr/Getty Images
This is where it gets interesting.
Under Bill Parcells, he had the greatest linebacker ever in Lawrence Taylor, who changed the game of football.
He also had Harry Carson and Carl Banks; two of the greatest linebackers to ever play for the G-Men.
On offense, Phil Simms and Ottis Anderson were also great talents for the Giants, who each won Super Bowl MVPs.
Under Tom Coughlin, he's won twice with his quarterback Eli Manning, who has a chance to be known as the greatest quarterback in Giants history.
He also had Michael Strahan, another future Hall of Famer at defensive end.
The players Coughlin have are really good, but I think the ones Parcells had were better overall. But Coughlin has won consistently with lesser-quality talent.
Also, Parcells' two Super Bowl teams were 14-2 and 13-3 and were NFC powerhouses.
Coughlin's two Super Bowl teams were 10-6 and 9-7 and not everyone's pick, yet they won because they were the best team when the calendar hit January.
Edge: Coughlin
Legacy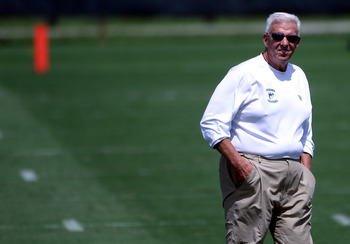 Marc Serota/Getty Images
Bill Parcells has won wherever he has gone.
He won with the Giants, which included two Super Bowls.
He won with the Patriots, getting them to a Super Bowl.
He won with the Jets, reaching the AFC Championship game.
He won with the Cowboys, highlighted by two playoff appearances.
He won with the Dolphins as an executive, turning a 1-15 team into an 11-5 team.
After he left his most recent teams as a coach, they were set up for success. The Giants under Ray Handley did not succeed.
Tom Coughlin has been successful as well.
He won with the Jaguars, getting them to four playoff appearances and two AFC Championship games.
He won with Boston College, winning one of the two bowl games he coached in.
He won with the Giants, which includes two Super Bowls as well.
While Coughlin has established that he is a winner as a coach, Parcells really did have the Midas touch wherever he went in the NFL.
Edge: Parcells
Legacy with Giants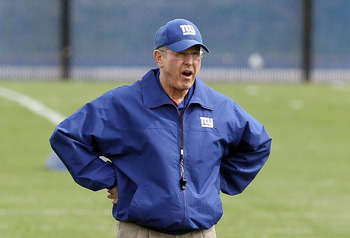 Jim McIsaac/Getty Images
One of the things people like to use against Bill Parcells is that they call him a "quitter."
He's resigned from all of his coaching and executive positions, either due to personal or health reasons, but him leaving has left a lot of NFL people and writers with bad tastes in their mouths.
Like, for example, after the Giants won Super Bowl XXI, Parcells was talking with the Atlanta Falcons about their head coach and general manager vacancies and might have actually taken the job if not for then-commissioner Pete Rozelle stopping it.
After he won Super Bowl XXV, he retired citing health problems and did work as an announcer. However, less than two later, Parcells had an agreement to become the next coach of the Tampa Bay Buccaneers, but backed out at the last second.
Not only did Parcells irate the city of Tampa, but because Ray Handley was such a failure, Giants fans were a little irritated that he was looking to coach elsewhere after retiring not too long ago.
Tom Coughlin, on the other hand, has been impossible to get rid of.
He's been on the hot seat in New York a few times. In 2006 after they went 8-8, a lot of people thought Coughlin would get axed because he had lost the locker room and there were a lot of whispers that Bill Cowher might be the next coach in waiting.
Coughlin changed his attitude toward his players and won back his team in 2007. They also went 10-6 and won Super Bowl XLII that season as well.
In 2011, they had lost four straight and dropped to 6-6. Everyone thought Coughlin had lost it, and if they had lost a fifth straight to the Cowboys, it really could have signaled Coughlin's end. Instead, they won the game against Dallas, won their last two to go 9-7, and then won Super Bowl XLVI.
Coughlin has always wanted to be the Giants coach and has never expressed any interest in leaving. It's what has made him so popular and beloved by the fans today.
Edge: Coughlin
Overall Winner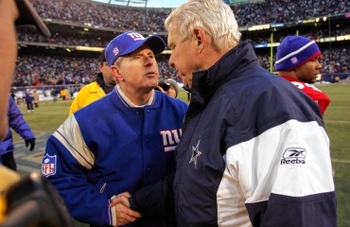 With my categories, Parcells won three, and Coughlin won two.
So I am going to give the slight edge to Bill Parcells as the winner. But just for now.
They've both been excellent coaches and during their respective tenures with the Giants; they had great teams who won a lot of games.
Parcells really changed the culture of the Giants franchise as a whole, and who knows what would have happened if the Giants had decided to fire Parcells after the 1983 season where he went 3-12-1 and go with University of Miami coach Howard Schnellenberger.
Instead, Parcells molded the Giants into an NFC powerhouse over the course of his tenure and got them to two Super Bowls, which they both won.
Coughlin is one of the most battle-tested coaches, not only in the history of the NFL and the Giants, but in sports.
He has survived the hot seat twice and responded with two of his own Super Bowl championships and has earned job security for the rest of his career.
I only say Parcells wins for now because Coughlin is still coaching the Giants and has a chance to win a few more Super Bowls with the team.
With the talent the Giants have now, they can be a very good team in the NFC for a while.
I think if the Giants can win a third Super Bowl under Coughlin's watch, then Coughlin will take over the title of the greatest coach in Giants history. If he can win more than three, he definitely has the title.
It's a big "if," but it can happen with this current Giants team that is loaded with talent.
But for argument's sake, I'll give Parcells the nod at this current point in time.
Keep Reading

New York Giants: Like this team?