Miami Heat: Does Chris Bosh's Return Make the Heat Favorites over the Spurs?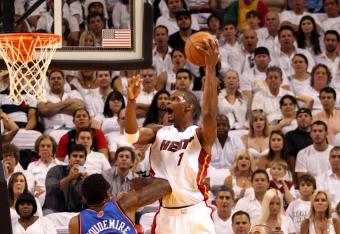 Marc Serota/Getty Images
"I'm not thinking about Chris today—I'm not," Erik Spoelstra said before Saturday's Game 4 of the Eastern Conference finals.
The truth of the matter is that the Miami Heat team cannot afford to invest too much thought in Chris Bosh right now. He wasn't ready to play in Game 4 against the Boston Celtics, but may be available for Game 5.
For right now, he is about as much of a non-factor as a $16 million big man in the league can be.
However, it is inevitable that when the games are over, teammates are sitting around wondering when their temporarily fallen comrade will be reinstated. It would sure help against the Celtics who exposed Miami's lack of size in Game 3 and 4 after dropping two games in Miami to the Heat.
Kevin Garnett has become one of the Heat's biggest problems and without Bosh's size in the lineup as a defender and an offensive threat, Garnett has his way with LeBron James at center.
What about in the 2012 NBA Finals?
It is a journey that the Miami Heat are predicted to make, after closing out the Boston Celtics, with age and athleticism on their side. The C's are giving them a run for their millions, but for the sake of argument, just assume the Miami Heat are going to take this one for the Eastern Conference.
Going into the 2012 NBA Finals, the Heat are looking at a formidable Western Conference opponent whether the San Antonio Spurs pick themselves up after two straight losses in Oklahoma City or if the Thunder go on to win it in six or seven games. Somehow, going back to San Antonio, the Spurs appear geared to win this series over a slightly inexperienced Thunder franchise.
With Chris Bosh, can Miami Heat win 2012 NBA Finals series against the San Antonio Spurs?
You have the Spurs and the Heat in the NBA Finals.
Now what?
Bosh against the San Antonio Spurs could assist Miami in routing the Spurs as the Thunder have been able to in Games 3 and 4. Combating their athleticism was one thing in Games 1 and 2, but the Spurs had to deal with ridiculous mid-range scoring from Serge Ibaka, the Thunder's most efficient big man in both offense and defense.
Ibaka hit on 11-for-11 from the field and posted three blocks, ending the game with 26 points.
Not to mention, Kendrick Perkins chipped in for 15 points of his own. The Thunder got into the paint and body-banged with the Spurs forcing them to get more physical than Oklahoma City had ever forged in the series. Instead of winning the game by constantly running the floor at track-star pace, the Thunder won with their defense and half-court offense.
Only nine of the Thunder's points were fast-break scores with 48 points being scored in the paint.
There are multiple factors that have played into Oklahoma City's two victories against the Spurs and they are all avenues in which Miami will be strengthened when/if Bosh returns.
There is Miami's half-court offense, which includes more scoring in the paint. Bosh can hit those pull-up, mid-range jumpers with a clean stroke to rival most forward-centers in the league. Yet, what makes him so very instrumental in Miami's offensive sets is his ability to score in the paint.
He has the length to battle defenders for the offensive rebounds, providing the Heat with second-chance opportunities that he most often finishes. When Bosh sets screens, it is as effective as when Ibaka sets screens for the Oklahoma City Thunder.
The threat of his offense draws defenders, leaving Miami's main men on the perimeter open for those threes they are primarily paid for. Contested three-pointers are not Miami's strong suit, as even their open looks have been coming few and far in between.
Bosh draws that attention, giving Miami's role players the chance to earn their paycheck.
Bosh's return also gives the Heat that extra 15- or 20-point performance they could so desperately use against a franchise like the Spurs with scoring threats all over the court, such as the primary Big Three and Kawhi Leonard, Danny Green, Stephen Jackson and the list goes on.
With a balanced scoring attack from Miami's Big Three and their role players like Udonis Haslem, Mario Chalmers, Shane Battier and Mike Miller, the Heat give off the perception that the Spurs would not be such a hard out as fans and analysts may suspect.
The true test will be how LeBron James and Dwyane Wade work Bosh back into their two-man circus. It cannot be a slow or trying process.
The moment Bosh steps back onto the court, both James and Wade need to ensure he feels comfortable in his offense with those quick and easy feeds, as James did for Wade in Game 4 of the Eastern Conference semifinals against the Indiana Pacers.
How effective Bosh is in his return will determine whether or not Miami is able to push past the Spurs to their first championship as an established Big Three, as well as how welcoming Wade and James allow themselves to be.
Bosh can't be over there while they are laughing, joking and scoring over here.
They can't win against the San Antonio Spurs that way.
This article is
What is the duplicate article?
Why is this article offensive?
Where is this article plagiarized from?
Why is this article poorly edited?

Miami Heat: Like this team?