NBA Playoffs 2012: Are Referees Favoring LeBron James and Dwyane Wade?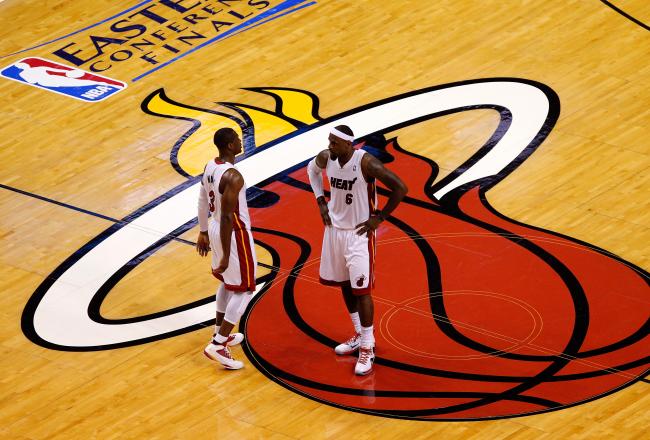 J. Meric/Getty Images
It shouldn't have come as a surprise to anyone that LeBron James is leading all players in the postseason with 146 free throws, including 24 free throws in the Miami Heat's Game 2 victory over Boston.
Dwyane Wade—who hasn't been attacking as much as usual—has taken 100 free throws this postseason and has only made 68 of them.
It also shouldn't come as a surprise that many so-called analysts and critics are pointing out the significant context of James' and Wade's constant free-throw shooting.
However, the fact that it's being constantly brought up after seemingly every Heat win is putting a damper on just about everything Miami attempts to accomplish. If they defeat the New York Knicks, it's because Carmelo Anthony wasn't getting the calls he usually gets; the Heat beat the Pacers without Chris Bosh but that's also a conspiracy; and the Heat beating the Celtics the first two games was a complete travesty.
There is absolutely nothing the Heat can do without causing some sort of animosity or idea of a conspiracy floating through the head of every naysayer.
Every time they win, it's because of the referees. Every time they lose, it's because there is something seriously wrong with the makeup of this team which means they need to trade Chris Bosh and Dwyane Wade and fire Erik Spoelstra. Because that's the only way to solving these minor problems, right? Overhauling your entire team after barely two years of playing together?
Since the Heat have been winning a lot more than they've been losing, most of the talk has been centered around Miami and just how they could possibly be winning games. Rather than giving them credit, it's become much easier to simply blame the officiating each and every time the Heat end up winning a game.
First off, let's start this off by saying that blaming the officiating is one of the most desperate arguments a fan, critic or analyst can make. That's a cop-out. Anyone can blame the officials for a team losing, but it takes a true fan or unbiased analyst to actually look at a game and say that the shortcomings of the losing team is the reason why they lost, not because of the officiating.
The officials are human beings and aren't going to make the correct call on the floor every single time. They're not always going to see Rajon Rondo get hit in the face by Dwyane Wade, but they're also not going to see Rondo perform an obvious reach-in on LeBron James on a possession. They just can't see every call—including the obvious ones.
You can't ride an entire game's result on the back of a single officiating blunder. If you're going to do that, then you might as well blame a missed call in the first quarter or that one defensive three-second violation that could have resulted in a three-pointer.
It's much more logical to add up all the occurrences that transpire in the actual game, rather than counting and observing each and every last foul, free throw or violation so that you'll end up having some minor evidence to back up your claim of the game being faulty.
Speaking of which, this talk of a conspiracy taking place in the Heat's series against the Celtics may be the most asinine talk I've ever heard.
If David Stern is so obsessed with making money and getting ratings, wouldn't he have sent the officials to work the game in Boston's favor? Why would he want the Heat to win Game 2, instead of sending them to Boston with the series tied at 1-1, which would mean that the series needs more games? Was he trying to make Miami sweep Boston so we can get the NBA Finals on quicker?
Concerning Game 1 and the four technical fouls? Ridiculous. Three of the techs occurred during the first half, which ended tied. It wasn't until the second half where the Heat began taking over before winning by 14. The lone technical foul that took place then came as a result of Rajon Rondo intentionally tripping Shane Battier following the two getting wrapped up.
Can we just not talk about technical fouls affecting a team like the Boston Celtics? I highly doubt a team with four future Hall of Famers will be so distraught over a few technical fouls that they end up giving the game away because they're just so frustrated with some calls that didn't go in their favor.
It's just as bad as when the talk of the Heat's Game 1 victory against the New York Knicks in the opening round took place. Despite the Heat winning the game by 33 points, it somehow all reverted back to a few flops and a flagrant foul that took place in the second quarter.
Never mind the fact that LeBron James converted nine of these amazing points, it must have been the officials that pushed Miami to a 33-point victory.
The notion of the NBA being biased towards James and Wade is the most absurd topic I've ever had to write on. Instead of giving props to these two for learning how to play off each other and winning five games in a row without Chris Bosh, I'm left here talking about how officiating has played such a tremendous factor that it's allowed Miami to get within two games of the NBA Finals.
Why is it a surprise that Wade and James go to the foul line so much? They've been doing this their entire career; why is it such a problem now? It shouldn't be a surprise that the league's two greatest slashers are going to the foul line. Of course they're going to shoot free throws nearly 10 times per game, there isn't an individual defender who can stop either of them.
And what happens when a defender doesn't stay in front of his man? It either leads to that defender fouling his man from behind or a slower member of the frontcourt performing the act of fouling. In case you haven't been watching Miami Heat basketball lately, this is what James and Wade have been doing since the postseason began.
Without Chris Bosh, the drives have only become more frequent. James and Wade aren't the best of shooters, so they always have to find ways to get it inside. Since they're much faster, agile and athletic than any of the defenders they have faced, you would expect them to either finish or get fouled.
Those two didn't just become arguably best players overnight, they're in that position because they know how to play the game to their advantage. They recognize the physical advantages they have over opponents and it's why they've both averaged over 30 points per game once in their career and also why they have three MVPs, three NBA Finals appearances, a Finals MVP and a championship between them.
That's not because David Stern and the NBA just happen like them a whole lot more than anyone else. It's because they're physically gifted players who have put in the time and effort to become better from a physical and mental standpoint. Wade and James go to the line because they're driving for 40 minutes per game, not because the officials are just so biased towards them.
Take an honest look at both players and explain how you can play defense without fouling them:
Dwyane Wade is listed at 6'4"—although he's been argued to be 6'2"—and is probably the best player in the league at splitting double-teams. Since no individual defender can usually stop him, teams will throw a double-team at him in hopes at stopping him.
When he's able to break through that double-team, he can drive to the rim and use the ability of contorting his body and utilizing his athleticism to get fouls against the slow, lumbering trees down low.
LeBron James? The guy is a faster and more athletic Shaquille O'Neal. He can get to the rim at will and there isn't one defender in the league who can stop him physically. The only way to stop James is by using a strong team defense and forcing the ball out of hands or by beating the hell out of him under the basket, because it's extremely rare where you can play good enough defense on James under the rim to stop him.
Yet we're surprised Tyson Chandler and Roy Hibbert were constantly in foul trouble? What's there to be surprised about? They're the ones who are playing the most important defense by denying the drives of Wade and James, so of course it's natural to expect them to garner a few personal fouls early on, because the Heat want to speed up the tempo early.
"But, John, haven't you seen the technical foul disparity?!"
Of course I have. I'm involved in sports media, so you're subject to seeing insignificant stats like that all the time.
In Miami's 14 postseason games thus far, their opponents have 24 technical fouls to their mere six. Surely this is the proof in the pudding of Stern and the league wanting the Heat in the Finals. They've created this diabolical plan of giving the Heat a free throw and possession so many times that it will inevitably lead to the opponents frustrated to the point of losing.
Stern, you sly devil.
I will admit that the referees have not allowed teams to play—which includes the Heat. They should allow more trash-talking, and the fact that officials are blowing whistles over something as miniscule as harmless trash-talking is hurtful to the game. It's taking the fun out of it, stopping the game too much and giving conspiracy theorists reason to make outlandish statements.
However, did you ever think that maybe some of these calls are deserved? After all, we don't know what's happening on the floor. We don't know what's leading up to some of these technical fouls. Sure, Doc Rivers and Ray Allen didn't say much when receiving their technicals, but perhaps it carries over from a previous series or possibly the officiating crew attempting to send a message.
Also, Heat opponents have been saying that they were going to play physical and have done so. The Indiana Pacers immediately challenged the Heat's aggression via Frank Vogel describing Miami as "floppers" and the New York Knicks started off their series with a flagrant foul. As much as we dislike it, the officials are attempting to lighten the situation that is ensuing when giving out technical fouls.
The excuse this year is they've had a quick trigger and are responding with what appears to be exaggerated calls. Heat opponents are always going into their series with Miami with a huge statement to make, which usually means emotions are going to spill over at some points and frustration in the form of words directed towards the officiating tends to occur.
The difference this year is how quick the officials are with their calls. That I cannot speak on behalf of.
Nevertheless, the idea of the officiating in the NBA being favorable in Dwyane and LeBron's case is absurd. It's a complete fabrication that's created by media outlets to drive up ratings and anger fans who can't look at their own team and realize what they did wrong to get into that sort of position in the first place.
Now let's watch basketball in peace.
This article is
What is the duplicate article?
Why is this article offensive?
Where is this article plagiarized from?
Why is this article poorly edited?

Miami Heat: Like this team?