FedEx 400 2012 Results: Reaction, Leaders and Post-Race Analysis
June 3, 2012

With the 2012 FedEx 400 at Dover International Speedway whipping the auto-racing world into a frenzy, the excitement over one of the coolest tracks on the circuit housing the wild boys of NASCAR is palpable.
At a track as wild as Dover, there is a chance that anyone could win with a solid car and tons of luck. Drivers need to be as lucky as they are good Sunday.
Keep it here for reaction, leaders and post-race analysis from Bleacher Report as the race kicks off and a winner is crowned.
UPDATE: June 3, 5:10 p.m. ET by Austin Green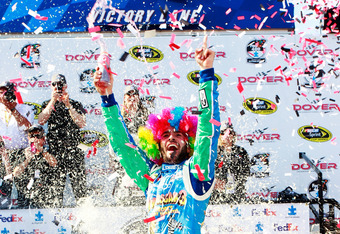 Geoff Burke/Getty Images
Jimmie Johnson has done it again.
The man behind the No. 48 Lowe's car won the 2012 FedEx 400 after dominating for more than half the race. Johnson led for 289 laps, including the final 76.
It was his 57th career victory and moved him into fifth place in the points standings.
He also pulled off the victory by rocking this awesome multicolored wig. CBS Sports is having an unofficial caption contest for the photo, so feel free to throw your best effort in the comments section below.
Anybody got a caption for this...um...colorful photo of Jimmie Johnson after his record-tying seventh win at Dover? - twitpic.com/9sj5bh

— CBSSports.com (@CBSSports) June 3, 2012
Right behind Johnson was Kevin Harvick. Harvick finished in second place, his highest finish in 23 career starts at Dover. Rounding out the top five were Matt Kenseth, Dale Earnhardt Jr. and Clint Bowyer, who earned his second top-five finish of the year. 
Jeff Gordon, who led for 60 laps and may have had the best car in the race, finished in a disappointing 13th place. Jeff Burton also had a promising race turn south, as he blew out his engine with just 37 laps to go. He was in ninth place at the time.
Click here for the complete results of the 2012 FedEx 400.
----------End of Update-----------
Where: Dover International Speedway, Dover, Del.
When: Sunday, June 3, 12:30 p.m. ET
Watch: FOX
Live Stream: TrackPass
Listen: Motor Racing Network
Starting Order
1. Mark Martin
2. Jimmie Johnson
3. Ryan Newman
4. Clint Bowyer
5. Matt Kenseth
6. Kevin Harvick
7. Greg Biffle
8. Kyle Busch
9. Kurt Busch
10. Denny Hamlin
11. Joey Logano
12. Aric Almirola
13. Kasey Kahne
14. Jeff Gordon
15. Jeff Burton
16. Brad Keselowski
17. Dale Earnhardt Jr.
18. Martin Truex Jr.
19. Carl Edwards
20. Paul Menard
21. Marcos Ambrose
22. Bobby Labonte
23. A.J. Allmendinger
24. Jamie McMurray
25. Scott Speed
26. Regan Smith
27. Landon Cassill
28. David Ragan
29. Tony Stewart
30. David Gilliland
31. Juan Montoya
32. David Stremme
33. Michael McDowell
34. J.J. Yeley
35. Joe Nemechek
36. Mike Bliss
37. Stephen Leicht
38. Reed Sorenson
39. David Reutimann
40. Casey Mears
41. Dave Blaney
42. Travis Kvapil
43. Scott Riggs
Drivers to Watch
Mark Martin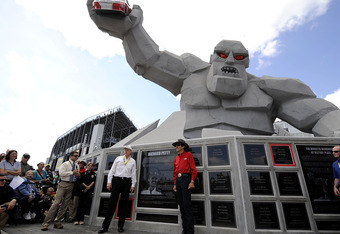 Jeff Zelevansky/Getty Images
There is a chance every single week that NASCAR veteran Mark Martin could steal the show and win the race. When you have been racing since the 1980s, you always have the edge in experience.
Now this statistic is going to sound made up, but Martin has 30 career NASCAR Sprint Cup Series top-10s at Dover over his career. That's more than most racers have ever even raced on the track.
They say age brings wisdom, so Martin should be Dover's Socrates with all that experience and success.
Greg Biffle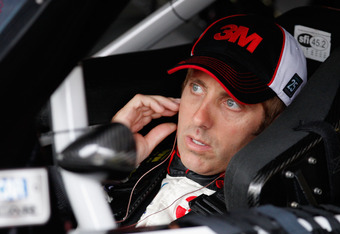 Rob Carr/Getty Images
There has been no better driver in 2012 so far than Greg Biffle. With the points lead and plenty of momentum, Biffle will be a factor in this race unless he wrecks.
Biffle has two wins at Dover, but it will be the success he had with his team this year that gives the veteran driver the edge on Sunday. This is Biffle's race to lose.
After starting in the No. 7 spot, Biffle should be able to work to the front and avoid traffic all day.
Predicted Winner: Kasey Kahne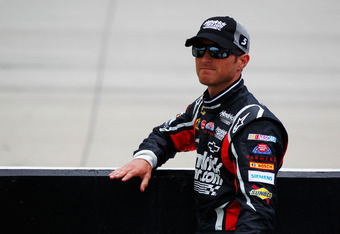 Geoff Burke/Getty Images
After a huge win last weekend at the Coca-Cola 600 in Charlotte, Kasey Kahne and the Hendrick Motorsports No. 5 will look to continue that success on one of the toughest tracks on the circuit.
Many have called the concrete terror dome Bristol on steroids, but there is so much more speed at Dover that it is an entirely different animal.
While Kahne's track record isn't perfect at Dover (four career top-fives in 16 starts), the fact that his team is hitting on all cylinders and he has a good car are reasons enough for him to win.
Check back for more on NASCAR as it comes, and don't miss Bleacher Report's NASCAR page to get your fill of all things motorsports.