12 Fantasy Football Sleepers for the 2012 NFL Season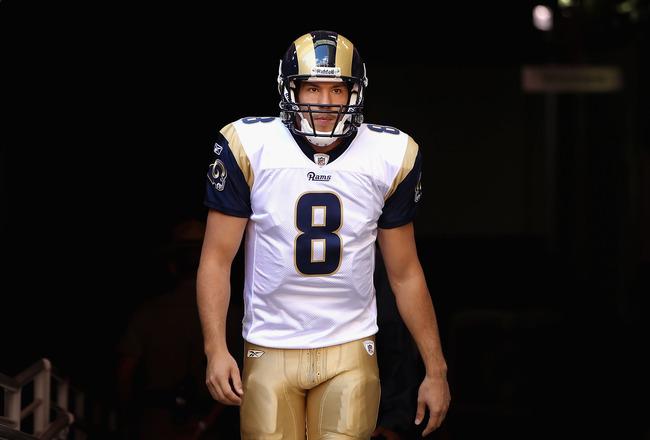 Christian Petersen/Getty Images
NFL OTAs are now in full swing and with minicamps and NFL training camps soon approaching, diehard fantasy football fans have begun scouting the league to find their sleepers for the 2012 NFL season.
Having the intuition to acquire a stud fantasy sleeper always brings pride to fantasy owners as they're often rewarded with championships.
It's easy to select a top-notch quarterback and a couple of proven running backs, but having the foresight to draft players that have breakout seasons is usually the difference between being a pretender and a contender.
Not wanting to lose bragging rights around the office or to close friends, keep these sleepers in mind over the summer.
The Extra Point: Players Like Laurent Robinson Are Now Expected to Produce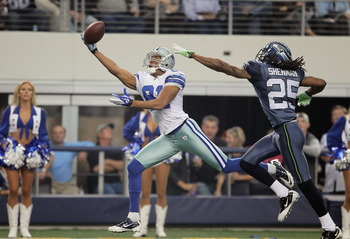 Jeff Gross/Getty Images
Laurent Robinson is a prime example of a player that has now graduated from the fantasy sleeper ranks and is expected to produce in 2012.
After exploding onto the scene with 54 catches, 858 receiving yards and a remarkable 11 touchdowns in 2011 as a member of the Dallas Cowboys, the Jacksonville Jaguars signed Robinson to a five-year, $32.5 million deal this offseason.
Not wanting to disappoint, Robinson knows that he has to emulate his 2011 numbers in order to be considered worth the money.
He also knows that he will be a vital part of the growth of Jaguars second-year quarterback Blaine Gabbert. With the recent arrest of the Jaguars' 2012 first-round pick Justin Blackmon for DUI, Robinson's role becomes even bigger for the Jags.
Because of Gabbert's inability to move the ball in 2011, expect Robinson be a mid-round pick in upcoming fantasy drafts this season.
2012 Bold Predictions: 72 catches, 1,174 receiving yards, eight TDs
Eric Page Was an UDFA That Will Become a Fan Favorite in Denver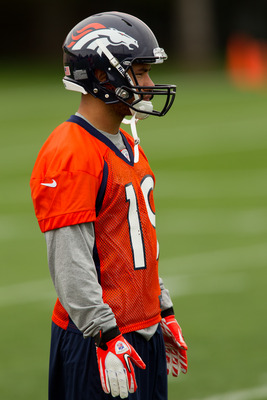 Justin Edmonds/Getty Images
After tallying 306 receptions in just three years as a member of the Toledo Rockets, wide receiver Eric Page went undrafted in the latest NFL draft.
Truth be told, he may go undrafted in nearly every 2012 fantasy draft too, but he'll be known by all by the time his first NFL season is over.
Page found the perfect fit for himself with the Denver Broncos this offseason. With new quarterback Peyton Manning in town and a stable of unproven receivers, Page will win a spot on the roster when final cuts are made.
Keep in mind that he'll get a chance to be the Broncos punt returner, which will only raise his value.
Manning loves reliable hands, and Page will quickly become trusted by the future Hall of Fame quarterback. In his last season with the Rockets, Page caught 10-plus passes six times, which bodes well for his chances.
Broncos GM John Elway obviously saw something he liked in Page and his opinion is to be respected.
Look for Page to excel in the slot position as he'll become a fan favorite in Denver overnight.
2012 Bold Predictions: 58 catches, 539 receiving yards, five TDs, 411 punt return yards, one TD
Mikel Leshoure May Be Troubled, but He'll Get Plenty of Carries for the Lions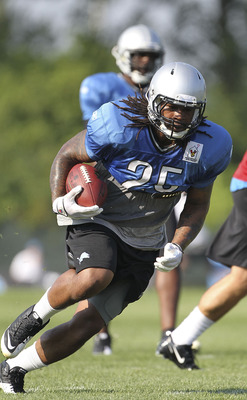 Leon Halip/Getty Images
Mikel Leshoure may have more arrests than rushing yards in his short NFL career, but he'll get his chance to prove his worth in 2012.
Although he's expected to begin the season serving a suspension for his illegal behavior this offseason, keep him in mind when the fantasy season begins. An Achilles injury took his entire rookie season away and combined with his arrests, his fantasy draft stock is nearly inexistent.
Despite all the negativity surrounding him, he's expected to make a difference in the dismal Detroit Lions running game right away in 2012.
His numbers may not be astounding, but the Lions leading rusher in 2011, Jahvid Best, led the team with just 390 rushing yards. At this point, any production from Leshoure is a bonus for the Lions.
With his back against the wall, Leshoure will respond in 2012. He's got one chance left and has to impress from his first touch in the NFL.
2012 Bold Predictions: 4.5 YPC, 612 rushing yards, six TDs
Coby Fleener Already Has an Advantage in Indianapolis
Craig Mitchelldyer/Getty Images
The Indianapolis Colts knew what they were doing when they drafted tight end Coby Fleener in April's NFL draft.
It's no secret that Fleener was the favorite touchdown target of No. 1 overall pick and the new Colts franchise quarterback Andrew Luck in their college days at Stanford.
Fleener had 10 touchdown catches in 2011 alone and 18 in his four years at Stanford.
He may have only had 34 catches as a senior, but averaged 19.6 yards per catch. That big-play ability can't be denied.
The chemistry between Fleener and Luck will translate to the NFL as they'll both start from day one. Colts' fans should be ecstatic when they think of all the great years to come from the combination.
The fact that Luck already has a reliable target will boost the Colts' chances to succeed in 2012.
Fantasy players will overlook Fleener for fear that the learning curve in the NFL may be too steep to produce desired results.
Don't make this mistake in the late rounds of your draft, Fleener will do just fine for himself.
2012 Bold Predictions: 51 catches, 678 receiving yards, seven TDs
Lamar Miller Is That Rookie Running Back That Will Be Available Very Late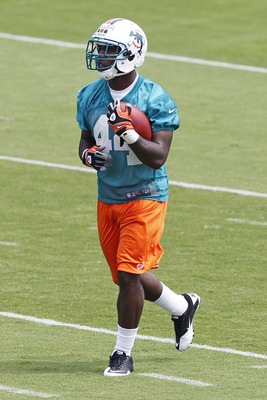 Joel Auerbach/Getty Images
Every year it seems the last round of your fantasy draft is the same: half of your league has left the draft and the other half pick the best player available.
Every pick counts as there's always a rookie running back still on the board that could make a massive impact. A great example from 2011 was Dallas Cowboys running back DeMarco Murray who tallied 897 yards rushing on just 164 carries over 13 games.
This year, that man will be Lamar Miller of the Miami Dolphins. The Dolphins will be in a new offense under head coach Joe Philbin and offensive coordinator Mike Sherman which means Miller will get his opportunity to impress.
He's slated to be the third back behind Reggie Bush and Daniel Thomas, but there's never enough depth at running back in today's NFL and he may earn the No. 2 role outright in training camp.
After you take him late, keep him stashed on your bench for a while to see if he pays dividends.
2012 Bold Predictions: 4.6 YPC, 588 rushing yards, six TDs
Don't Forget About LeGarrette Blount in 2012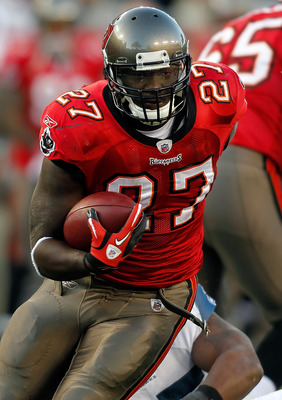 J. Meric/Getty Images
The Tampa Bay Buccaneers got running back LeGarrette Blount's attention when they drafted rookie Doug Martin in the first round of the 2012 NFL draft.
This was a wise move by the Bucs as it appears to be a two-for-one deal because Blount is feeling the pressure of Martin taking his starting job.
After rushing for 1,007 yards as a rookie in 2010, Blount regressed a bit in 2011 gaining just 781 yards, but then again, so did the Bucs.
The Bucs have rebounded and had the best offseason in all of the NFL. Although Blount seems to be an afterthought at the moment, he's become determined to be the undisputed No. 1 back in Tampa Bay.
With some recent weight loss and the fact that he knows he has to exceed expectations, Blount will be a force for the Bucs in 2012.
The talk of Martin being the No. 1 back will cause Blount to slide in your upcoming fantasy drafts, but don't hesitate to pick him up.
2012 Bold Predictions: 5.4 YPC, 1,047 rushing yards, eight TDs
Believe It or Not, Kevin Kolb Will Be Have Tons of Fantasy Value in 2012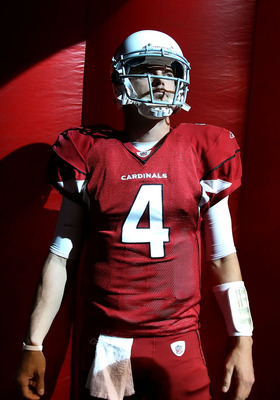 Christian Petersen/Getty Images
Kevin Kolb has some massive pressure against him heading in to the 2012 NFL season.
The Arizona Cardinals expected Kolb to become the franchise quarterback when they traded for him last offseason, but Kolb was tattooed with injuries in 2011.
In his nine starts for the Cardinals, Kolb had a modest 1,955 passing yards, nine touchdowns and eight interceptions. It doesn't help Kolb's case for being the starter in 2012 that he went 3-6 in his starts compared to backup John Skelton's 5-2 record last season.
In Kolb's defense, he was traded after the lockout and had just a few weeks to gel with his new teammates in 2011.
The Cardinals showed their faith in Kolb when they paid him his $7 million roster bonus in March. This shows that he'll get the benefit of the doubt when it comes to being the starter in 2012, although the competition between himself and Skelton is stiff right now.
Another positive for Kolb, the Cards drafted wide receiver Michael Floyd in the first round of this year's draft, so Kolb now has two can't-miss receivers.
Knowing that he has to prove that he is the franchise quarterback the organization expects him to be, Kolb will have the breakout season he desperately needs this year.
As he slides down the ranks in your fantasy drafts, don't be scared to draft him.
2012 Bold Predictions: 3,719 passing yards, 30 TDs, 15 INTs
Michael Crabtree Will Live Up to the Hype in San Francisco This Year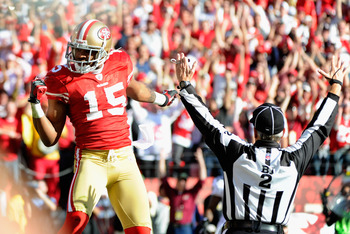 Thearon W. Henderson/Getty Images
Coming out of college, big things were expected from wide receiver Michael Crabtree.
The Texas Tech standout was automatic in his days in Lubbock when the ball came his way and that talent is beginning to materialize in the NFL.
2012 will be Crabtree's fourth NFL season, and he's done nothing but improve in his first three seasons.
Last year he nabbed 72 catches for 874 receiving yards and four touchdowns. Crabtree has hands that every aspiring athlete dreams of and this season he'll become a Pro Bowler.
With the San Francisco 49ers acquiring Randy Moss and Mario Manningham this offseason, Crabtree with have plenty of room to roam in defensive backfields.
With the added confidence that the 49ers gained as a whole from their successful 2011 season, Crabtree will explode this season.
Because of the notable additions to the receiving corps in San Francisco, fantasy players may be hesitant to draft him. Don't drop the ball on this one, Crabtree will be sensational.
2012 Bold Predictions: 85 catches, 1,113 receiving yards, nine TDs
Jermaine Gresham Is Set to Have a Breakout Season in Cincinnati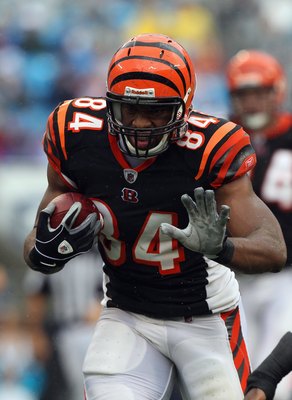 Streeter Lecka/Getty Images
Jermaine Gresham will play with a certain vigor in Cincinnati this season that won't go unnoticed.
The Bengals third-year tight end will burst onto the fantasy scene when opposing defenses are forced to pay more attention to the young bevy of Bengal wide receivers.
With the tight end position becoming a focal point for NFL offenses and fantasy circles alike, Gresham will be ripe for picking in the middle rounds.
He totaled 56 catches for 596 receiving yards and six touchdowns in 2011 and those numbers should head north in 2012.
Gresham and second-year quarterback Andy Dalton will benefit from having an offseason together this year and will undoubtedly form a bond.
With the Bengals having tall expectations for the 2012 season, Gresham will become a major part of the winning formula.
2012 Bold Predictions: 73 catches, 799 receiving yards. 10 TDs
LaMichael James Is a Multi-Dimensional Weapon That Should Be Taken Seriously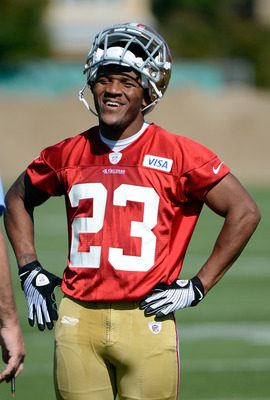 Thearon W. Henderson/Getty Images
The San Francisco 49ers got a spark plug in the 2012 NFL draft when they drafted running back LaMichael James in the second round.
James is a dynamic back who can do a little bit of everything and will get the ball in a variety of ways.
The Niners are loaded with talent in the backfield, but that won't stop head coach Jim Harbaugh from getting the ball into James' hands.
By the time the season starts, James may not be considered a sleeper, but the depth at running back for the 49ers will cause fantasy owners to be cautious on just where to draft him.
Everybody loves players that bring the type of excitement to the game that James does as he will put up some solid fantasy numbers this year.
2012 Bold Predictions: 6.1 YPC, 414 rushing yards, six rushing TDs, 33 catches, 316 receiving yards, four receiving TDs
Vincent Brown Will Become a Star in San Diego This Season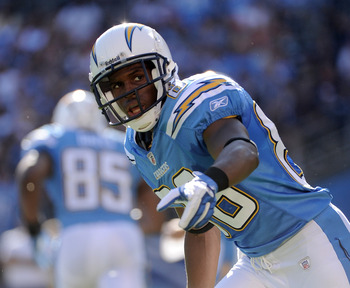 Harry How/Getty Images
San Diego Chargers' fans only got a glimpse of the massive potential that wide receiver Vincent Brown has in his 2011 rookie season.
Brown only had 19 catches for 329 yards in 14 games as a rookie, but with Vincent Jackson gone, the door is wide open for Brown to standout in 2012.
He is said to be the No. 3 receiver behind Robert Meachem and Malcom Floyd, but Chargers' fans know that Floyd is susceptible to injury and Meachem has never had more than 45 catches in an NFL season.
Brown will benefit from the offseason as he gets to develop a connection with quarterback Philip Rivers during OTAs and training camp.
By the time the 2012 season is complete Brown may even be Rivers' favorite target. Because of the cannon of an arm that Rivers possesses, fantasy players shouldn't forget about Brown.
2012 Bold Predictions: 81 catches, 1,255 receiving yards, 13 TDs
Sam Bradford Will Once Again Look Like a No. 1 Overall Pick in 2012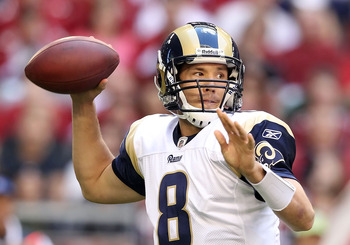 Christian Petersen/Getty Images
After a successful rookie campaign in 2010, St. Louis Rams quarterback Sam Bradford had a forgettable season in 2011.
Good news for Rams' fans, the team will never be that bad in the Bradford era again.
With new head coach Jeff Fisher now calling the shots, Bradford and the Rams will simply be better in 2012. Fisher will carefully instill a vivacious tenacity in Bradford that will rub off on the Rams.
As a rookie in 2010, he threw for 3,512 passing yards and started all 16 games, but injuries limited him to just 10 starts last season in which he only won one of those games.
There may not currently be a definite No. 1 receiver in St. Louis to catch Bradford's passes, but he spread the wealth his rookie year when seven men caught 20-plus passes apiece. Expect him to do the same this season as the Rams will compete in the suddenly stout NFC West.
The fact that the Rams set themselves up for success by trading down in the 2012 NFL draft means that the future is very bright for Bradford and the Rams.
The Rams didn't draft Bradford for just one good season as his career will get back on track this season.
Fantasy players may forget all about him, but you shouldn't.
2012 Bold Predictions: 4,108 passing yards, 31 TDs, 16 INTs
Keep Reading