Penn State Football: What You Need to Know About Nittany Lions' WR Justin Brown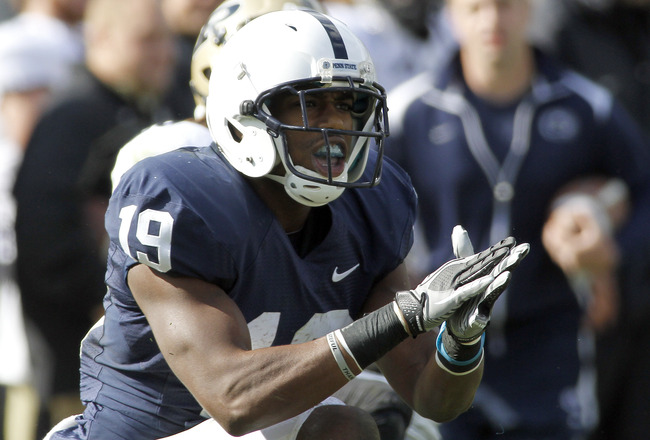 Justin K. Aller/Getty Images
The 2012 season will see Penn State wide receiver Justin Brown become the go-to receiver that he was expected to be when recruited.
While his body of work has been less than outstanding through the past three seasons, does he have what it takes to put together his best season in State College,and silence any critics that may be out there?
Let's take a closer look at Brown and discuss.
Justin Brown's Career Numbers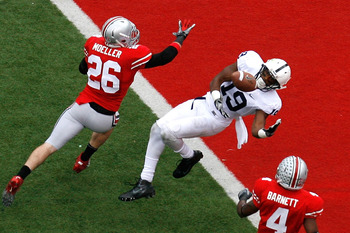 Kirk Irwin/Getty Images
Entering his fourth season at Penn State, Justin Brown has 1,047 receiving yards and three touchdowns.
Each of the past two seasons, Brown has increased his production. But his impact in the passing game has been a minor blip on the radar as a complement to Derek Moye the past couple of seasons.
Justin Brown's Averages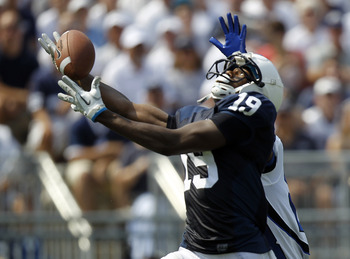 Justin K. Aller/Getty Images
Justin Brown has averaged 14.3 yards per reception the past three seasons. If you leave off his freshman season, in which he had five receptions at an average of 15.6 yards per catch, Brown's average per reception comes out to 14.25 yards.
To compare within the conference, Wisconsin's Jared Abbrederis averaged 17.0 yards per reception last season, and Nick Toon averaged 14.5 yards per reception. Derek Moye averaged 16.4 yards per reception last season for Penn State and 16.6 yards per reception over his four-year career.
Justin Brown's Best Game
Jamie Sabau/Getty Images
Justin Brown has just one 100-yard receiving game in his career. Brown accounted for 106 receiving yards in the 2010 regular season finale loss to Michigan State. Brown also set a career high for receptions (six) in that game—a mark he has since matched once (at Temple in 2011). Brown has just one other game with as many as five receptions (2010, Ohio State).
Justin Brown's Career Long Reception
Brown's 69-yard reception in the 2012 TicketCity Bowl was a career long for Brown. It was his only catch in the bowl game loss to Houston.
He also returned a punt for a 75-yard touchdown, but it was called back for a penalty.
Justin Brown the Punt Returner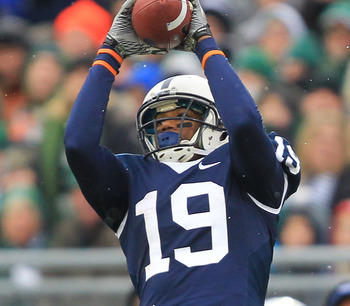 Hunter Martin/Getty Images
In the previous slide, we mentioned Brown's 75-yard punt return for touchdown that was called back due to a penalty in the TicketCity Bowl. Brown has returned punts sparingly over the past three seasons, returning a career-high 27 punts last season for 220 yards. In total, he has returned 49 punts for 338 yards, an average of 6.9 yards per return.
Will he continue to fill that role under Bill O'Brien with a new special teams coach in place? That remains to be seen.
Justin Brown's Lacking Career Touchdown Numbers: A Concern?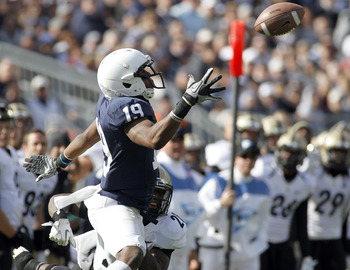 Justin K. Aller/Getty Images
Justin Brown has played since his freshman season, but his touchdown numbers pale in comparison to previous Penn State senior wide receivers. Brown enters his final season with three career touchdowns.
In comparison, Derek Moye entered his senior year with a total of 15 career touchdowns.
Brown is ahead of former receiver Brett Brackett, who entered his senior season with just two receiving touchdowns. Brackett then had five touchdown receptions in 2010. That same season, Graham Zug entered his senior season with nine career touchdown receptions. Zug caught just one touchdown pass in 2010.
In fairness, Brown came up playing behind these players, but there will be some who suggest Brown needs to step up his performance this season and leave his mark on the program.
Justin Brown in the Red Zone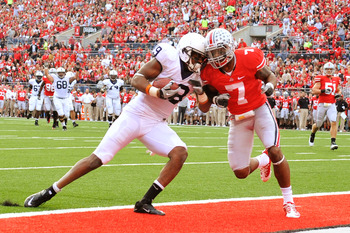 Jamie Sabau/Getty Images
Last season, Justin Brown had three catches for 21 yards (including one play for 15 yards) and one touchdown inside the red zone (Penn State had 42 red-zone attempts, resulting in 32 conversions). If Penn State is going to succeed offensively, they could need Brown to become more of a go-to target inside the opponents' 20-yard line.
That means going up and using his height to his advantage and having more dependable hands when thrown to, which could also be used to help open up alternative options.
Justin Brown the Third-Down Option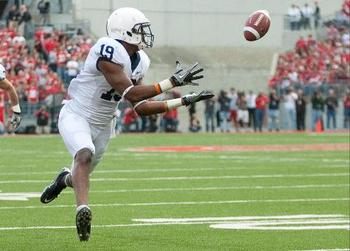 Photo: Greg Bartram, US Presswire
Justin Brown had 17 receptions on third downs last season, resulting in 15 first downs. While Brown did have a number of drops during the season that seemed to kill offensive possessions, he nonetheless showed a knack for coming up with a clutch play when needed often enough to consider him a top target on third down. That is a positive trend that will need to continue in 2012.
Expectations for Justin Brown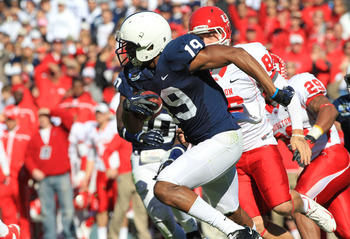 Photo: Big Ten Network
Later this summer, and when we get closer to the start of the 2012 season, we will take some time to put together some official projections for Justin Brown this season. But this much should be certain: Three touchdowns will not cut it for Penn State and Brown this season.
Derek Moye led the Nittany Lions in touchdown receptions last year with three, and everybody knows how woeful that offense could be last fall. This year, that needs to change, and Brown will be expected to lead the way in the receiving game.
Will Justin Brown Finally Live Up to Potential?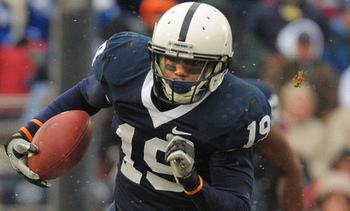 Photo: Penn State Live
Justin Brown is certainly a nice kid. He is mild-mannered and not one to get in to trouble. But while his character has never been an issue, the question is whether or not he has what it takes inside to live up to some of the hype surrounding him when he was recruited.
Brown was rated a 4-star prospect by Rivals.com, and the No. 1 prospect in the state of Delaware. Of course, Delaware is not known for their pool of talent the way some other states are, but fans were led to believe that Brown had the potential to be one of the top receivers in Penn State program history, at least in the Big Ten era.
To date, he has not matched that level of play, but this could be the year he does what fans have been waiting for. One stellar year would be more than enough to make up for a small body of work heading in to the fall.
Keep Reading

Penn State Football: Like this team?