Darrelle Revis Holdout Looming? If So, Jets Hold All the Cards
April 8, 2017
Nick Laham/Getty Images
The New York Jets face uncertainty with perhaps the most valuable player on their defense and one of the most valuable defensive players in football. With two years left on a four-year, $46 million deal, Darrelle Revis is unhappy with his contract situation.
The star corner received over $30 million in his first two years of the contract and got a deal averaging $11.5 million per year. This made him the highest-paid corner on a yearly basis once Nnamdi Asomugha's deal with Oakland expired.
But after seeing Cortland Finnegan and Brandon Carr sign deals averaging $10 million per year this offseason, it seems that the NFL's best cornerback is displeased with his contract.
At this point, we know about the fail-safe in Revis' contract. If he holds out of any mandatory workouts it will trigger a three-year extension to the current deal worth about $9 million.
That's card No. 1 that the Jets hold, and it's the biggest one. Not only will Revis be underpaid by NFL standards, but he won't be able to hit free agency until March 2016. The 26-year-old cornerback won't want that. One of his best chances of truly getting paid the way he feels he deserves is to play out his existing contract since the Jets agreed in the deal not to use the franchise tag on him.
What else gives the Jets leverage here? Revis is trying to hold out just two years after he received top dollar. The Jets have about $6 million in cap space available right now, but should they use that to appease Revis's ego?
To put the best product out of the field, you would probably say yes. But the Jets have never been big on sending the message that they are willing to be strong-armed—except for the last time Revis was unhappy with his contract.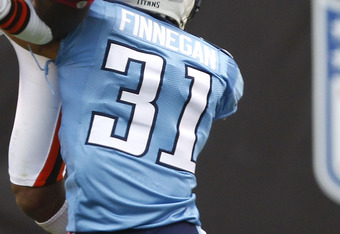 Matt Sullivan/Getty Images
So you have to ask yourself, is doing this twice a good message to send? Revis may not be getting paid like the best cornerback in football this season, but the life of his contract still pays him like the best. He has a problem with the fact that the Jets front-loaded his deal? Too bad.
The Eagles did something similar with Terrell Owens after he signed a seven-year deal worth $49 million. What was their answer? They released him after two years.
Revis also has to realize that the lockout required a sacrifice in pay for the players. With a reduced salary cap, the contracts that are available also have to be partially reduced. In Revis's case, he can't expect a deal better than the one he already got.
But even that is not my biggest concern with the Revis situation. While it was admirable of Revis to restructure his deal to give the Jets room to potentially sign Nnamdi Asomugha, he was still restructuring a deal worth $11.5 million per season—and in that particular season, Revis was still set to make an enormous amount of money.
The Jets need Revis to win, and while I've always believed compromise is key to contract disputes, this is one of those times when the Jets need to play hardball. If Revis wants to renegotiate, wait until the final year of his deal.
A holdout is an empty threat. Revis won't risk tacking on three years to his original deal and being underpaid in the process. As well, since this is about money, odds are Revis isn't going to pull a Carson Palmer and threaten retirement.
Then the decision becomes whether New York wants a player who constantly complains about his pay grade, even when he's paid well, on the roster.
The Jets have a ton of leverage, and seeing that Revis would be signed for five years if he chooses to hold out, there's a great chance the Jets could move him for a really good price (a couple of picks, and at his age a first-rounder would definitely be one of them). Whether or not it would be worth it is another question entirely, but this headache is going to start rubbing people the wrong way.
Head coach Rex Ryan has often compared Revis to Deion Sanders. He's said that they are the two best corners he's ever seen and that Revis should be paid like Sanders. Neon Deion's best deal was a seven-year deal worth $35 million signed with Dallas. It made him the highest-paid defensive player in football.
What's the equivalent to that today? Well, Mario Williams signed a six-year deal worth $96 million. That's $16 million per season. It plays out more like a two-year, $40 million deal, which gives Buffalo the flexibility to move Williams after the second season of the deal if they're not pleased with his performance.
Obviously, the Jets aren't going to give Revis a deal like that. The closest Revis could come to hope for is something closer to the Julius Peppers deal. After all, Revis is more valuable to the Jets defense than a player like Carr or Finnegan, but is he really as valuable to the Jets as a supreme pass-rusher is?
The numbers may come to his defense there, and the Jets' scheme in 2009 certainly would say that Revis had as much value as an elite pass-rusher, but the fact is that Revis isn't going to get that much more than he got on his previous contract. Doesn't that make all of this a moot point?
Let's say the Jets tacked on another three years to Revis's remaining two years and gave him a pay raise. Let's say they gave him $12 million per season—essentially a five-year, $60 million deal. The Jets won't backload the deal. They'll want to try to give Revis as much as they can in the first two years.
And we'll be right back to square one.
So a piece of advice to Mike Tannenbaum: Leave this one alone. Call Revis on his bluff. Renegotiating with Revis will only limit roster flexibility and send one really, really bad message from the organization.