Brendan Rodgers: Picking His Liverpool Starting XI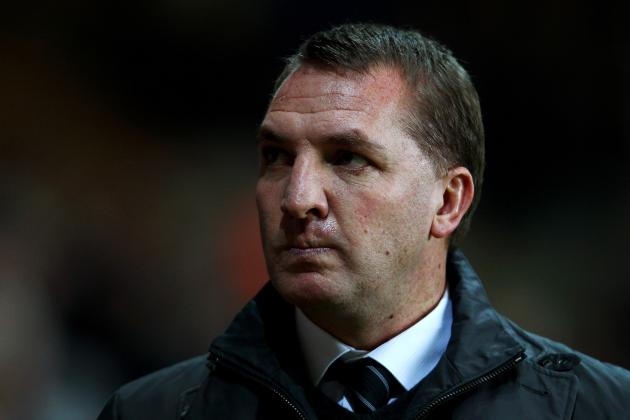 Julian Finney/Getty Images

The Guardian reports that Liverpool has all but finalized the signing of Swansea City's Brendan Rodgers as their next Head Coach.
Thus, the focus can finally shift to tactics and outlook.
Rodgers brings the English version of "tiki-taka" football to Anfield.
Essentially, the team moves away from long balls and heavy crossing to a pass-heavy style of play which emphasizes possession. For examples, look at Arsenal, Roma, or most appropriately, Barcelona.
Each player operates within a specific zone and passing lane. Everyone from the goalkeeper to the center forward is part of a fluid scheme. The entire unit presses high up the pitch.
Xavi Hernandez sums it up in more simplistic terms. "I get the ball, I pass, I get the ball, I pass, I get the ball, I pass."
The transition does not happen overnight.
Getting the collective egos and alternative playing styles at Liverpool to cohesively buy-in will take time.
The Kop needs to be patient as the Welshmen moves from the traditional 4-2-3-1 to his modified 4-3-3. Not every player on the roster will fit. Certainly, there should be a lot of movement in the summer transfer market as they evolve.
What follows is an assessment of a possible Rodgers initial starting XI.
Players are also rated on the likelihood that they last within the new system.
Begin Slideshow

»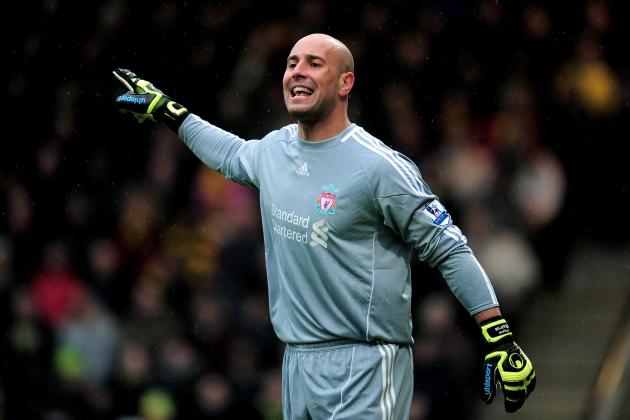 Jamie McDonald/Getty Images

Rating: A
As the Telegraph states, "In Pepe Reina, Rodgers has the ideal goalkeeper for this system."
Like Michael Vorm and Victor Valdes, Reina will play with the ball at his feet. Emphasis is on threaded passes over long balls forward.
Long kicks from the box have a high probability of lost possession. The risk in that case is not worth the reward.
It is better instead to play measured passes out of the box to the center-backs and central midfield.
Reina is a terrific leader on the pitch. He is a product of Barcelona's famous La Masia youth academy and grew up playing this way.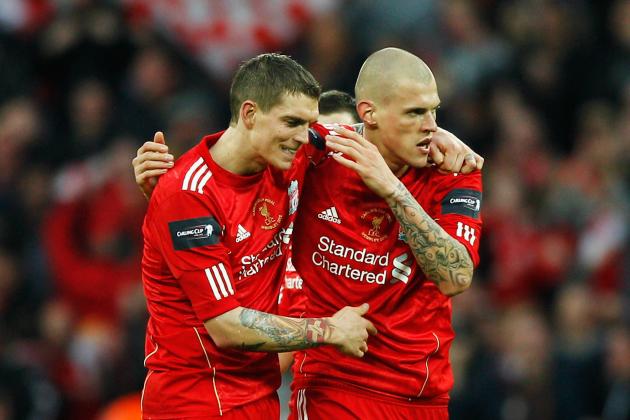 Paul Gilham/Getty Images

Rating: A

Liverpool is gifted with two central defenders who are tailor made for this.
One player is meant to be the large physical presence in the back. The other is more technical and tasked with playing the ball at his feet.
Barcelona once again provides an excellent example. The duo of Pique and Carlos Puyol is the ideal model.
Martin Skrtel is the obvious choice for Pique's position. Daniel Agger naturally transitions into the technical post.
In many ways Skrtel's duties will remain relatively static. The Slovakian is good on the ball and occasionally dangerous in the box on corners. However, he seems most comfortable playing back and supporting play.
Further, Agger should welcome this opportunity. He is excellent moving forward and has solid vision. His long underrated ability as a passer and director of play will be featured heavily.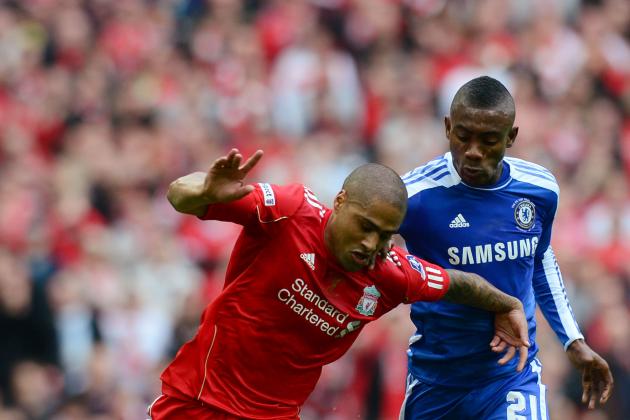 Shaun Botterill/Getty Images

Grade: B
As noted in the EPL Index, "the players in this zone will need to be prepared to work particularly hard up and down the wing; both defensively and in more advanced positions."
In some ways, Enrique and Johnson are well suited. Both have the requisite speed to aid in the attack. They also each possess the offensive ability to make an impact in the final third from the wings.
However, Enrique's form clearly dropped toward the end of the campaign. Johnson has also been criticized for his tendency to get caught up the pitch.
Both issues need to be addressed.
With the high line and only two defenders as cover, Johnson has to consistently get back or he risks exposing his compatriots. Enrique's problems are not specific to this system. However, they bear mentioning either way.
That said, each individual's respective positive attributes outweigh the negative. There are also much more urgent needs elsewhere. Expect the outside defense to remain the same.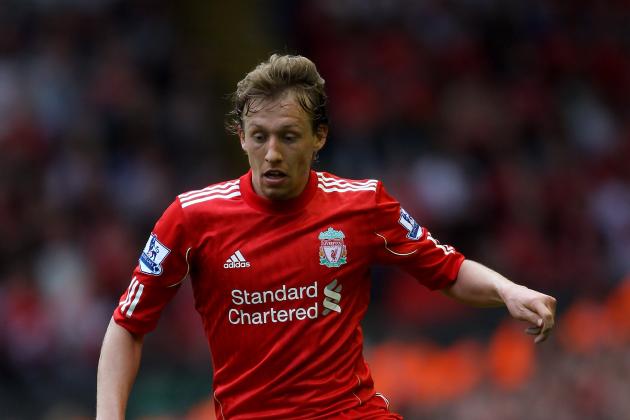 Clive Brunskill/Getty Images

Grade: B
Xavi Hernandez is the world's gold standard at central midfielder. Leon Britton did an admirable job for Rodgers as well.
The ideal fit has the confidence to withstand pressure on the ball. Second, they possess the defensive capabilities to win the ball back. Third, he must be available as an outlet to teammates under pressure. Finally, and perhaps most importantly, they read the game and create from the back of the pitch.
Lucas Leiva without a doubt checks three of the four boxes. He is an outstanding defender, is well positioned, and rarely gives the ball away.
However, there are two major concerns. The Brazilian is returning from a serious knee injury. Liverpool has no one in reserve behind him and struggled mightily when he went down midseason.
More troubling, Lucas is still developing as an offensive creator.
In the past, players such as Gerrard, Alonso and even Mereiles were more likely to provide that cutting pass or thoughtful ball forward than Lucas. He must continue to evolve.
That said Lucas has grown exponentially since he first arrived at Anfield. I have every confidence that with time he can succeed.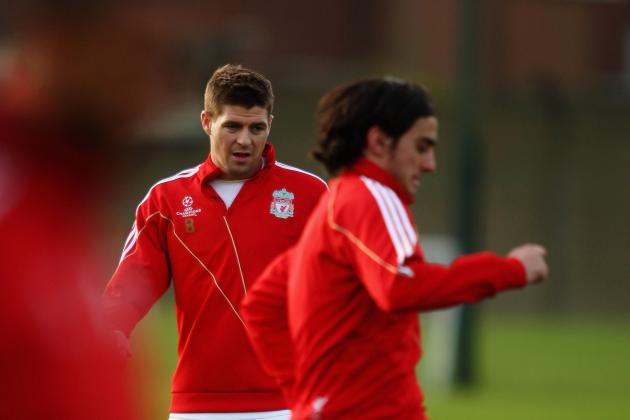 Clive Brunskill/Getty Images

Grade: C
This is where the picture starts to get murkier.
Great examples include Cesc Fabregas, Andres Iniesta and more locally, Gylfi Sigurdsson. Rodgers used the latter to devastating effect at Swansea City.
The Icelandic import from Hamburg adds the flair and creative thrust from midfield.
Rodgers likes to have two players serving as attacking midfielders in this way. They control the game, maintain possession and attempt to get the ball up to the front three as dynamically as possible.
Liverpool has the following options: Joe Cole (on loan), Jordan Henderson, Steven Gerrard, Charlie Adam, Alberto Aquilani (on loan), Jonjo Shelvey and Jay Spearing.
Each player fits the system to varying degrees yet no one is ideal for different reasons.
Cole earns £90,000 a week and is over 30-years old. If Lille wants to sign him permanently expect the Fenway Sports Group (FSG) to comply.
Henderson, Spearing and Adam tend to give the ball away carelessly when under pressure. Compare that with the 86-percent pass completion rate seen at Swansea City and I doubt that they will be starters.
Shelvey has a tremendous amount of potential, but is very young. He is a dark horse to feature heavily under new management.
Aquilani in theory fits the mold. He is an excellent passer with outstanding vision.
However, he is yet to prove he can transition from Italian to English football. While on loan at AC Milan and Juventus he proved he still has the talent. But is he physical enough?
Finally, there is the matter of Steven Gerrard. He is assured a starting place, however, the transition could be particularly difficult for him. As I have written in the past, it is not entirely clear what his best position is.
He likes to run at the defense and often puts in a speculative pass. Rodgers prefers that his midfielders play measured balls and remain a bit more patient.
His class is undoubted so I am sure he will grow into it. However, it may take time.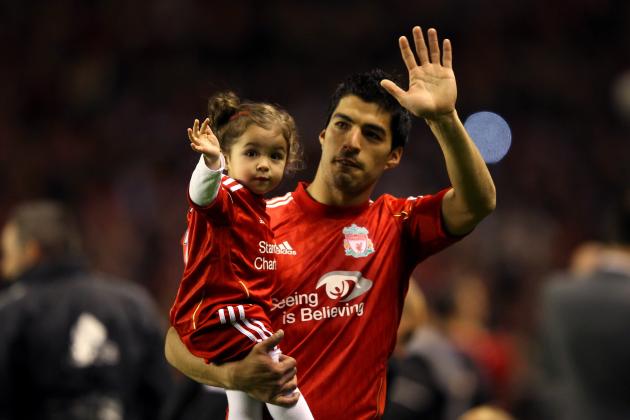 Alex Livesey/Getty Images

Grade – A/D
Lionel Messi is as good as it gets on the wing within the 'tiki-taka' system. However, you do not have to be the best player in the world to succeed.
Nathan Dyer and Scott Sinclair did an outstanding job at Liberty Stadium for Rodgers.
Creativity and technical ability are at a premium. With the fullbacks providing width, the forwards are expected to cut inside and make intelligent runs at the opponents' back line.
Luis Suarez is a natural fit and should thrive. He essentially plays here for Uruguay and did so for Ajax as well.
He is at his best when he has a striker to complement and the pressure is not on him to score. This allows for both.
His mirror image on the left side is harder to call.
Stewart Downing seems like more of a left-sided midfielder. He has not shown the ability to find seams and cut in as this requires.
Raheem Sterling is a tantalizing option however he is only 18, and still needs time to grow.
Thus, I expect Liverpool to be active in the transfer market attempting to fill this void. Players such as Victor Moses, Junior Hoilett and even Scott Sinclair are possibilities.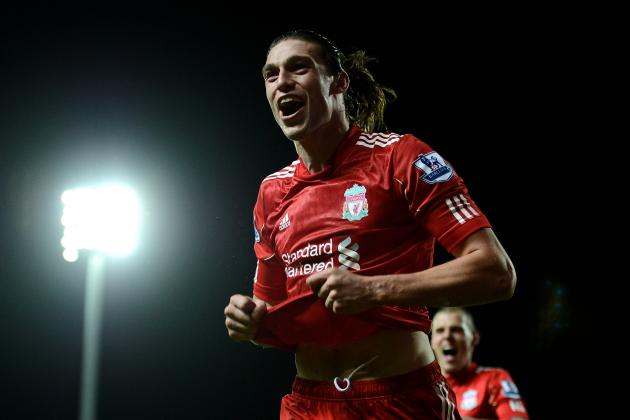 Laurence Griffiths/Getty Images

Grade – C
Rodgers asks that all eleven players are integrated into one seamless unit.
The striker plays through both the forwards and the midfield. He creates just as often as he scores. Further, the philosophy is grounded in the idea that everyone helps press on defense.
As Guardiola puts it, "you win the ball back when there are thirty meters to their goal not eighty."
Thus, Carroll will have to grow as a pressing defender and passer.
I think he can do it, however, as we saw this year, the biggest question is confidence.
Rodgers has to be patient with the big man and help him find form. Just as important, the Kop has to be patient with their new manager as he teaches Carroll.
I expect Carroll to get his shot. However, I would not be surprised if Rodgers asks that the new Sporting Director go out and sign a backup just in case.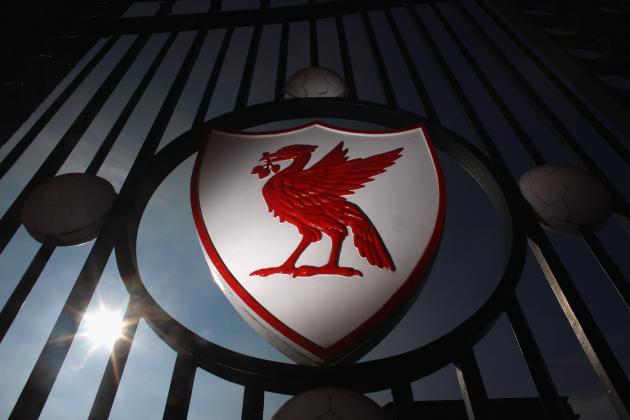 Christopher Furlong/Getty Images

The modified 4-3-3 represents a seismic shift in terms of style for Liverpool.
Some players are better suited for it than others. Many will have to take time adjusting.
Anfield will have to learn the virtue of patience as the Reds fundamentally alter their football.
What do you think of this starting XI? Who would you play and who do you think FSG should sign this offseason?