Where Should Steven Gerrard Start for Liverpool?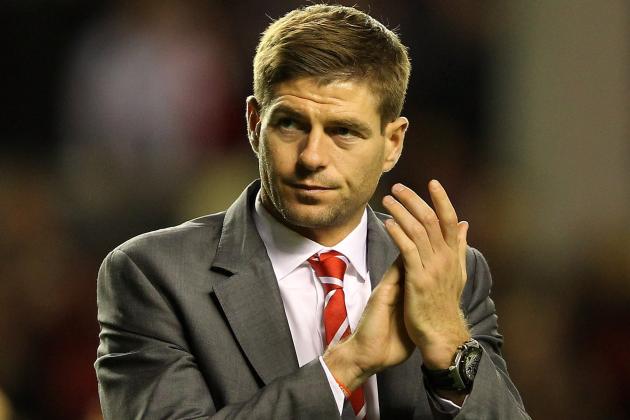 Alex Livesey/Getty Images

Roy Hodgson's recent announcement of his 23 man roster carries with it the news the Steven Gerrard will wear the Captain's armband.
One would think that anyone fit to lead the line for England is a no-brainer to start for his club.
But an article dated April 10th from the Guardian puts forth some interesting evidence to the contrary:
"When Gerrard has not started this season, Liverpool have won 48% of games played; when he has started, that drops to 9%.

In the 11 games Gerrard has started, Liverpool have scored an average of 1.00 goal per game while conceding 1.36; without him it is goals for 1.24, goals against 0.90. They have taken 1.67 points per game without him, just 0.73 with."
In short, Liverpool got far better results when their talisman did not take part. What is even more troubling is the apparent effect he has on his teammates:
"All six of Charlie Adam's assists and both his goals have come when Gerrard has not started. Jordan Henderson's tackle success rate drops from 92.59% when Gerrard does not start to only 63.64% when he does. Jay Spearing wins 60.71% of duels when Gerrard does not start; only 54.76% when he does."
However, the reality is that no matter how many stats you throw at the manager, Gerrard will always be on the pitch for Liverpool. He is the heart and soul of the team.
Yet the fact remains that Kenny Dalglish's deployment of his star met with mixed results. Thus the question presents itself, what is Steven Gerrard's best position?
Begin Slideshow

»
Mike Hewitt/Getty Images

Gerrard made his name as an attacking midfielder in the classic English mold.
This is the position he occupied in Liverpool's famous 2004/05 Champions League Final victory. This is the position which earned him the nickname "Captain Fantastic."
The central role frees him up to roam and harry the opposition. Further, it places most of the defensive responsibility elsewhere.
From here makes incisive runs. He takes the kind of shots from outside the box for which he is known.
Unfortunately it has been a while since Stevie G was in the goal scoring form which this position requires. Outside of his hat trick at Everton, Gerrard scored just two league goals in 2011.
More importantly, there is the emergence of Luis Suarez. The Uruguayan is now the focal point of the offense. And as Dalglish learned on numerous occasions, Suarez is far better utilized as a center forward than as a lone striker.
Leaving Gerrard directly behind Suarez creates some redundancies. It also puts a tremendous amount of pressure on Lucas Leiva in the holding role.
David Ramos/Getty Images

Dalglish often preferred to utilize his Captain in a more centralized holding role. Think Xabi Alonso or Xavi Hernandez.
This strategy allows Gerrard to create from the back. He can make incisive passes and dictate play without pushing so far forward.
The central role maximizes his quality and vision without requiring that he shoulders so much of the goal-scoring burden.
This seems to be the natural progression for the aging midfielder. It is likely that Hodgson will play him here this summer.
But again, there are those troubling statistics. With Gerrard in the middle, Liverpool clearly fare worse.
Too often, his teammates either get caught ball-watching or attempt to force plays through their Captain. Charlie Adam is less confident, Jordan Henderson less efficient.
At the end of the day it is a team sport. Lineup decisions have to be made with the aggregate effect always in mind.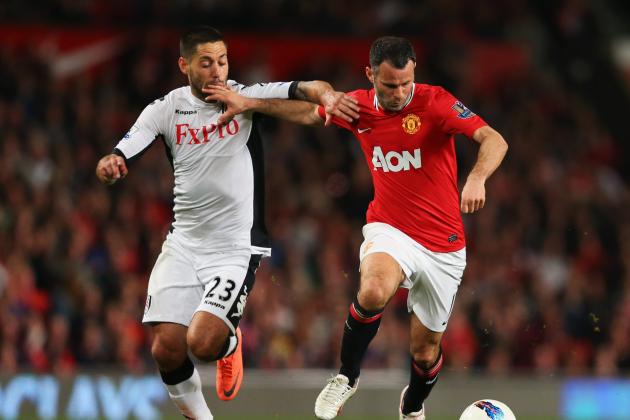 Alex Livesey/Getty Images

The third option is to push him out wide.
Fabio Capello often did this with England as a means of keeping both Lampard and Gerrard on the field together.
It is not overly common to see an older player occupy this role but it is possible. Ryan Giggs is a perfect example of that point.
In many ways this is an ideal spot.
He can make his classic runs and continue to create for the forwards. It also removes him from the center of the pitch. Thus, the rest of the midfield would lose the ability to lean so heavily on their leader.
However, once again there are drawbacks.
Playing on the right, Gerrard has to be mindful of Glen Johnson. Should the right-back get caught up, Gerrard would have to track back to cover the flank.
That takes a lot of stamina. It remains to be seen whether he could consistently make those runs. He will be 32 years old in 2012 after all.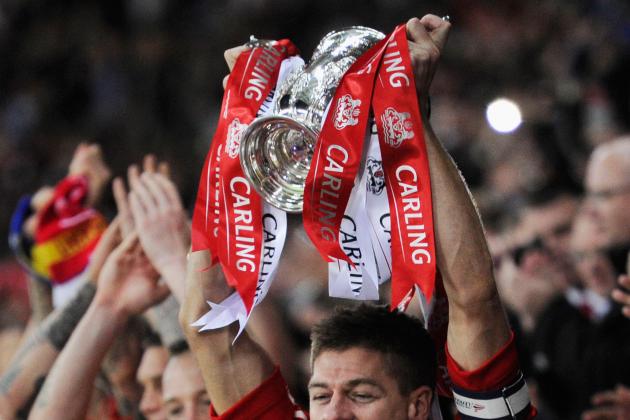 Pool/Getty Images

As England's Captain and the soul of Liverpool, Gerrard has to be in the lineup. But where?
This is a vexing question which will weigh heavily on the mind of the incoming manager. Hopefully, we will get a better idea as the transfer window moves forward.
Where would you deploy Stevie G?