NBA Draft 2012: Power Ranking Best L.A. Lakers' Drafts Since 2000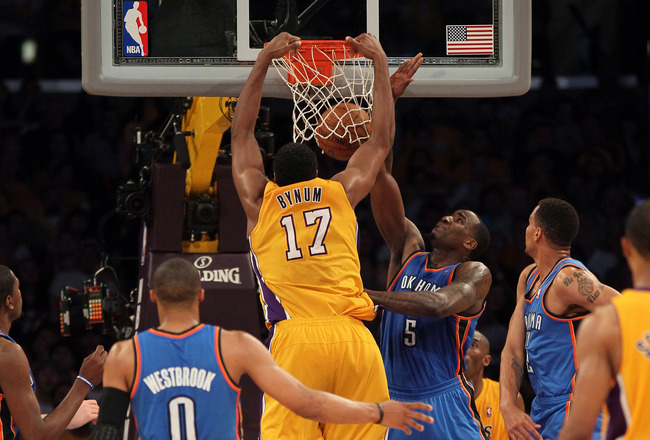 Stephen Dunn/Getty Images
Let's face it.
The Los Angeles Lakers draft classes have never been all that great throughout history, especially recently. They've relied more on free agent acquisitions rather than the draft to succeed.
They've been so good throughout the years that they rarely get any solid draft picks. In fact, the team hasn't had a first-round draft pick since 2009.
That being said, there have been a few diamonds in the rough that have helped the Lakers win some titles over the years. But overall, there have been more no-namers.
Without further ado, let's rank the Lakers' drafts since 2000.
12. 2001: No Draft Picks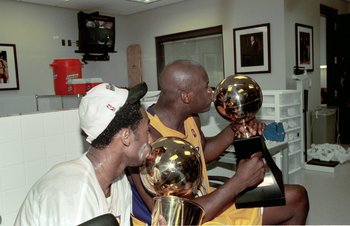 Jed Jacobsohn/Getty Images
The Los Angeles Lakers didn't have a draft pick back in 2001. They traded them away.
It's not like they needed one, though. They were fresh off their second title and on their way for another.
11. 2002: Chris Jefferies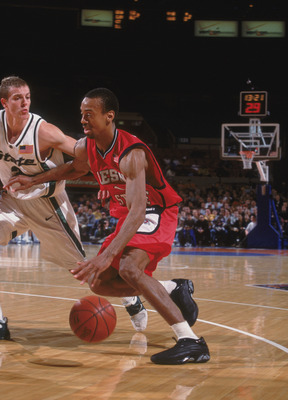 Al Bello/Getty Images
With the 27th overall pick in 2002, the back-to-back-to-back champion Los Angeles Lakers selected a small forward from Fresno State by the name of Chris Jefferies.
He was immediately traded to the Toronto Raptors, and he never played a game with the Lakers.
In fact, his NBA career was nothing to write home about. He has been out of the league since 2004.
10. 2008: Joe Crawford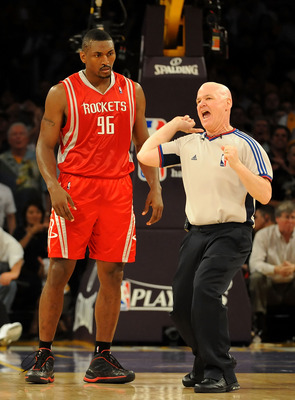 Harry How/Getty Images
No the Los Angeles Lakers did not draft the oft-criticized referee, but they drafted a guy with the same name with their 58th overall pick in 2008 from Kentucky.
Crawford never played a game with the Lakers, and he's been out of the league since 2010. He did spend some quality time with the D-League's Los Angeles D-Fenders before bolting overseas.
9. 2009: Toney Douglas, Patrick Beverley and Chinemelu Elonu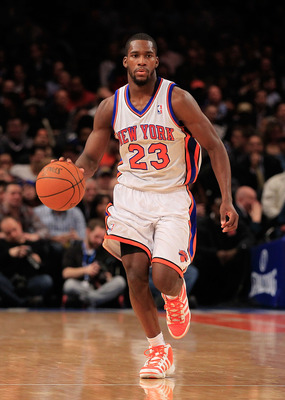 Chris Trotman/Getty Images
The Los Angeles Lakers took Toney Douglas 29th overall back in 2009 but traded him to the New York Knicks. Douglas has gone on to have a decent NBA career as a role player for the Knicks.
Patrick Beverley and Chinemelu Elonu were the second-round picks that season for the Lakers. Beverley was immediately traded to the Miami Heat. He no longer plays in the NBA. Elonu never played a game in the NBA either. He now plays in France.
8. 2007: Javaris Crittenton and Sun Yue
Stephen Dunn/Getty Images
With their first-round pick in 2007, the Los Angeles Lakers took Javaris Crittenton 19th overall. The point guard from Georgia Tech would play in 22 games with the Lakers before being involved in the Pau Gasol trade.
Crittenton's NBA career (and life) hit a downward spiral after that point. In 2009, while with the Washington Wizards, Crittenton and then-teammate Gilbert Arenas drew guns on each other in the locker room to settle gambling debts.
Crittenton was later released. Things got worse a few years later when in August 26, 2011 he was charged for murder.
Sun Yue had a more peaceful NBA career. He spent a few seasons with the Lakers and was part of the 2009 championship team despite not getting any playing time in the playoffs. He was later released and now plays for the Beijing Olympians in China.
7. 2011: Darius Morris, Andrew Goudelock, Chukwudiebere Maduabum, Ater Majok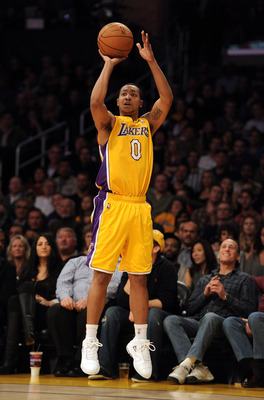 Harry How/Getty Images
The Los Angeles Lakers had a total of four second-round picks in 2011. They took Darius Morris, Andrew Goudelock, Chukwudiebere Maduabum and Ater Majok with their selections.
Morris and Goudelock got a considerable amount of playing time with the Lakers this season. Goudelock became a fan favorite with his famous running jumper. Both deserve a shot to return to the Lakers and continue their backup roles.
On the other hand, Maduabum and Majok never matriculated into the Lakers roster. Maduabum was traded to the Denver Nuggets and Majok didn't make the team.
6. 2010: Devin Ebanks and Derrick Caracter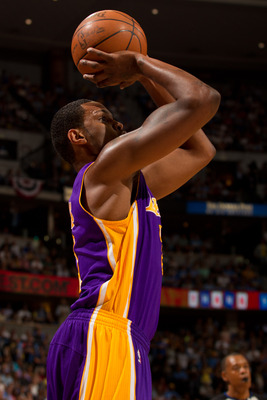 Justin Edmonds/Getty Images
The Los Angeles Lakers took Devin Ebanks in the second round of the 2010 overall, No. 43 overall. Then at No. 58, they selected Derrick Caracter.
Both Ebanks and Caracter had significant playing time for the Lakers as rookies. However, it was Ebanks that remained with the team and even started a significant portion of the season this year. Caracter was waived.
Ebanks started six games in this year's postseason and he averaged 4.1 points and 2.2 rebounds per game. The small forward still has plenty to learn in the NBA, but he has, for the time being, found a spot on the Lakers bench
5. 2000: Mark Madsen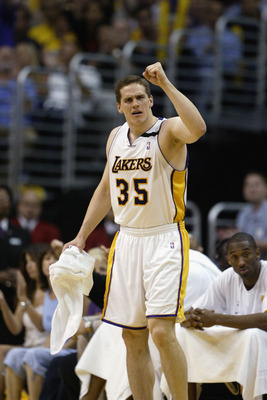 Jeff Gross/Getty Images
The 29th overall selection from the 2000 NBA draft will always be remembered for what he did during the Los Angeles Lakers' championship parade rather than what he did on the court.
Mark Madsen broke out and started dancing during the 2001 and 2002 championship parades and every Laker fan labels Madsen to those dances. He would continue to play for the Lakers until 2003. After that, he spent six seasons with the Minnesota Timberwolves before calling it quits.
Throughout his career, Madsen averaged 2.2 points and 2.6 rebounds.
Despite those numbers, Shaquille O'Neal once said that the only person that threw him off his game was Mark Madsen during practice once saying, "He used to beat me up in practice."
4. 2003: Luke Walton and Brian Cook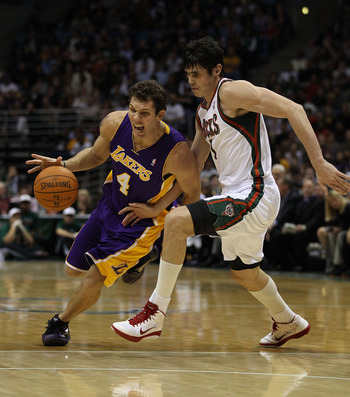 Jonathan Daniel/Getty Images
Most people will remember Luke Walton's tenure with the Los Angeles Lakers as a bench scrub who was subject to numerous memes on the Internet for being an absolutely irrelevant player on the team with a monster contract.
However, Walton did provide some value for the Lakers throughout his tenure. The 32nd overall pick from 2003 had his best season in 2006-07 when he averaged 11 points and five rebounds per game. That season earned him the atrocious contract that would handicap the Lakers for years.
That being said, he was highly instrumental in the 2009 and 2010 NBA playoffs. He came in certain situations and helped move the ball. His presence brought flow to the Lakers offense. He averaged six points per game during the 2009 NBA playoffs in 21 games.
It would be nice if people remembered Walton for the contributions he brought to the team when he was at his best, not the last few seasons when he wouldn't get off the bench.
The other pick in that year's draft was Brian Cook. He spent a little over four years with the team before being traded for Trevor Ariza in 2007.
Since then, he's played for four other teams and right now he's with the Washington Wizards.
3. 2004: Sasha Vujacic and Marcus Douthit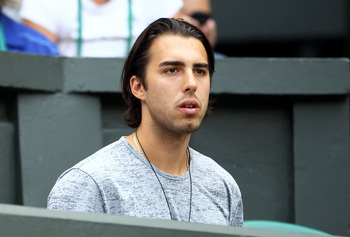 Julian Finney/Getty Images
Sasha Vujacic was The Machine. His long, rich, flowing hair would fly in the air as he ran up and down the basketball court. He was a European supermodel playing basketball.
All jokes aside, Vujacic had some phenomenal years as Kobe's backup. The 27th overall pick from 2004 was a great three-point shooter, hitting 37.1 percent of his triples in his career.
His greatest moment in a Laker uniform came in Game 7 of the 2010 NBA Finals when he hit two clutch free throws to secure the win and the championship.
Vujacic was traded to the New Jersey Nets in 2010, and during the lockout he started playing in Turkey.
The other pick during the 2004 draft was Marcus Douthit from Providence College. Douthit never played in the NBA and has since played in several different countries such as Belgium, Turkey, Russia, South Korea, China and the Philippines.
2. 2006: Jordan Farmar and Cheikh Samb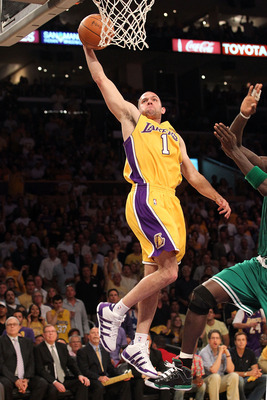 Ronald Martinez/Getty Images
The Los Angeles Lakers took Jordan Farmar 26th overall from UCLA back in 2006, and he became a fantastic backup to Derek Fisher throughout his tenure with the team.
Farmar helped contribute to two Lakers titles, but he signed with the New Jersey Nets after the 2010 campaign.
The next pick in the 2006 draft was Cheikh Samb from Senegal. Samb never played for the Lakers. He did play 22 games with four different teams from 2007 until 2009. He now plays in Tehran in the Iranian league.
1. 2005: Andrew Bynum, Ronny Turiaf and Von Wafer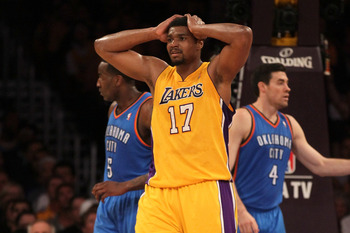 Stephen Dunn/Getty Images
After not making the playoffs in 2005, the Los Angeles Lakers had a rare lottery pick which they used on a 17-year-old from New Jersey named Andrew Bynum.
Bynum would develop into one of the best big men in the league, rivaling Dwight Howard for the right to be called the league's best center.
He contributed to two titles for the Lakers, and he has gotten even better in the last few seasons,
His only problems are that he's a little too injury prone and he can't really control his emotions. Other than that, he's the greatest Laker draft pick in ages.
The other two picks that year were Ronny Turiaf and Von Wafer.
Turiaf was selected 37th overall, but he had heart problems that required serious open heart surgery.
He recovered and went on to play three seasons with the Lakers.
Wafer, on the other hand, played just 16 games with the Lakers back in 2006 but has spent time with six other teams since then.
Keep Reading

Los Angeles Lakers: Like this team?