College World Series Bracket 2012: Semifinals Preview and Predictions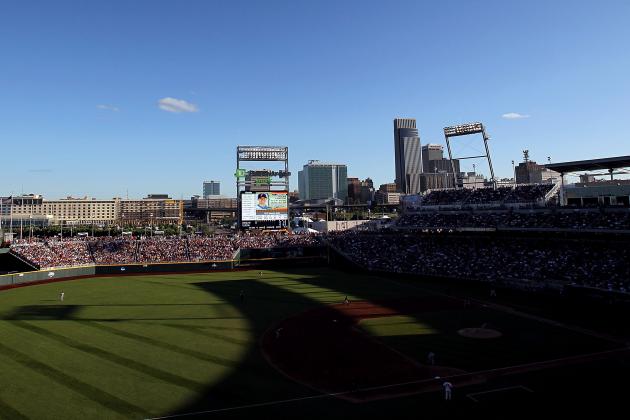 Ronald Martinez/Getty Images

The College World Series semifinals are upon us. Eight teams entered Omaha and now only four remain, two of which are undefeated with two more looking to topple those powerhouses.
Everything is on the line.
Overall third-seeded Florida State will face off against Arizona while overall eighth-seeded South Carolina will battle conference foe Arkansas for the right to the play in the CWS Championship Series.
Now is the time where teams become legends.
We take a look at the College World Series semifinals with some previews and predictions on which two squads will emerge the best of the college baseball world.
Begin Slideshow

»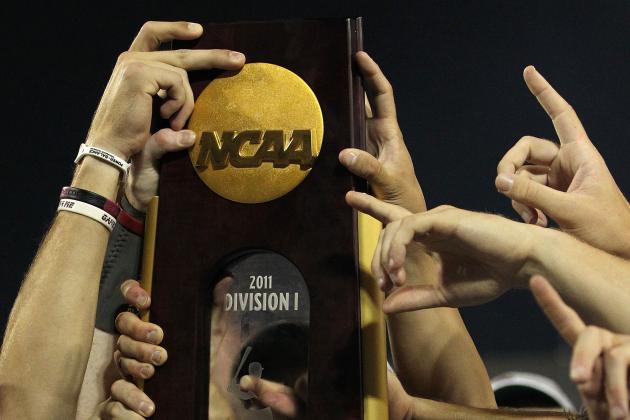 Ronald Martinez/Getty Images

Thursday, June 21

Arizona (45-17) vs. (3) Florida State (50-16) @ 5 PM ET
Arkansas (46-20) vs. (8) South Carolina (47-18) @ 9 PM ET
Both Games Broadcasted on ESPN2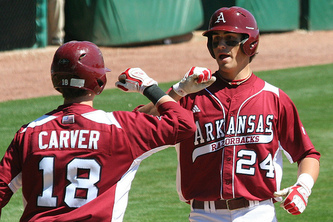 South Carolina - Season Record: 47-18

CWS Appearances: 10, Two Titles (2010, 2011)
Owning the past two College World Series titles, the Gamecocks are back in the Semifinals in their hopes to pull off a three-peat. South Carolina has proven why they belong in the conversation as one of the nation's top teams, pulling off a stunning upset of Florida and grinding away Kent State to face the Razorbacks for a second time this CWS.
Led on offense by big-shot junior Christian Walker (.322), the Gamecocks have been able to consistently get big-time hits at necessary times during games. While the hitting has been better than decent over the course of the season, USC has been able to rely on its pitching staff for pulling out wins. With senior Michael Roth (9-1) at the head, junior Colby Holmes (7-1) and freshman Jordan Montgomery (5-1) have thrown brilliantly. Also of note are junior relievers Matt Price (4-4) and Tyler Webb (5-2), combining for 13 saves.
South Carolina certainly has the means to return to Omaha's biggest stage once again, yet going through a tough Arkansas squad twice will present problems. Watch for the Gamecock's experience to play a major factor in whether or not they advance to their third CWS finals in a row.
Arkansas - Season Record: 46-20
CWS Appearances: Six, No Titles
The Razorbacks are, hands down, this year's "shock and awe" squad. Entering Omaha after defeating both Rice and (4) Baylor, Arkansas has gone 2-0 in matchups against Kent State and defending champion South Carolina, snapping the latter's 22 game college baseball playoff win streak.
The Hogs are led offensively by junior Matt Reynolds (.344), senior Tim Carver (.305) and sophomore Dominic Ficociello (.306), together forming a dangerous lineup for any pitching department. Arkansas' pitching staff isn't half bad either with sophomores Colby Suggs (7-0) and Ryne Stanek (8-4) in addition to junior DJ Baxendale (8-5) holding down the mound on a consistent basis. Sophomore reliever Barrett Astin (3-5) is also of note due to his 10 saves on the season.
Arkansas will continue to be a thorn in the side of South Carolina during the Semifinals. Their ability to keep games close allows their clutch hitting to come up big late. Furthermore, strong pitching should carry them into the CWS Finals and possibly onto their first title.
Edge: Arkansas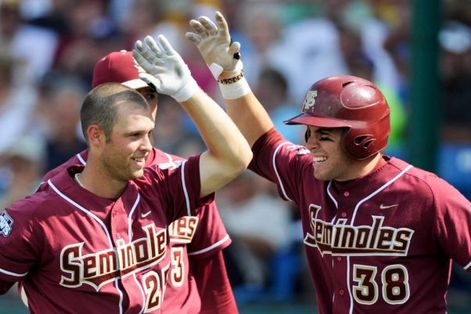 Arizona - Season Record: 45-17, Co-Pac-12 Champion
CWS Appearances: 15, Three Titles (1976, 1980, 1986)
So far this College World Series, the Wildcats have proven that they belong in Omaha. Two strong showings against Florida State and UCLA have placed UA in the semifinals with no losses, allowing them the opportunity to compete for their program's fourth title.
An overall well-balanced group of young men, Arizona is led by junior Kurt Heyer (12-2) and sophomore Konner Wade (10-3) in the pitching department. The two big-shots have only allowed three runs so far this CWS, each of them against FSU. However, considering the Seminoles scored 35 runs in two games against a talented Stanford squad in the Super Regional, giving up three should be a noted success.
Sophomore Johnny Field (.383) and junior Seth Mejias-Brean (.366) both swing the bat well, giving the Wildcats that much needed boost when at the plate. Field knocked in an RBI double during the top of the 12th inning against Florida State the first time around, lifting UA over the Seminoles in the extra innings thriller.
Florida State - Season Record: 50-16, ACC Champion
CWS Appearances: 20, No Titles
Coming into Omaha as the hottest squad in college baseball, the Seminoles quickly had their flames doused by Arizona. Falling in 12 innings to an underestimated Wildcats squad, FSU will be looking for revenge in their quest to secure their first CWS title.
The Seminoles main goal this time around will have to be surging out to a lead early. Allowing this emotionally charged Wildcats team to stick with them in this matchup will end up being their doom, especially considering last round's result. Led by senior James Ramsey (.382) and junior Jayce Boyd (.389), FSU needs to dismantle this brilliant Arizona pitching staff quickly and efficiently.
Florida State is the top offensive power left remaining in Omaha. If the Seminoles can come out swinging heavy, they will be able to steal the momentum from Arizona and push them into an elimination matchup.
Edge: Florida State