College World Series 2012 Finals: Breaking Down South Carolina vs. Arizona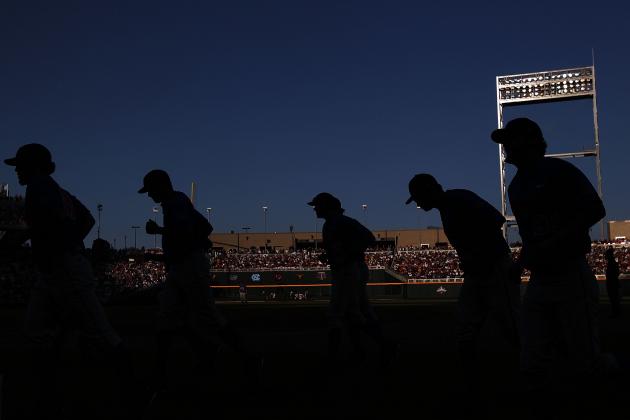 Ronald Martinez/Getty Images

The final battle in Omaha is upon us. Two unlikely squads from opposite ends of the nation will face off against each other in a best-two-out-of-three series in a quest to determine the best in college baseball.
The overall No. 8 seed South Carolina (49-18) will take on Arizona (46-17) in a matchup that will feature a brilliant pitching staff against one of the best batting lineups in this year's College World Series.
In baseball, the battle between the man on the mound and the batter at the plate has been exemplified throughout decades. At Omaha, however, two of the best from opposite ends of the philosophical spectrum clash in a series that will be watched by millions.
We break down both teams factor-by-factor for the 2012 College World Series, analyzing their chances at victory and ultimate glory in the college baseball annals.
Schedule
Game 1: (8) South Carolina (49-18) vs. Arizona (46-17) on Sun., July 24th @ 8 PM ET
Game 2: Arizona (46-17) vs. (8) South Carolina (47-18) on Mon., July 25th @ 8 PM ET
Game 3 (if necessary): (8) South Carolina (49-18) vs. Arizona (46-17) on Tues., July 26th @ 8 PM ET
All Games Broadcasted on ESPN
Begin Slideshow

»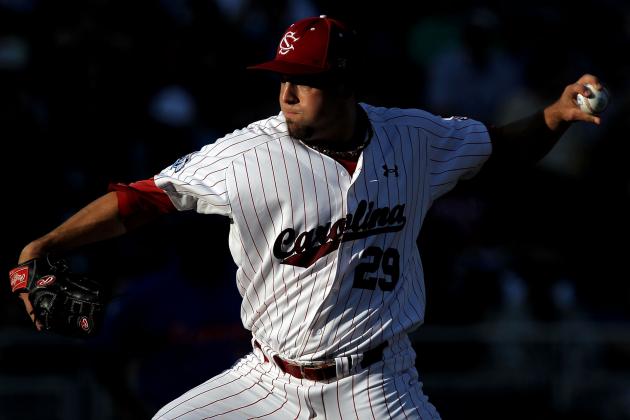 Ronald Martinez/Getty Images

Arizona: Kurt Heyer (13-2)

The junior RHP from Huntington Beach, Calif., has turned some heads during this College World Series.
Leading UA as its top starting pitcher, Heyer has put together an impressive 2012 postseason resume, with three big-time victories, two of which have come at Omaha over offensive juggernaut Florida State.
Striking out 113 on the season while allowing 151 hits for 55 runs, Heyer has a phenomenal arm. His 2.24 ERA is the lowest of Arizona's pitching entire staff, immediately making him the go-to guy when a win becomes a necessity.
The lackluster South Carolina offense will have its work cut out for it when facing Heyer on the mound, especially once he gets into rhythm.
South Carolina: Michael Roth (9-1)
The senior captain and LHP from Greer, S.C., is known around the college baseball world for his clutch performances last season in the CWS.
Roth, now back in the championship series for his third time, will be looking to pull off the incredibly difficult three-peat, against a extremely resilient Arizona squad.
Allowing 98 hits and 40 runs while striking out 90 on the season, Roth is a seasoned veteran for this talented yet youthful Gamecocks' squad.
Out on the mound, the ninth-round draft pick has a team-best 2.49 ERA, ultimately intimidating batters by getting out in front early in counts.
Overall, Roth has the experience and leadership capabilities to inspire his defense into making big-time plays for the Gamecocks.
Although the Wildcats are swinging good bats so far at Omaha, be watching for Roth to shut that momentum down in a hurry.
Edge: South Carolina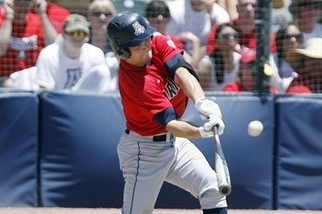 South Carolina Overall Batting Average: .269
The Gamecocks are not new to this level of college baseball. Their veteran players, as well as manager Ray Tanner, understand the importance of scoring runs on a consistent basis, especially against squads such as Arizona, which has the potential to break out at any moment.
At the plate, South Carolina is led by junior big-shot Christian Walker (.319); the young man has 11 home runs on the year while also boasting a strong on-base percentage (.446). Backed up mostly by freshman Tanner English (.303), the Gamecocks' offensive load has, for the most part, been dropped solely on the shoulders of Walker.
When it comes down to the numbers, Walker won't be able to produce enough for South Carolina to make any kind of dent in this solid Wildcat pitching staff.
While the Gamecocks do own a better-than-decent lineup, they will have to rely on some surprise hitting for success in the championship.
Arizona Overall Batting Average: .330
Compared to South Carolina, the Wildcats are blessed with strong bats and hawk-like vision at the plate. So far this CWS, Arizona has scored 18 runs over three games, a considerable amount considering the big-time pitching they took on against UCLA and Florida State.
Led by sophomore stud Johnny Field (.373), the Wildcats have and unyielding lineup available to light up the scoreboard, with standouts juniors Alex Mejia (.361), Seth Mejias-Brean (.360) and Robert Refsnyder (.357).
Statistically, this Arizona squad has proven that it legitimately knows how to find its way on base (.401).
UA should own South Carolina in the offensive categories.
While USC does own experience in the CWS Championship, no amount of veteran inspiration can account for such a large gap on the stat sheet.
Edge: Arizona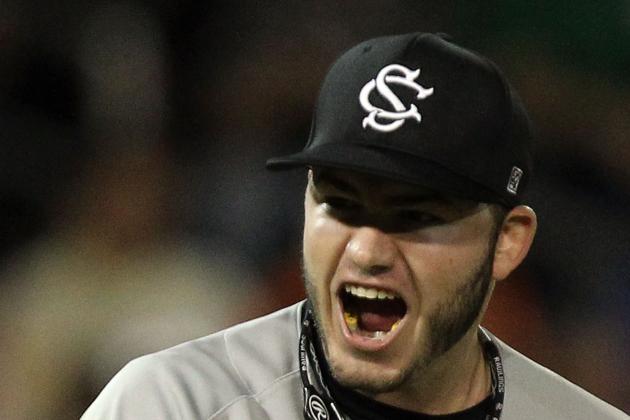 Ronald Martinez/Getty Images

Arizona
The Wildcats have put together an extremely effective bullpen over the course of this season.
Using three major relievers, with a grand total of six at hand, the bullpen has combined for 10 saves and 141 strikeouts while allowing 180 hits and 104 runs.
Freshmen Matthew Troupe (5-1) and Tyler Crawford (1-1) lead the group with eight total saves, averaging 3.60 and 3.05 ERAs on the year, respectively.
Junior reliever Stephen Manthei (6-4) holds two saves and a 4.29 ERA.
South Carolina
While Arizona holds a better-than-decent bullpen, the Gamecocks have formulated a combination of relievers who are, for the most part, unstoppable.
With three big-time pitchers totaling 21 saves and 201 strikeouts along with 127 hits and 62 runs, South Carolina has the means to wreck any batting lineup in the country.
Junior Matt Price (5-4) owns 13 saves and a 3.20 ERA on the season, making him solely responsible for more saves than the entire Wildcat bullpen.
Junior Tyler Webb (6-1) and freshman Evan Beal (4-4) have also contributed, with solid 1.58 and 4.02 ERAs, respectively.
Edge: South Carolina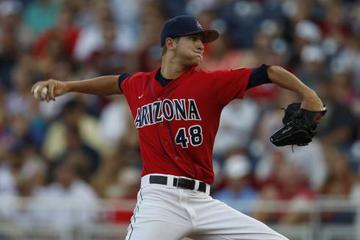 South Carolina: Colby Holmes (7-2)
The junior RHP hails from Conway, S.C., and has, unfortunately, not performed at as high a level as many were expecting him to in the CWS.
Sitting directly behind Roth in the pitching rotation, Holmes had an impressive 2012 regular season but is yet to truly produce in Omaha, earning the loss in the first matchup with Arkansas and leaving during the third inning of the their victory to get into the finals.
Striking out 65 on the season while allowing 66 hits for 30 runs, Holmes is not on the same level as his senior counterpart. His 3.05 ERA is better than decent, yet on the field in this College World Series, he has ultimately been unreliable.
Excessive use of relievers early in his starts seems to be the only method of victory for the Gamecocks.
The powerful Arizona offense will have its way at the plate when facing Holmes on the mound, making his start a pivotal opportunity for the Wildcats.
Arizona: Konner Wade (10-3)
The sophomore and RHP from Scottsdate, Ariz., has begun to make a name for himself in the college baseball world. Wade has backed up his superior in Heyer all season, throwing quality starts consistently and with almost no hiccups.
Allowing 115 hits and 71 runs while striking out 102 on the season, Wade acts as an integral cog for this Wildcats squad.
Out on his island, his 4.17 ERA is ultimately a misrepresentation of how clutch he has been during the postseason. Shutting out conference foe UCLA in the CWS and holding St. John's to four runs in the Tucson super regional earned Arizona two irreplaceable victories.
Simply put, Wade owns a youthful energy in addition to his powerful arm, allowing his team the ability to rely on him in big moments.
Furthermore, the offensive struggles of the Gamecocks will provide Wade a tough opponent but one that he can handle, instilling valuable confidence for future matchups.
Edge: Arizona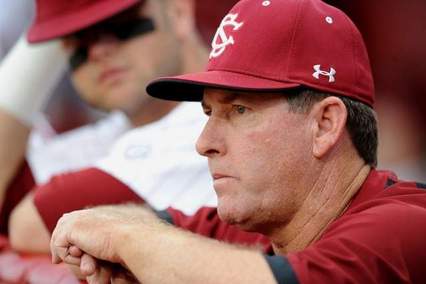 Arizona: Andy Lopez
Finishing his 11th season with the Wildcats following the conclusion of this CWS championship series, Lopez will officially be able to say he has reestablished Arizona as a prominent college baseball program.
Bringing UA to the CWS in 2004 for the first time since its title in 1986, the middle-aged coach has finally found his shot to boost his program to the top against a high-caliber squad.
Lopez acquired one national championship with Pepperdine in 1992, winning the prestigious coach-of-the-year award in the same year, as well as in 1996, during his second season with Florida.
He understands the "in's and out's" of the game just as well as, or better than, the top managers in the country.
He has led this "underdog" Arizona squad to a perfect postseason record this year and is hoping to close out the two-time defending national champions quickly.
Lopez is no coach to underestimate, especially at this point in Omaha.
South Carolina: Ray Tanner

A 15-year veteran of the Gamecocks program, Tanner is a seasoned veteran of the wild and dangerous brand of SEC baseball.
However, he has certainly earned his spot in the record books, with the first-ever 10-0 postseason record and a 22-game playoff winning streak.
Tanner has led South Carolina to the CWS five times in the past decade.
Even under imposing odds in Omaha this year, he found a way to mold his team into a unstoppable force, taking out bitter conference rival Florida, as well as an undefeated CWS squad in Arkansas twice in a row.
Tanner ranks up with the all-time best college baseball managers, making his possible three-peat a defining factor of his legacy.
Watch for the experience of South Carolina's head coach ultimately to be one of the deciding factors of this title series.
Edge: South Carolina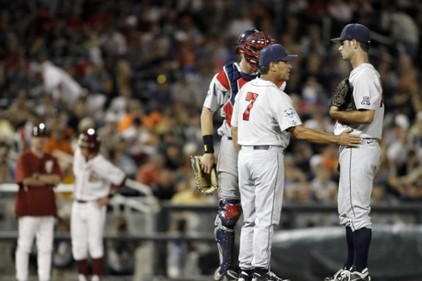 Fielding
Over the course of the season, the Gamecocks led the entire country in fielding percentage (.980). Basically, that statistic shows one thing to the Wildcats: Not much gets by South Carolina.
The Wildcats, on the other hand, rank much lower nationally, with a field percentage of only .969. Their defense, while staunch, relies much more on top-notch pitching than error-free fielding.
Keep an eye out for this possibly to be a factor late in games when players are tired and slow to respond to hits.
South Carolina snares the edge by a long shot.
Momentum
While the Gamecocks are riding a three-game win streak, including two elimination victories over conference foe Arkansas, it is the Wildcats' perfect postseason that should be of note here.
Arizona went 3-0 in its regional and 2-0 against St. John's in the Tucson Super Regional and has gone 3-0 so far in Omaha.
South Carolina was rolling on a 22-game postseason win streak until its loss to Arkansas in the second matchup of the CWS, snapping the impressive record.
Overall, Arizona will be looking to sweep USC in an attempt to keep the momentum alive.
Quite possibly, it could be a deciding factor early in the series, particularly during the beginning of the first matchup.
Experience
If there is one team that can say, "We've been here before," in this CWS title series, it would most certainly be South Carolina.
The two-time defending champs know exactly the kind of focus and intensity required for championship victories, especially over over-eager and emotional squads like Arizona.
The Wildcats haven't been to a CWS since 2004, making every player on their roster a newbie to Omaha. They will have to rely on youth and big-time energy to pull out wins against a team that knows how not to lose in the College World Series.
This factor is particularly interesting, though, for it could go both ways.
Arizona is based strongly on emotion, riding waves of momentum during games to achieve victory.
South Carolina, on the other hand, is deadly and precise.
It depends mostly on whether or not Arizona can surge out quickly against a Gamecock squad which doesn't make mistakes often.
Pressure
Although the College World Series Championship will always be pressure filled, just like any other title series or matchup, this one is beyond different.
South Carolina, the two-time defending champion, is looking to grab its third title in three years, essentially establishing a dynasty and giving the program a three-peat.
The intense pressure from the desire to pull this sports feat will prove to be tremendous over the course of the series.
Some players perform well under the spotlight, while many others don't.
The Gamecocks will have to be wary of the implications of this CWS, in comparison to those of the last two, especially against an Arizona squad that has nothing to lose.
Edge: Arizona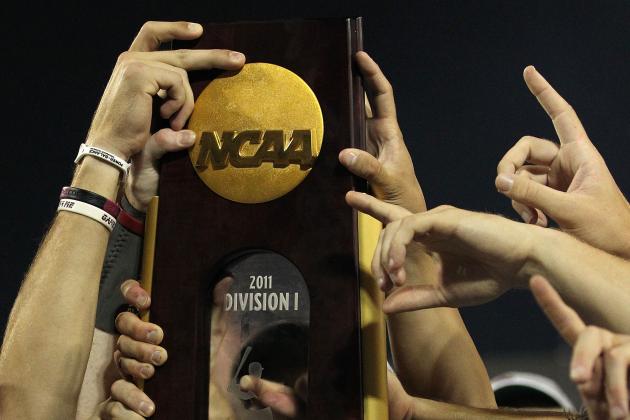 Ronald Martinez/Getty Images

In a series that will most certainly finish in a decisive third game, the two squads in this year's CWS provide an intriguing, yet ultimately difficult, matchup.
The emotionally charged Arizona Wildcats against the robotically precise South Carolina Gamecocks for all the college baseball marbles.
Taking a glance back at the different factors that feed into the College World Series, one may notice that the two teams are, in fact, tied.
The Wildcats tally up one starting pitcher matchup. Their power batting and the overall "x-factors" go to their side, while USC snares the other starting pitcher battle, the bullpen and the manager comparison.
So, where does that leave us?
With a tight series that will come down the wire, that is for sure.
The game of baseball is extremely volatile and can, unlike other prominent sports, change in just a matter of minutes. For example, pitching may dominate Game 1 while batting will take over in the next.
In my opinion, Arizona is the better team here and now. Each of its two starting pitchers can throw lights-out, while its superb batting will eventually be able to overpower the top-notch pitching staff of South Carolina.
The impressive Wildcat offense will ultimately be too much for the Gamecocks, a squad that has suffered through games, relying on their pitching while barely producing any runs off the swings of their bats.
Arizona provides a more balanced team in almost every way, granting them the advantage in the final series of the season.
Eventually, it will also grant them the title of college baseball champions.
Edge: Arizona