Fantasy Football 2012: Breaking Down the QB Position After the "Big Four"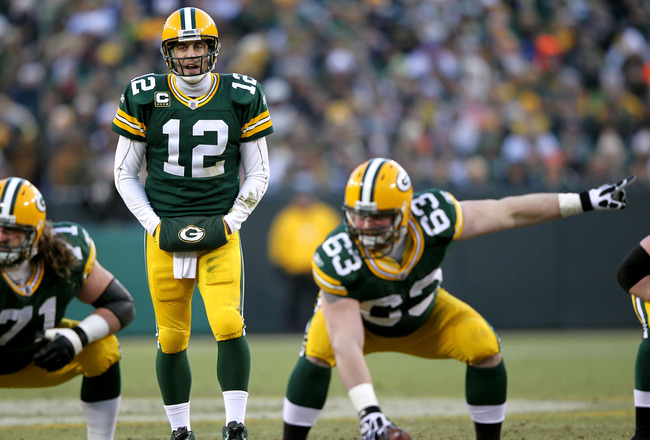 Aaron Rodgers is the consensus No. 1 Fantasy QB going into 2012
Jamie Squire/Getty Images
As fantasy football players, we can never seem to agree on very much. We have managed to reach a consensus on are the top four QBs going into 2012 fantasy drafts. We shall refer to them as the "Big Four" because nobody can ever seem to shut up about the "Big XX" when it comes to the NBA. Those four QBs are:
Cam Newton
Other than putting Rodgers at No. 1, you can pretty much mix and match the other three to your liking. These four QBs finished ranked 1-thru-4 last season, so it's not surprising to see them getting so much preseason love. The Drew Brees holdout does scare me a bit, but I expect the Saints to eventually pony up the cash.
So what do you do after the Big Four are off of the board? I would wait. Then wait. Then wait some more. Then eventually snap up two lower-ranked QBs in hopes of hitting on this year's Matthew Stafford or just to have a nice QB-By-Committee (QBBC).
Let's take a look at the QBs ranked 5-thru-14. We will use the Expert Consensus Rankings from Fantasy Pros as our baseline.
Matthew Stafford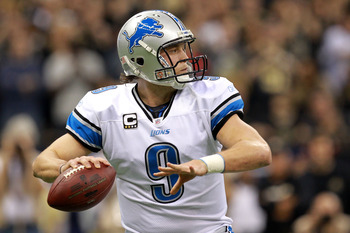 Ronald Martinez/Getty Images
Fantasy Pros Expert Consensus Ranking = No. 5
I like Matthew Stafford plenty. But last season was the first season that he played 16 games. The Lions also had one of the worst rushing offenses in the NFL. Could Stafford stay healthy again?
Of course.
Many players have started out injury-prone, only to shake the label later in their careers.
More importantly, the Lions will have a better rushing offense this season. It's a numbers game. At a point last season, the Lions were literally without a RB except for good, old Mauire Morris. This season the Lions should trot out Jahvid Best, Mikel Leshoure and Kevin Smith from Game 1.
A reduction in passing attempts could very well be in order for Stafford. He should still easily be a top-10 QB, but it's very possible that 2011 becomes Stafford's high-water mark, at least for now.
Tony Romo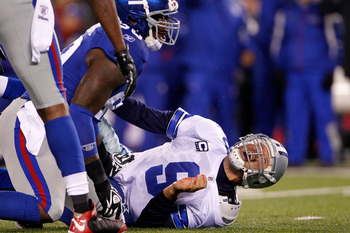 Rich Schultz/Getty Images
Fantasy Pros Expert Consensus Ranking = No. 6
There's not a lot of reason to hate on Tony Romo from a fantasy perspective. At least as far as the numbers on a per-game basis are concerned. Not to mention the Cowboys offer him excellent offensive weapons and an improving offensive line.
So what's the problem here?
Romo finished as the No. 7 QB in ESPN standard leagues last season, so a No. 6 ranking should be right on.
But there is definitely an increased risk of injury with Romo. And if DeMarco Murray stays healthy, a rejuvenated running game could cut down on Romo's numerous pass attempts.
Michael Vick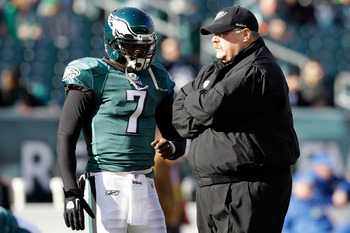 Rob Carr/Getty Images
Fantasy Pros Expert Consensus Ranking = No. 7
This is pure math for me. I pencil Vick in for 12 starts in a NFL season. That means that I need to handcuff him to a solid QB2 to cover myself, which means that I have to blow a viable draft selection on a backup QB after already burning a high draft pick on my stater.
That's too much for me.
Vick still has crazy, sick, stupid upside, but the emergence of LeSean McCoy (especially around the goal line) will cut into Vick's TD potential. As he ages, the rushing upside will wane, leaving Vick owners even more dependent on his passing statistics.
With the Eagles still lacking a quality red-zone target, Vick could struggle to find the end zone.
Eli Manning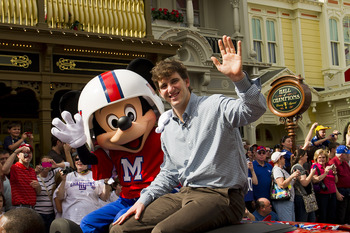 Handout/Getty Images
Fantasy Pros Expert Consensus Ranking = No. 8
There's a reason that Eli Manning is in a picture with Mickey Mouse. He's a two-time Super Bowl champion, and he's handled all of the adversity that has been thrown at him. Eli has risen to the point where (much like his older brother) he elevates the players around him.
I don't expect any fall off for the Giants' offense this season. They could easily improve. The losses of Mario Manningham and Brandon Jacobs could actually open up playing time for more productive players.
Eli finished as the No. 6 QB in ESPN standard leagues, and I wouldn't hesitate to take him as the No. 5 QB.
Philip Rivers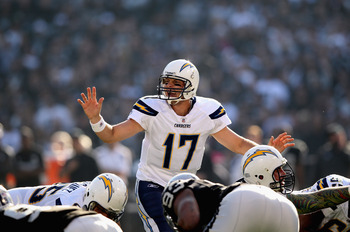 Ezra Shaw/Getty Images
Fantasy Pros Expert Consensus Ranking = No. 9
The Chargers and Philip Rivers really struggled in 2011. I'm not particularly worried about the departure of Vincent Jackson as much as I'm terrified about the Chargers' offensive line. San Diego could be shifting to a more balanced offense that features Ryan Matthews as its centerpiece as opposed to Rivers and Antonio Gates.
Rivers still has weapons on offense. Robert Meachem, Malcom Floyd and Vincent Brown will be a fine WR core and Antonio Gates (presumably) will be fully healthy, or at least as healthy as he can get. The aforementioned Ryan Matthews is also an excellent pass-catcher out of the backfield.
Rivers at No. 9 could be a steal, but there's more risk here than you think. Last season I thought he had the potential to be the No. 1 fantasy QB. I have no such illusions for 2012.
Peyton Manning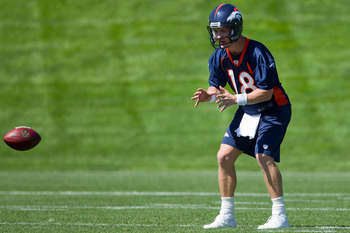 Justin Edmonds/Getty Images
Fantasy Pros Expert Consensus Ranking = No. 10
Here's the deal. As soon as we see Peyton Manning play in a real live preseason game, his draft stock (and ranking) will shoot through the roof. He won't crack the Big Four, but he might be in the argument at No. 5.
This is a pure health question. If Manning is indeed back to his "old-self" he should be a bargain as the No. 10 QB on the board. But once he rises into that 5-thru-7 range, you will have to draft him pretty early considering the health risks.
Nobody knows how Manning will hold up if he gets battered around.
Matt Ryan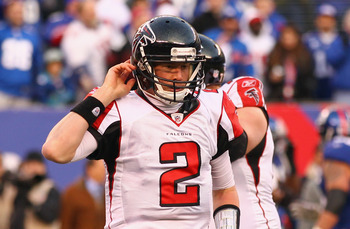 Al Bello/Getty Images
Fantasy Pros Expert Consensus Ranking = No. 11
We've been projecting big things for Matt Ryan for years now. He did finish as the No. 8 QB in ESPN standard leagues in 2011. That's fine, but I doubt he ever climbs much higher than that. Despite the obvious decline of Michael Turner, the Falcons will remain a fairly balanced offense.
The Dynamic Duo of Roddy White and Julio Jones running on that fast turf in the dome has fantasy owners salivating. But remember, White led the league in dropped passes, and Jones struggled to stay healthy. Not to mention Tony Gonzalez was the primary passing game target in the red zone.
Ryan should be a fine low-end QB1, I just don't think he has the upside that some of the other players ranked in this area have.
Ben Roethlisberger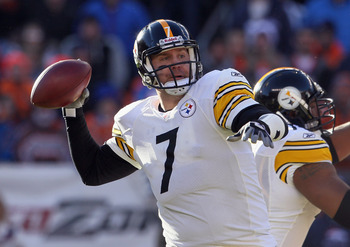 Jeff Gross/Getty Images
Fantasy Pros Expert Consensus Ranking = No. 12
If the Steelers didn't have so many offensive line issues, and if they played in a different division, I would be loving the Roethlisberger in 2012. He has an outstanding trio of receivers in Mike Wallace, Antonio Brown and Emmanuel Sanders. Heath Miller is still a decent option at TE.
Roethlisberger initially wasn't happy about changing offensive coordinators, but as the offense opens up he should come around quickly. Mike Wallace will eventually show up and Issac Redman offers a better receiving option out of the backfield than the injured (or healthy) Rashard Mendenhall.
It's all about staying vertical for Big Ben. If he doesn't have time to get deeper down the field with his passes, the big plays and the TDs will be lacking. If the offensive line gels and every one stays healthy, Roethlisberger has top-7 upside.
Jay Cutler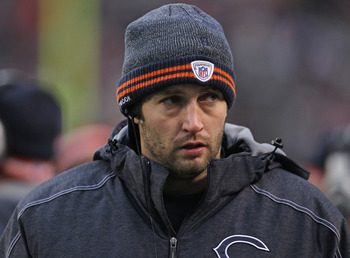 Jonathan Daniel/Getty Images
Fantasy Pros Expert Consensus Ranking = No. 13
Talk about a QB with offensive line issues. The Bears probably have the worst group of blockers in the NFL. The addition of Brandon Marshall should be great for the offense, but Cutler needs to spread the ball around. Just jamming the ball into Marshall constantly will result in far more turnovers than you would care for.
Johnny Knox is expected to miss the entire 2012 season. Devin Hester will play a more limited number of snaps on offense. Earl Bennett is a serviceable No. 3 WR at best. That really puts the onus on rookie WR Alshon Jeffery to be that consistent No. 2 target for Cutler.
Despite Matt Forte holding out, I'm not particularly worried about the RB position for the Bears. Michael Bush and Kahlil Bell should easily be able to form a productive Running Back-By-Committee (RBBC) situation. Forte is the best receiving option out of the backfield, and I expect him to show up before the season begins, one way or the other.
Matt Schaub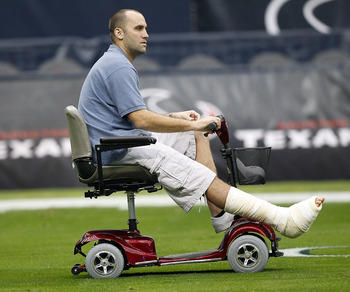 Bob Levey/Getty Images
Fantasy Pros Expert Consensus Ranking = No. 14
This feels like a reach to me. The Texans have successfully transformed themselves into a running offense, backed by a stout defense. The days of Matt Schaub slinging it all over the field have come to an end. Blame the health of Andre Johnson and the emergence of Arian Foster and Ben Tate.
The Texans are going to run the ball. Probably more than any other team in the NFL—well unless the Jets start Tebow. Schaub is more of a high-end QB2 than a QB1 at this point. I would rather go with the upside of a Robert Griffin III or Andy Dalton at No. 14 over Schaub.
Rest of the Top-20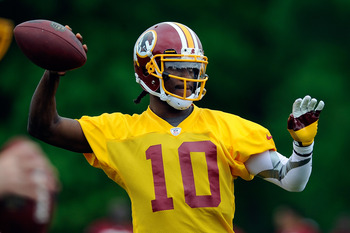 Robert Griffin III has the potential to have the kind of fantasy season that Cam Newton did in his rookie year.
Patrick McDermott/Getty Images
Robert Griffin III
Fantasy Pros Expert Consensus Ranking = No. 15
Josh Freeman
Fantasy Pros Expert Consensus Ranking = No. 16
Carson Palmer
Fantasy Pros Expert Consensus Ranking = No. 17
Andy Dalton
Fantasy Pros Expert Consensus Ranking = No. 18
Joe Flacco
Fantasy Pros Expert Consensus Ranking = No. 19
Ryan Fitzpatrick
Fantasy Pros Expert Consensus Ranking = No. 20
For more check out SportsSomething.com
Follow along on Twitter at @SportsSomething
Keep Reading