NFC East Offseason Power Rankings, OTA Edition
May 29, 2012

Patrick McDermott/Getty Images
From time to time, it's nice to step back and take a broad look at how everybody stacks up in a particular division or conference. We get lost in the detailed analysis of our favorite teams, sometimes forgetting about the big picture.
That's why, for as much as they're clichéd and arbitrary and meaningless, power rankings are also helpful. With the Dallas Cowboys, New York Giants, Philadelphia Eagles and Washington Redskins back into the swing of things at organized team activities, this feels like an appropriate time to take measure of where each team is at.
Oh, and for the sake of fun, I'll give each team a power score out of 100 to indicate my confidence in where they're at. 
1. Philadelphia Eagles (Power Score: 88)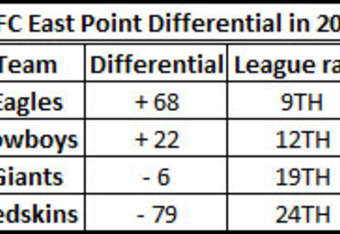 The Giants might be the defending champions, but those who lazily throw them in the top spot merely because of that aren't understanding the premise of power rankings. The Eagles are simply better and are undoubtedly the favorites to win the NFC East in 2012.
No NFC East team was victimized by the lockout as significantly as the Eagles were, and yet they still fell just a game short of the eventual Super Bowl champion Giants in the standings. Philly scored more points on offense and allowed significantly fewer points on defense than any team in the division.
I worry about Michael Vick's ability to stay healthy and the protection he'll receive with Demetress Bell manning the left side of the line, but if the Eagles can survive that concern in 2012, they'll be in the Super Bowl picture. Shutdown corner Nnamdi Asomugha should step it up in his second year with the team, while new linebackers DeMeco Ryans and Mychal Kendricks will help to fix the tackling problems that plagued the defense last year.
2. New York Giants (Power score: 75)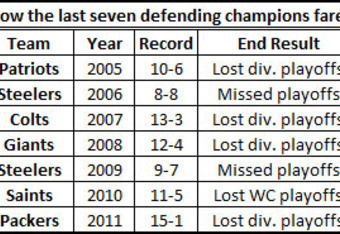 The Giants got hot at the right time last year, but these are OTA power rankings and a team that allowed more points than it scored in 2011 is now without its top wide receiver for most, if not all, of the offseason after Hakeem Nicks broke his foot last week.
That's not to say that I don't believe the Giants can pick up where they left off. Nicks should be back with plenty of time to spare, and this is a team that got a lot better after their last Super Bowl victory. I expect Eli Manning to have a career year, as he continues to pick up more and more confidence in the prime of his career, and Victor Cruz will be a threat from the get-go this time around.
Plus, there's a good chance the defense, which was ravaged by injuries last summer, will be healthier this year.
Ultimately, I'm not concerned that the Giants lost Aaron Ross and Brandon Jacobs in the offseason, because they should have suitable replacements in recent first-round picks Prince Amukamara and David Wilson. But with Nicks out for the time being and no proven options beyond that, not having Jake Ballard and Mario Manningham costs them some points in these rankings.
3. Dallas Cowboys (Power score: 74)
Considering how many positive moves they made this offseason, I seriously contemplated listing the Cowboys ahead of the Giants here. Ultimately, though, I'd like to be able to travel to New York City again. Plus, a part of me still doesn't trust the Cowboys.
On paper, though, I'd argue that Dallas is just as strong as New York. The pass rush might not be as lethal, but DeMarcus Ware alone keeps them in the conversation there. The defensive backfield took on heavy criticism last year, but the addition of Brandon Carr and Morris Claiborne changes everything this time around, especially if they keep starting-caliber cover man Mike Jenkins on for insurance purposes. The running game is better in all facets, and Tony Romo's got just as many weapons as Eli Manning.
Throw in the fact that Rob Ryan now has enough time to properly install his defense, and there's a very realistic chance that Dallas, not New York, makes the strongest push to steal the division from Philadelphia in 2012.
4. Washington Redskins (Power score: 55)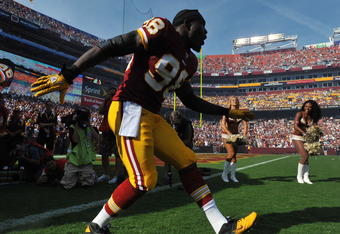 Larry French/Getty Images
There's a lot of unpredictability attached the the Redskins, but as the division's only team to finish below .500 last season, that's a good thing. There aren't enough strong reasons for optimism to move them ahead of the Cowboys, Giants or Eagles, but it's no longer far-fetched to imagine this team climbing out of the NFC East basement in 2012.
It obviously starts with Robert Griffin III, but it goes beyond that. Pierre Garcon, Josh Morgan and a healthy Leonard Hankerson should help Griffin's transition and make Santana Moss better. Tight end Fred Davis and left tackle Trent Williams are back from suspension and should only get better while making RG3's job easier.
Defensively, there's little reason to believe the Ryan Kerrigan/Brian Orakpo pass-rushing duo won't also continue to improve, especially with Jarvis Jenkins now healthy and set to make an impact as a 3-4 defensive end. 
The secondary is undoubtedly still the greatest concern, especially in a division such as this one. It's a unit that on paper was only slightly better than Dallas last year, and yet they left the starting corners in place while swapping out two decent safeties—O.J. Atogwe and LaRon Landry—for two question marks, Tanard Jackson and Brandon Meriweather. 
I don't mean to sound so comically optimistic about all four teams, but an extraordinary amount of hype surrounds each of them. Injuries will happen, free agents and top-tier draft picks will bust and veterans will disappoint. The odds are in favor of at least one of these teams having a nightmare season. But right now, I see three of the four NFC East franchises getting better in 2012, with all four having a chance to compete for big things.