Illustrating the Timeline of Wes Welker's Contract Negotiations with Patriots
May 29, 2012

Patrick McDermott/Getty Images
Contract talks are at an impasse between the New England Patriots and wide receiver Wes Welker.
With so much drama and history between the two sides, it's easy to forget how things got to this point.
We have to go way back to 2007 to find the true beginning of this whole ordeal.
The First Contract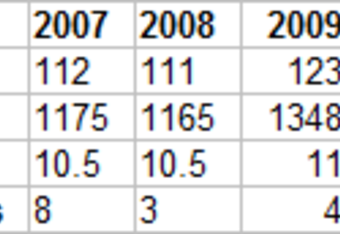 What impact does a contract Welker signed in 2007 have on the contract he may or may not sign in 2012? Well, to say the Patriots got Welker's production from 2007 through 2011 for a low price would be a gross understatement. He's had the most receptions for the fourth-most yards of any receiver in the NFL since '07.
For all that? They paid just $18.1 million over the course of five years ($3.62 million average) with $9 million guaranteed. 
The Patriots couldn't possibly have projected Welker to perform as he has since '07, redefining the slot receiver position, but the fact that he so grossly outperformed his previous contract is just another elephant in the room during the negotiation process.
The Contract Year
The Patriots often get criticism for waiting until the last minute to get deals done, and rightly so. If they didn't wait, these messy situations wouldn't creep up on them every year with the biggest names on their roster.
Prior to the 2011 season, though, Welker said he didn't think anything that he had done in the 2010 season warranted a contract extension.
He immediately set out to change that, though, with a record-tying 99-yard touchdown reception against the Dolphins in Week 1; that was just the main highlight on his way to a six-catch, 180-yard, two-touchdown performance. He was on an historic pace through the first four weeks of the season before he finally slowed down.
In the media, he was a good soldier all season long, and was asked about his contract situation time and time again, only to point out that he wasn't really thinking about it and was simply focused on doing his best in the 2011 season.
He did his best and then some, posting career highs in receiving yards and touchdowns, falling one reception short of his career high in that mark.
Welker busted his hump in 2011, creating 799 yards and leading the team in every category except touchdowns. After all that, though, he got the one thing any player in a contract year fears the most.
The Franchise Tag
Welker was reluctant about the tag at first, and stopped short of staging a minicamp holdout when asked about the possibility, saying he hadn't yet made up his mind as to whether he would show up or not.
He then went on to hand over virtually all the leverage he had by first appearing on WEEI's Mut and Merloni show and saying that he wouldn't miss any games, and secondly by signing the tag the very next day.
But although he has signed on to be a Patriot in 2012, his long-term future remains uncertain.
The Comments to The Boston Herald
Welker couldn't take it anymore. The contract talks weren't progressing as he had hoped, and so he did what has so often been the death knell for those in contract negotiations with the Patriots.
He took his feelings to Karen Guregian of The Boston Herald.
"There have been talks, but nothing that's brightened anything at all," Welker said. "It's actually gotten worse."

When asked to define "worse," Welker said the offer on the table is less than the two-year, $16 million fully guaranteed contract that was offered to him during the 2011 regular season.
It didn't take long for him to backtrack on those statements. Per Greg Bedard of The Boston Globe:
"That was probably a bad choice of words saying they've gotten worse," Welker said. "They've stayed the same. I'm franchised for the year and I'm completely happy with that and completely OK with it. I look forward to contributing to the team in 2012.

"I'm not frustrated whatsoever. I know the words that came out probably seemed that way but I'm not frustrated at all. I'm making five times what I did last year so there's no frustration here."
Judging by what we know, Welker has every right to be frustrated. Even if he won't say it publicly (or even if he will say it publicly and then backtrack publicly).
Patriots owner Robert Kraft followed by adding that he wanted Welker to be a "Patriot for life," but actions speak louder than words and reveal the unspoken words that are at the crux of the situation: "at the right price."
What's Next?
There are plenty of possibilities in signing Welker to a long-term deal—I always point to Bedard and Mike Reiss of ESPN Boston for their solid ideas on a contract structure that works for both sides.
It appears, though, that the Patriots have set a hard-line value for Welker and for the position, and they won't go any higher than what they feel is a fair price on a long-term contract.
Welker will likely play out the franchise tag, waiting until 2013 before his situation will be re-addressed. 
But with talks where they stand presently, trying to guess is a fool's game. For now, like Welker, we wait.
Erik Frenz is the AFC East lead blogger for Bleacher Report. Be sure to follow Erik on Twitter and '"like" the AFC East blog on Facebook to keep up with all the updates.