NBA Rumors: Will Dwight Howard Get the "LeBron" Treatment If He Leaves Orlando?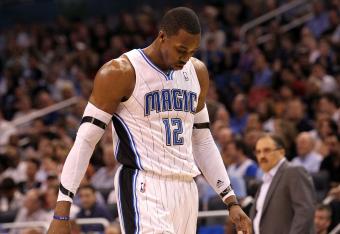 Sam Greenwood/Getty Images
"In this fall, I'm going to take my talents to South Beach and join the Miami Heat."
With those faithful words, LeBron James became the biggest villain in the NBA. The reigning back-to-back MVP award winner and arguably the best player in the game was leaving his hometown of Cleveland to join forces with Dwyane Wade and Chris Bosh in Miami.
James' move to the Miami Heat was met with much criticism. Cavaliers owner Dan Gilbert denounced James' decision as a "selfish," "heartless," "callous" and "cowardly betrayal" in an open letter, while guaranteeing that the Cavs would win an NBA title before the "self-declared former King."
James continues to be one of the most scrutinized players in the NBA. Many fans celebrated when James and the Miami Heat lost in the NBA Finals in 2011.
Now, as we approach the summer of 2012, there appears to be another star who faces a very similar situation.
Meet Dwight Howard, six-time NBA Defensive Player of the Year, eight-time NBA All-Star and disgruntled superstar.
He has kept no secrets about his desires to leave the Orlando Magic—the franchise that has drafted, developed, and made decisions solely for the benefit of Dwight Howard.
But obviously, it wasn't enough for Howard, who made his trade request public at the Magic media day before the 2011-2012 season. Management tried their best to accommodate his request but could not find the right deal on which to pull the trigger.
Dwight Howard and Stan van Gundy star in the most awkward interview ever.
So Howard, begrudgingly started the 2011-2012 season as a member of the Magic, all the while making it clear that he wanted out of Orlando.
But the drama had only started. With the Magic sitting comfortably in the third spot in the Eastern Conference with a month remaining in the season, Howard announced his intentions to stay in Orlando for the remainder of the season.
This instigated fear into the minds of GM Otis Smith and management, who took Howard's remarks as "I'm going to play the rest of the season in Orlando, then I'll be gone this summer." They desperately attempted to put together a trade deadline deal but could not find a willing suitor.
Then, with just a handful of games remaining in the season, head coach Stan Van Gundy tells the media before a game that Dwight Howard has told team management that he wants Van Gundy fired. In a climatic plot twist, Howard himself shows up, puts his arm around Van Gundy and denies the rumors (despite being reminded that his coach just confirmed them).
Howard sits out the remainder of the season due to a herniated disk in his back, and the Magic end up being eliminated in the first round of the playoffs by the Indiana Pacers.
Finally, just last Monday, both Van Gundy and Otis Smith were fired, and Howard vehemently denied that he had anything to do with the firings (yeah right).
Oh, and he stills wants out of Orlando.
When Dwight Howard leaves Orlando, will he be treated the same way that LeBron James was when he left Cleveland?
And that's where we stand today. Several teams are reportedly interested in Howard's services, according to Chris Sheridan, including the Lakers, Nets and Bulls.
So, my question is, if (and when) Dwight Howard leaves Orlando, will he be treated the same way that LeBron James was when he left Cleveland?
In some ways, the answer is almost certainly a "yes." Although James ultimately decided to leave Cleveland, he did not publicly state his desires to sign with another team, like Howard did. Howard not only failed to keep the matter private, but he created a full media frenzy over it. There's no doubt that this was a huge distraction for the rest of his teammates, who were trying their best to win games despite the constant possibility that their superstar center could be traded anytime.
But, Howard has never won an MVP award. Although he may be a dominant center, he's not the best player in the NBA. When he left Cleveland, LeBron James was considered to be the next Michael Jordan. He was supposed to lead the Cavaliers to many, many championships (not one, not two, not three... OK I'll stop.), and perhaps, overcome Jordan as the greatest NBA player of all time.
Dwight Howard is no LeBron James, but when it comes to leaving his respective city, the comparisons are plentiful.
So I'll leave it up to you—when Dwight Howard leaves Orlando, will he be treated the same way that LeBron James was when he left Cleveland?
Answer the poll and comment below.
This article is
What is the duplicate article?
Why is this article offensive?
Where is this article plagiarized from?
Why is this article poorly edited?

Orlando Magic: Like this team?