Kansas City Chiefs: Why Defense Will Lead Team to Playoffs in 2012
May 28, 2012

Doug Pensinger/Getty Images
These are not Dick Vermeil's Chiefs, where Trent Green threw for 4,000 yards while the other side of the ball was always a liability.
No, these Chiefs under no-longer-interim head coach Romeo Crennel will be winning games this upcoming season with a fierce linebacking crew, a potentially explosive defensive pass rush and an aggressive secondary.
Thankfully, the offense will be better than 2011's edition, which mustered a pathetic 13.2 points per game that ranked next-to-last in the NFL.
Pro Bowl running back Jamaal Charles returns after a 2011 season lost to injury, and will team up with free-agent signing Peyton Hillis to form one of the NFL's best one-two punches at running back. Meanwhile, at quarterback, at least the serviceable Matt Cassel returns so the Tyler Palko era can come to a merciful end.
Yet, if the Chiefs are to make a leap like they did in 2010, going from 4-12 to a 10-6 playoff team, they will be relying upon a defense brimming with breakout potential combined with established star power to bring home a division title and a postseason berth.
The heart of the defense will also be its strength thanks to a trio of linebackers that will terrorize opposing quarterbacks.
The veteran leader of this group is inside linebacker Derrick Johnson. Entering his eighth year with the Chiefs, Johnson has a nose for the ball, finishing last season with 131 tackles and being named to the Pro Bowl and the first-team All-Pro squad for his efforts.  
Johnson's prowess in coverage also allows for a dynamic pass rush from the outside linebackers.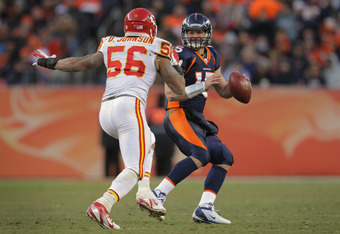 Doug Pensinger/Getty Images
After a move from defensive end to outside linebacker midway through his career after the Chiefs switched to a 3-4 defense, Tamba Hali has become the NFL's most unheralded pass-rusher. He had 12 sacks in 2011, but is equally able to read run coverage and hunt down any ball carriers in his area code.
Hali's constant effort rubs off on his partner in crime in fellow outside linebacker Justin Houston. The Chiefs' third round choice in 2011, Houston started as a rookie thanks to his already dynamic pass-rushing abilities and will be a draft steal if he can become more consistent with his play.
Peyton Manning, Philip Rivers and Carson Palmer are the quarterbacks the Chiefs will be facing in the AFC West, and none are especially known for their mobility. This means that if the duo of Hali and Houston can consistently attack the pocket, then they will make the secondary's job that much easier.
Not that the secondary will be a position of weakness any time soon.
Safety Eric Berry returns from a torn ACL that ended his season last year. Berry is a superstar in the making who will captain the secondary and has the hands to create turnovers while also possessing the speed for deep coverage.
Berry can do it all, and his return will help offset the free agency loss of Brandon Carr from a passing defense that ranked sixth in the NFL last season in yards allowed with 201.3 per game.
Replacing Carr will be cornerback Stanford Routt, after coming over from the divisional rival Oakland Raiders. Both Routt and Chiefs' third-year cornerback Javier Arenas are former track stars, and will utilize their burning speed to blanket their wide receivers and make opposing offenses think twice before throwing deep.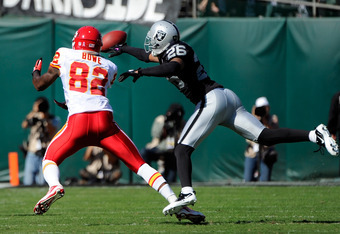 Thearon W. Henderson/Getty Images
Fellow cornerback Brandon Flowers is no slouch himself, and his impressive ability to prevent wide receivers from completing their routes will allow him to take on opponent's top receivers.
The Chiefs' cornerbacks are not the greatest group of tacklers, but head coach and defensive guru Crennel is not afraid to opt for a defensive package of with five or even six cornerbacks, writes Josh Looney of the Kansas City Chiefs NFL Internet Network.
With Berry and fellow starting safety Kendrick Lewis lurking deep for tackling support, the Chiefs secondary will be one of constant rotations designed to switch between intermediate and deep coverage.
On the defensive line, the Chiefs have two former top-five picks out of LSU at defensive ends Glenn Dorsey and Tyson Jackson.
Dorsey struggled after switching from defensive tackle for the 3-4 defense in 2009, but he and Jackson are fast for their size and their run-stopping abilities combine perfectly to allow the Chiefs' linebackers to pressure the pocket.
This focus on run prevention on the line was the reason behind the selection of Dontari Poe with the Chiefs' 11th overall pick in this year's draft. While raw, Poe will split snaps with current nose tackle and starter Jerelle Powe to provide an immovable mass on the defensive line at all times.
The line is the rawest unit of the defense, but Crennel's specialty in his coaching career has been on the defensive line, and he is sure to continue executing general manager Scott Pioli's master plan as he reprises his role as defensive coordinator after his promotion to head coach.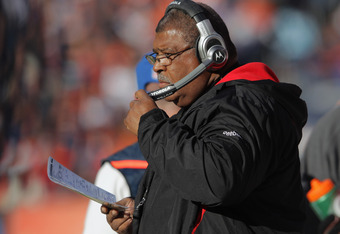 Doug Pensinger/Getty Images
Even better for the Chiefs, there will be no dominant team in the AFC West once again.
The Broncos are expected to be improved, but the health of Peyton Manning has to be a huge question mark.
The Raiders' fortunes hinge on Carson Palmer returning to his form of five years ago, while the Chargers lost their top receiver in Vincent Jackson to free agency. They haven't made any dramatic additions to their inconsistent roster and appear to be in a downward trend.
The drama of the fiery, but now ex-head coach Todd Haley has been extinguished, and Romeo Crennel's calm but determined demeanor will carry over with his players on the field.
The Chiefs will have a young, top 10 defense filled with stars, breakout candidates and depth. When teamed with a competent offense, this will fuel the Chiefs' rise back to the top of the AFC West and into the postseason.