NBA Playoffs 2012: Best Matchups to Watch for in the Conference Finals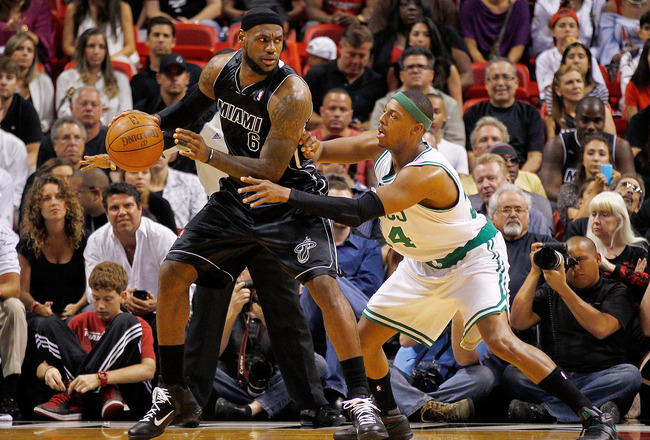 Mike Ehrmann/Getty Images
We've finally made it to the 2012 NBA Conference Finals, and we've got two matchups that certainly won't disappoint.
It's the Miami Heat vs. the Boston Celtics in the Eastern Conference, and the Oklahoma City Thunder and San Antonio Spurs in the West.
Both matchups are sure to provide fans with memorable games, and, more importantly, with incredible individual matchups which will be intriguing to watch, like LeBron James vs. Paul Pierce and Russell Westbrook vs. Tony Parker.
Which player matchups will be the best of the best? Read on to find out.
Western Conference Finals: Russell Westbrook vs. Tony Parker
Ronald Martinez/Getty Images
The Spurs and the Thunder's second-round dominance was heavily solidified by the play of their All-Star point guards, Russell Westbrook and Tony Parker.
Parker is the kind of consistent, efficient and complete player that makes the Spurs offense run like clockwork. He facilitates offense like no other point guard in the game, and he does so with a level of ease that is rarely seen, as evidenced by is playoff averages of 19.1 points and 7.1 assists per game.
Westbrook, on the other hand, is the kind of player that feeds off of momentum rather than efficient production, which isn't necessarily a bad thing within the Thunder's high-octane offense.
He is a shooting guard in a point guard's body, and that's helped him average 24.1 points per game in the playoffs, so far. When it comes down to this one-on-one matchup, the biggest difference-maker will be Westbrook's athleticism.
Parker is a physical defender, but Westbrook will equalize that with his athletic abilities—the same athletic abilities that help him rise to the rim with some serious authority.
Ultimately, Westbrook will win this matchup, proving too much for the less athletic Parker to handle.
Westbrook's play will be at the forefront of the Thunder's push to the NBA Finals. No pressure, though, Westbrook.
Matchup Advantage: Russell Westbrook
Western Conference Finals: Tim Duncan vs. Serge Ibaka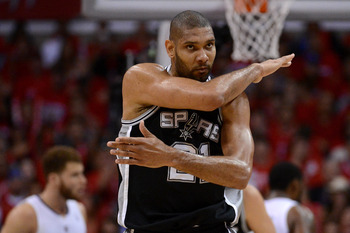 Harry How/Getty Images
Tim Duncan is one of the most fundamentally sound players ever to play the game of basketball.
While that is what makes him such a difficult player to go up against, it also allows him to be one of the least athletic big men in the game.
One of the Thunder's big men that Duncan will be going up against in this series is Serge Ibaka, who just so happens to be the complete opposite of Duncan.
Ibaka is an athletic freak of nature who just so happened to learn the game of basketball. While he is slowly becoming a more fundamentally sound player, he's not anywhere close to being on the same level as Duncan.
Duncan will give Ibaka a first-hand lesson on what it takes to be a legitimate Hall off Famer in the league and what it looks like to have a polished post game.
There's no doubt that Ibaka, with his athletic defense, will do a better job against Duncan than did the Clippers big men, who gave up 21 points per game against Duncan.
But Ibaka certainly won't be able to stop Duncan or overpower him on the offensive side of the ball. Advantage Duncan, hands down.
Matchup Advantage: Tim "Big Fundamental" Duncan
Western Conference Finals: Manu Ginobili vs. James Harden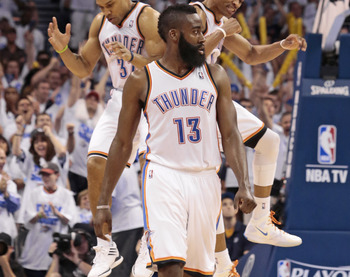 Brett Deering/Getty Images
The NBA Western Conference Finals feature two of the last five winners of the NBA Sixth Man of the Year Award: James Harden (2012) and Manu Ginobili (2008).
Still being the first off their teams' respective benches, Harden and Ginobili will find themselves in a battle of bench production.
There's no doubt that the Spurs have the slightly deeper bench, but the Thunder have the more dominant sixth man: Harden is better than Ginobili on nearly every level, as evidenced by each player's playoff production thus far:
James Harden: 17.0 PPG 5.0 RPG 3.1 APG 2.0 STLPG
Manu Ginobili: 11.3 PPG 4.5 APG 3.3 RPG 0.8 STLPG
In addition to Harden's ability to out-produce Ginobili on every level, Harden also has about 15 pounds on Ginobili, which he will use to overpower the San Antonio guard on the defensive side of the ball.
If the Spurs want to get past the Thunder in the West, they will have to find a way to slow down the bench production of James Harden, and that will be too large of a task for Manu Ginobili.
The bearded beast gets the advantage here over the Argentinian All-Star.
Matchup Advantage: James Harden
Eastern Conference Honorable Mention: Celtics Bench vs. Heat Bench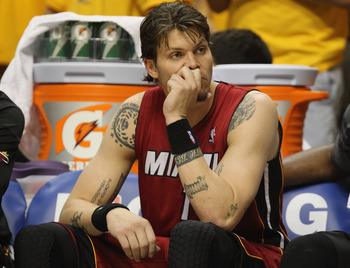 Jonathan Daniel/Getty Images
The NBA Eastern Conference Finals aren't devoid of All-Star players facing off against one another.
We've got LeBron James vs. Paul Pierce and Dwyane Wade vs. Ray Allen, but the most important matchup might not include any high-profile players.
With Chris Bosh out for the Heat and Avery Bradley out for the Celtics, the value of each team's bench production has sky-rocketed.
Neither Miami nor Boston can win this series without legitimate production from its bench.
The Heat's bench production will be solidified by Mike Miller, Norris Cole and James Jones; the Celtics', by guys like Mickael Pietrus and Keyon Dooling.
While nether team has a decided advantage when it comes to production from its second unit, the slight advantage goes to the Heat—now that Avery Bradley is out.
In a series loaded with All-Stars, the outcome might hinge on the play of guys coming off the bench, and that's something that guys like LeBron, Wade, Pierce and Garnett will have to help facilitate.
Matchup Advantage: Miami Heat
Eastern Conference Finals: Rajon Rondo vs. Mario Chalmers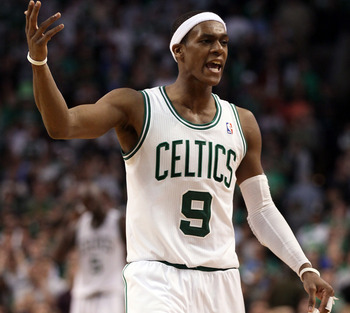 Elsa/Getty Images
The Boston Celtics beat the Miami Heat in three out of their four regular season meetings.
At the forefront of that dominance was the play of none other than Rajon Rondo, who averaged 18.7 points, 13.7 assists and 7.7 rebounds per game against the Heat this season.
It's clear that the Heat will have their hands full trying to stop Rondo, with the man primarily tasked with that duty being Mario Chalmers.
Chalmers' biggest weakness is his tendency to get into foul trouble early on, which forces him to tone down his otherwise strong defense. Even if he is able to stay out of foul trouble, though, Chalmers will have a difficult time keeping Rondo out of the paint, where he's able to do his most damage.
The best way Chalmers can equalize Rondo's impact in this series is by stepping up his production on the offensive side of the ball as he did in Game 3 against the Pacers, with 25 points on 66.7 percent shooting.
Rondo will dominate Chalmers; there's no doubt about that. The biggest question will be whether Chalmers can actually equal Rondo's production on the offensive end for the Heat.
My guess is that Chalmers won't be able to do that on a consistent enough basis to have a major impact on this series.
Matchup Advantage: Rajon Rondo
Eastern Conference Finals: Kevin Garnett vs. Udonis Haslem
Mike Ehrmann/Getty Images
Kevin Garnett has been an absolute revelation for the Boston Celtics this postseason.
He's increased his points, rebounds, blocks and steals per game significantly, while helping solidify a Celtics frontcourt that is otherwise underwhelming.
While it's a possibility that Joel Anthony will initially be tasked with putting KG on lockdown, it's inevitable that Udonis Haslem will end up facing off against Garnett as the series gets more and more intense.
Garnett will certainly outperform Haslem on the offensive side of the ball: KG is a more complete offensive player. But Haslem's biggest strength will be the tenacity on defense that he will use to try to get Garnett into foul trouble.
Garnett's average of just 15.3 points per game against the Heat this year isn't a valid indicator of what his performance will be like in this series, primarily because the playoffs are a different beast but also because of his recent transition to the center position, which has resulted in a legitimate increase in his offensive production.
Garnett will certainly win this matchup, but Haslem will make sure it's not easy for him to do so.
Matchup Advantage: Kevin Garnett
Eastern Conference Finals: LeBron James vs. Paul Pierce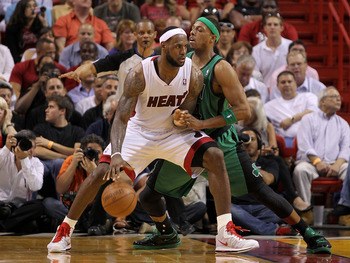 Mike Ehrmann/Getty Images
Up until last season, the Boston Celtics had been the bane of LeBron James' playoff existence.
Just when it seemed as though LeBron finally had the upper hand on the Celtics, Boston dominated the Heat in their regular season series. The stage is set for LeBron to make the playoff statement of his career, and he can do just that with a dominant and consistent performance against Paul Pierce.
LeBron got the best of Pierce in nearly every aspect of the game during the regular season, which can be seen in their statistical comparison:
LeBron James: 28.3 PPG 5.7 RPG 4.0 APG 54.4 FG%
Paul Pierce: 19.3 PPG 5.3 RPG 2.0 APG 50.0 FG%
If LeBron wants to help the Heat move past the Celtics, he will certainly have to make sure that Pierce's field-goal percentage isn't anywhere near the half-century mark, as it was during the regular season.
There's no doubt that LeBron will dominate this matchup. The only question is just how dominant LeBron will be. If LeBron wants to take his talents to the NBA Finals this year, he will certainly have to put together a career-defining group of performances against Pierce.
Luckily for LeBron, I think his historic season will continue, capping off with a memorable series against Paul Pierce.
Matchup Advantage: LeBron James
Keep Reading