Celtics vs. Heat: Game 1 TV Schedule, Live Stream, Spread Info and More
May 27, 2012

Mike Ehrmann/Getty Images
After having the eighth-seeded Philadelphia 76ers push them to an unlikely Game 7, the Boston Celtics finally prevailed in an 85-75 victory and secured their place in the Eastern Conference Finals.
In so doing, those Celtics now become the only thing standing between the Miami Heat and a return to the NBA Finals.
Still without a timetable for power forward Chris Bosh's return, the Heat come into the series missing a major piece of the "Big Three" that was supposed to anchor this franchise for years to come. Without him, though, the "Big Two" combination of LeBron James and Dwyane Wade have done alright for themselves.
Sure, Miami was pushed to six games in its second-round face-off against the Indiana Pacers, but the now red-hot club won its last three games by a combined 52 points.
If any team in the Eastern Conference could put a stop to that recent success, though, it's the Boston Celtics—the veteran squad that beat Miami three times in April. The third of those games didn't mean much with stars being rested in advance of the postseason, but the prior two contests weren't even close.
It wouldn't be at all shocking if this series is quite a bit closer.
Where: AmericanAirlines Arena; Miami
When: Monday, May 28  8:30 pm EDT
Watch: ESPN
Live Stream: ESPN3.com
Listen: WEEI 850 AM (Boston) and The Ticket 790 AM (Miami)
Betting Line: Miami Heat (-8), according to Top Bet
Heat's Key Injuries (via Yahoo! Sports)
Out indefinitely: Chris Bosh (lower abdominal strain)

Celtics' Key Injuries (via Yahoo! Sports):
Out for season: Avery Bradley (had surgery for dislocated shoulder)
Out for season: Chris Wilcox (aortic abnormality)
Out for season: Jeff Green (aortic aneurysm)
What They're Saying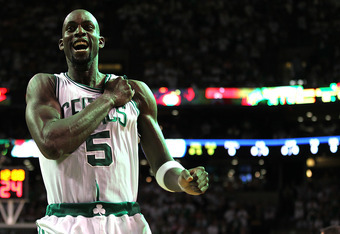 Jim Rogash/Getty Images
The Boston Celtics may not be missing a key piece like Chris Bosh, but there's still some concern that the miles on their veteran legs could begin taking a toll any minute now. Head coach Doc Rivers is hopeful that his team has enough juice to keep up with Miami, but even he can't be too sure (via ESPN Boston's Chris Forsberg):

"I think we do [have enough in the tank]," said Rivers. "The couple days have helped, there's no doubt about that. Listen, you don't know, You never know what you have in the tank until you start the engines and you find out. It didn't look like we had a lot the other night, I can tell you that. I made a comment to our coaches in the first quarter when I saw about six jump shots hit the front rim early, and I was like, 'This is not a good sign.' But I was hoping it was just missed shots. Unfortunately it continued."
With a combined age of over 106 years, Paul Pierce, Kevin Garnett and Ray Allen are both the Celtics' biggest advantage and biggest liability. Pierce has battled through most of the postseason with a sprained MCL, while Allen has made all his contributions in spite of bone spurs in his right ankle.
Even if those injuries don't become insurmountable against the Heat, the ordinary wear-and-tear on these old legs just might. Outside of the 26-year-old Rajon Rondo, the Celtics really don't have many spry bodies in the rotation.
Meanwhile, Erik Spoelstra's club is as good at any when it comes to pushing fast-break opportunities and running a team ragged. Something will have to give.
Most Important Player to Watch: Dwyane Wade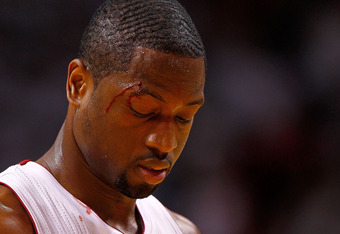 Mike Ehrmann/Getty Images
Outside of a dismal Game 3 against the Indiana Pacers, Wade was at the top of his game for most of the last series. Just when it looked like he was about to become an afterthought, he went on to have his three best games of the postseason in the second half of the series, culminating in a 41-point outburst in Game 6. When it was all said and done, he wound up averaging over 26 points in six games against Indiana—all the more impressive given that he only scored five points in Game 3.
Wade could cause all kinds of matchup problems for Boston. Ordinarily Ray Allen would face off against the opponent's shooting guard, but Allen is in no position to keep up with Miami's younger, stronger and more athletic 2.
Without Avery Bradley's exceptional perimeter defense, the Celtics could be forced to play point guard Rajon Rondo on Wade or otherwise use someone off the bench like 6'6" swingman Mickael Pietrus. Unless Doc Rivers can somehow contain Wade by committee, the Heat's second-in-command could be in store for another big series.
Key Matchup: LeBron James vs. Paul Pierce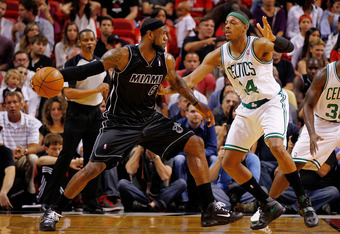 Mike Ehrmann/Getty Images
It's anyone's guess how much time these two will actually spend guarding one another. The undersized Heat may need James to take on Kevin Garnett for a few possessions, and it's hard to imagine Boston approaching LeBron with anything short of a team effort.
That said, these two guys are their teams' most versatile all-around scorers by a long shot. In six games against the Pacers, James averaged 30 points, nearly 11 rebounds and 6.2 assists. Though Pierce had a rough start to Boston's second round, he started to find his form by Game 3 and wound up tallying 24 points in three of the seven contests.
Beyond their scoring output, these are also the two players most likely to touch the ball when a game is on the line. Should the series come down to a few close games, the outcomes could very well depend on which of these small forwards come through in the clutch.
Game 1 Prediction: Miami 94, Boston 88
If the Indiana Pacers could take a couple of games from the Heat, chances are the Celtics could do a bit better. At the moment, though, Miami is on a roll after racking up three consecutive decisive wins against Indiana. The Celtics may give this team a scare, but it probably won't do much more than that until the series heads to Boston.