2012 NBA Mock Draft: Freshman Studs Most Likely to Bust
May 28, 2012

Kevin C. Cox/Getty Images
Baylor's Quincy Miller is a bust candidate in the 2012 NBA draft given his average numbers at Baylor. He's not the only freshman that has the potential of becoming a bust, however. 
Here are more bust candidates in this year's draft class.
You can find those players with (*) beside their school or country.


1. Charlotte Bobcats: Anthony Davis, PF, Kentucky

Anthony Davis has the potential to be a 20 points, 10 rebounds, three blocks kind of player in the NBA.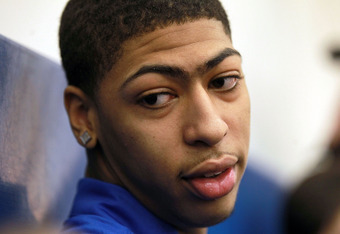 Andy Lyons/Getty Images
He has the athleticism, size, length and basketball IQ to become an instant All-Star performer.


2. Washington Wizards: Michael Kidd-Gilchrist, SF, Kentucky

When Kentucky needed a bucket, Michael Kidd-Gilchrist was there. When Kentucky needed a stop, he was there again.
When Kentucky needed leadership, he was there.

He won't and shouldn't be picked over Anthony Davis, but Kidd-Gilchrist is the real deal. He can defend, rebound, score and he is crafty with the ball.


3. Cleveland Cavaliers: Bradley Beal, SG, Florida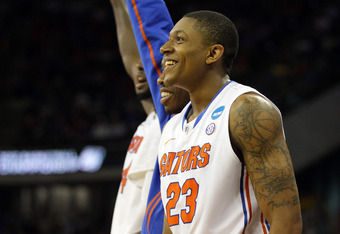 Doug Pensinger/Getty Images
If Florida's Bradley Beal didn't perform at a high level at the SEC and NCAA Tournament, he would be five to 10 picks below where I have him slotted.
But he performed at a high level, showcasing his outside shot, but more importantly, the other aspects of his game.  
4. New Orleans Hornets: Thomas Robinson, PF, Kansas

Kansas' Thomas Robinson would be a solid selection for the New Orleans Hornets. They need to get more athletic and more talented as soon as possible.

Robinson provides great athleticism from the power forward position, and he's a kid that wasn't handed anything in his life; he has great character, and a will to succeed.


5. Sacramento Kings: Andre Drummond, C, Connecticut *

Andre Drummond is extremely athletic, talented and long. He has rare athleticism for a guy his size.
Jim McIsaac/Getty Images
However, he could have used another year at Connecticut. There were times where he was a no-show; completely missing in action.
For a guy his size with his athleticism, that should rarely happen.
There is a great chance of success for Drummond, but he's definitely a risk in my estimation. Another year at Connecticut to improve on his deficiencies would have been highly beneficial. 


6. Portland Trail Blazers (via New Jersey): Harrison Barnes, SF, North Carolina

I'm high on Harrison Barnes from North Carolina. He has sneaky athleticism, solid size and a great stroke when he's on.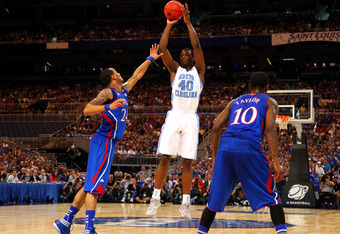 Dilip Vishwanat/Getty Images

He needs to be more aggressive with the ball, however. Barnes has a tendency of being invisible on the floor despite having a better overall game than most.


7. Golden State Warriors (via Utah): Perry Jones III, PF, Baylor
One of the biggest risks in the 2012 NBA draft is Perry Jones III. We're talking about a guy with unbelievable talent, skills and potential, but he's also been invisible in too many contests.
Golden State needs to add size and athleticism down low, but this is a scary pick.


8. Toronto Raptors: Austin Rivers, G, Duke

Toronto was 28th in scoring the ball this past season. They could use another player to help fill it up.
Insert Austin Rivers.

Rivers has the blow-by ability to become special in the NBA. His ability to penetrate to score is one of the best assets in the draft class.
Toronto may be looking at a future All-Star if he can make better decisions with the basketball in his hands. Rivers tried to do too much at Duke last season, but that's because he had to on that roster.
It will be interesting what this kid can do at the next level.


9. Detroit Pistons: Jared Sullinger, C/PF, Ohio State
Another major risk in the draft is Jared Sullinger. He has struggled against size in his Ohio State career, and that's exactly what he will see at the next level.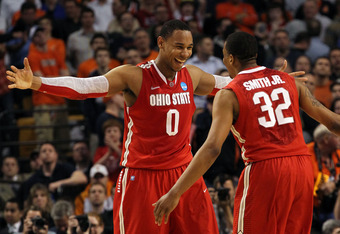 Jim Rogash/Getty Images
Nobody gets the position he does on the block, but it's going to be how he performs on the block that makes him successful.


10. New Orleans Hornets (via Minnesota) Kendall Marshall, PG, North Carolina

New Orleans needs a point guard since Chris Paul was traded to Los Angeles. But which one will they choose?

Will they go with Kendall Marshall, a point guard who dominated on the biggest stage (North Carolina) or will they go with Damian Lillard, a point guard who can score the ball at a higher rate, but did it against inferior competition?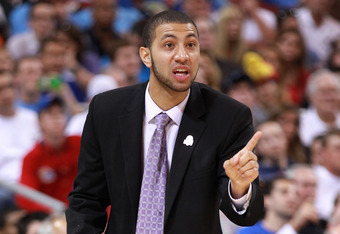 Andy Lyons/Getty Images
I think that they should go for the pure point guard and that's Marshall.


11. Portland Trail Blazers: Damian Lillard, PG, Weber State

Portland will go with whatever point guard is left after New Orleans picks, so in this case it's Damian Lillard.

Lillard has the potential of becoming a dominant point guard who is known more for scoring than facilitating.


12. Milwaukee Bucks: Tyler Zeller, C, North Carolina

No Andrew Bogut means Milwaukee will be looking for a center. Tyler Zeller from North Carolina was a force of nature down low this past season.

His energy, skill set and ability to rebound provides a great option at the center position in today's NBA.


13. Phoenix Suns: Jeremy Lamb, SG, Connecticut

Jeremy Lamb had more buzz surrounding him after Connecticut won the NCAA championship in 2011. After a disappointing campaign for the Huskies, Lamb is still destined to go in the top 15, but scouts are unsure how he'll pan out.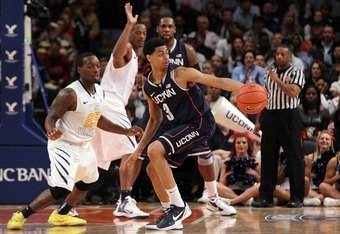 Jim McIsaac/Getty Images
Phoenix needs a youthful scoring option so the pick makes sense.


14. Houston Rockets: Royce White, PF, Iowa State
Royce White looked like the best player on the floor in just about every game at Iowa State. He has great handles, can shoot from outside and he seems NBA-ready.
White will play a valuable role on an NBA roster, and I think Houston should grab him while they can.


15. Philadelphia 76ers: John Henson, PF, North Carolina

Philadelphia needs to upgrade its depth in the frontcourt. John Henson has great size, length and his overall ability translates well to today's NBA.

Henson averaged 13.8 points and 10.1 rebounds per game this past season.


16. Houston Rockets (via New York): Terrence Ross, SG, Washington

Terrence Ross could be one of the bigger steals in the draft given his athletic ability.

He has good size, he can score and he continues to improve his overall game.


17. Dallas Mavericks: Dion Waiters, SG, Syracuse

Despite coming off the bench for Syracuse, shooting guard Dion Waiters was one of the most talented players on the roster.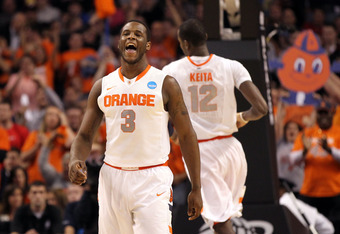 Jim Rogash/Getty Images
Waiters is instant offense.
He shot 48 percent from the floor this past season.


18. Minnesota Timberwolves (via Utah): Moe Harkless, G/F St. John's

Moe Harkless has all the talent a professional basketball player could ask for. He's athletic, can score the rock and he's not afraid of the moment.

In his freshman season, Harkless averaged 15.3 points per game.


19. Orlando Magic: Arnett Moultrie, F, Mississippi State

Arnett Moultrie has the potential of becoming a very good forward in the NBA. It's up to him to see how far he can take his basketball ability.

He averaged 15.8 points and 10.6 rebounds per game last season.


20. Denver Nuggets: Meyers Leonard, C, Illinois

Denver has some of the best depth in the entire NBA. They don't have a dominant center or a star on the outside though.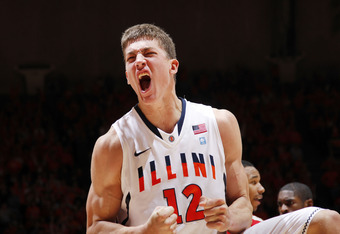 Joe Robbins/Getty Images
They can attempt to shore up one area by adding Illinois' center Meyers Leonard. He's 7'1" and averaged 13.6 points and 8.2 rebounds as a sophomore.


21. Boston Celtics: Andrew Nicholson, PF, St. Bonaventure

Boston made it to the Eastern Conference finals after their victory Saturday night, but this team is aging fast.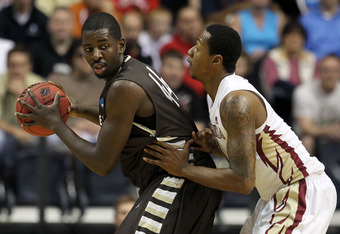 Jamie Squire/Getty Images
Kevin Garnett has had a great season, but the Celtics must address the future in the form of Andrew Nicholson. He, like Garnett, has a great mid-range game.


22. Boston Celtics (via Los Angeles Clippers): John Jenkins, SG, Vanderbilt

John Jenkins could be the perfect replacement for Ray Allen who looks all but out of a Celtics uniform already. He is aging, often injured and looks like he lost a couple steps.

Jenkins shot 44 percent from long distance this past season.


23. Atlanta Hawks: Tony Wroten Jr., PG, Washington *

Tony Wroten Jr. has great size, great upside and an athletic body. He has the potential of becoming a solid point guard in the league.

Whether or not he puts it together is up to him. That's where the problem lies.
He has always had great ability and upside, but there is just something missing with his game. Wroten could be the answer in Atlanta, but there is a high flop probability.


24. Cleveland Cavaliers (via Los Angeles Lakers): Draymond Green, SF, Michigan State

Some college athletes are flat-out basketball players. They may not have a specific role, but they just are quality players.

Draymond Green fits that mold.


25. Memphis Grizzlies: Quincy Miller, F, Baylor *

Quincy Miller has talent, but he should have stayed in school another year. He averaged 24.4 minutes per game this past season.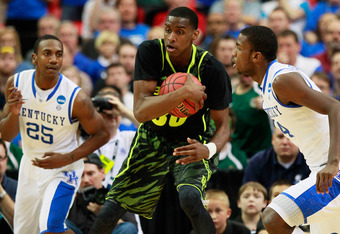 Kevin C. Cox/Getty Images
Miller averaged 10.6 points and 4.9 rebounds per game in his freshman campaign.

In four NCAA Tournament games, Miller came up small scoring 27 points total including a dismal three points on 1-of-6 shooting against Kentucky.
Depending on the situation, Miller will need time to develop his skills at the next level. When you have players who need time to develop sometimes it never pans out. This very well could be one of those situations.
26. Indiana Pacers: Marquis Teague, PG, Kentucky

Indiana needs to add a point guard who can makes things happen in the scoring department.
Andy Lyons/Getty Images
Given Marquis Teague's youth, skill set and developing overall game, Indiana should select him with the No. 26 pick.

They should take the best player available, and I think Teague would be that player.


27. Miami Heat: Fab Melo, C, Syracuse

Miami had several issues with Roy Hibbert and Indiana in the postseason. I'm not exactly sure why the Pacers didn't expose that weakness more often, but it was an apparent weakness. 

Adding a center who can control the rim, rebound and provide a big body is exactly what Miami needs. Syracuse's Fab Melo makes perfect sense.


28. Oklahoma City Thunder: Jeffery Taylor, SF, Vanderbilt

Kevin Durant, Russell Westbrook and James Harden can create their own shot off the dribble. They have great blow-by ability, and they are all capable of finding open shooters on the perimeter.

Adding another shooter like Jeffery Taylor would be a great idea. Oklahoma City has been waiting for a replacement for Jeff Green, and Taylor could be the closest thing.


29. Chicago Bulls: Will Barton, SG, Memphis

In today's NBA, you need stars. Will Barton has star quality.

He can score the rock at a great rate, and he has the size and overall skill set to become a great player in the NBA.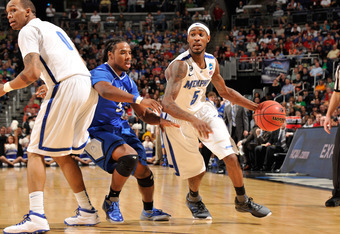 Jamie Sabau/Getty Images
With a pick later in the first round, Chicago should try to land a sleeper. Barton is definitely a sleeper pick.


30. Golden State Warriors (via San Antonio) Evan Fournier, SG, France *

Evan Fournier is one of the unknown, European players we see every year in the NBA draft. European players tend to be busts more often than not.
He's virtually a freshman coming into the draft, so he fits perfectly with the article.
We just don't know enough about his talents as a professional basketball player going against the best competition.
Maybe it's unfair to base him as a bust on reputation, but the proof is in the pudding.