Carl Froch vs. Lucian Bute: No Easy Way out for Either Fighter
May 26, 2012

Scott Heavey/Getty Images
This Saturday, British superstar Carl "The Cobra" Froch (28-2) will face undefeated IBF World super middleweight champion Lucian Bute (30-0) at the Capital FM Arena in Nottingham. 
With this fight Froch continues his streak of facing elite and tough opponents and not taking any easy fights.
He continues to challenge himself against the best, and has gained the respect of the boxing world by facing the following elite fighters, one right after the other: Andre Ward (loss), Glen Johnson, Arthur Abraham, Mikkel Kessler (loss), Andre Dirrell, Jermain Taylor and Jean Pascal.
For some fighters that would be an entire career resume; for Carl Froch that's simply his last four years at the office. 
For the champion Lucian Bute, this fight indicates the 10th title defense of his IBF World super middleweight title and the toughest fight of his career. His last defense of that title was six months ago when beat 42-year-old Glen Johnson (51-15) by unanimous decision. 
Bute does not have quite the resume that Froch has accrued during the last four years. He simply has not faced the best fighters of the division and has hardly ever left the comfort of his home in Canada. 
Things changed for this fight when the champion Bute made a respectful move by agreeing to come into Froch's hometown of Nottingham, England for the fight—a move Froch called "probably brave and stupid" at the press conference following the weigh-in.
Bute insists that fighting away from his home and in his opponent's backyard will not have any negative effects on how he will perform when the bell rings.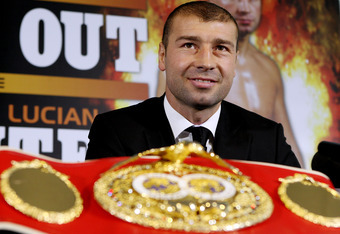 Scott Heavey/Getty Images
What Bute will have is his very nice southpaw stance, his very quick hands and a very hard and heavy punch, something no crown or location can take away. It's also something that can cause Froch a lot of trouble this Saturday.
But If there is one thing we've learned about Carl Froch, it's that he is as tough as they come, has one of the best chins in boxing and is willing to take three punches just to give one. 
Overall, Lucian Bute is the better boxer and will most likely look to control the pace of the fight and stay at a distance, fight from the outside and away from the ropes.
Froch, on the other hand, is a fighter and will look to make it a brawl from the get-go. 
A few past performances from both fighters indicate what can happen in the fight.  
In Froch's last four fights he has been defeated by two of the opponents considered pure boxers—first by Mikkel Kessler, then by Andre Ward. In the eyes of many he was outboxed and beat by Andre Dirrell as well.
If this is any indication that Froch truly struggles with pure boxers, then he is going to have a very long night against the skillful Bute.
In regard to Bute, his chin and endurance was truly questioned in his 2009 fight against Librado Andrade when he was knocked down in the 12th round and was given a 25-second count by the hometown ref in order to allow him more than enough illegal recovery time.  
Bute eventually stumbled to his corner and was given a very controversial decision in a bout which he clearly lost. 
He will have to come in the best shape of his life if he hopes to outbox and last 12 rounds with the vicious, non-stop Carl Froch.  
It's a shame that such a big and competitive fight between two great fighters will not be shown on either HBO or Showtime. It's hard to understand why those big networks would pass on such an important fight that all boxing fans are excited about. 
Hopefully Bute and Froch will give us a fantastic fight this Saturday, and with it force those same networks to realize the mistake they made—and in the future broadcast the fights that truly matter to the fans.
You can follow me on twitter @sonofcuba for boxing updates and articles.