NFL Stat Predictions: Numbers for the Top 20 Quarterbacks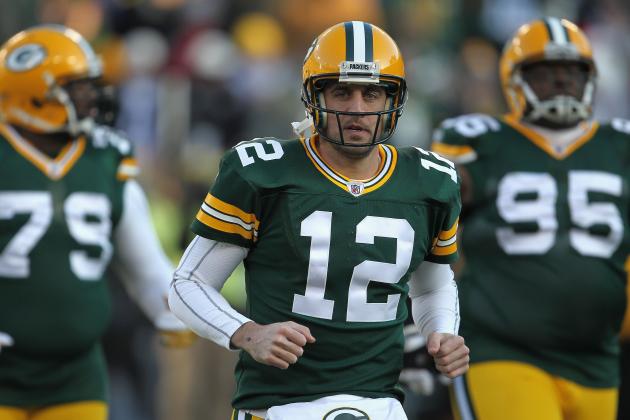 Jonathan Daniel/Getty Images

The NFL is a pass-happy league with tons of quarterbacks capable of throwing for 4,000 yards in a given year.
In fact, 2011 saw three different QBs throw for an astounding 5,000 yards, and seven others threw for 4,000.
While there will be a continued league-wide reliance on the vertical passing game, it would be crazy to expect another year quite like 2011.
Philip Rivers threw for over 4,600 yards and finished sixth in passing yards. Sixth!
2011 was definitely a wild ride through the air, but 2012 should have its own fair share of surprises.
With that in mind, here are predictions of passing yards, touchdowns and interceptions for the top 20 QBs in the NFL.
Begin Slideshow

»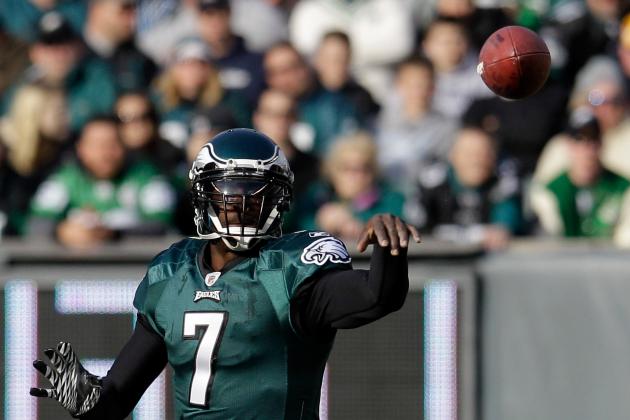 Rob Carr/Getty Images

Michael Vick's statistics are anything but predictable.
The Eagles signal caller has never thrown for 3,500 yards or 25 touchdowns, but before his time in Philadelphia he had never even thrown for 3,000 yards.
Rushing yards are still a large part of his game, but Vick has enough weapons around him to throw the ball consistently.
Stat Prediction: 3,300 YDS, 25 TD, 15 INT, 550 Rushing YDS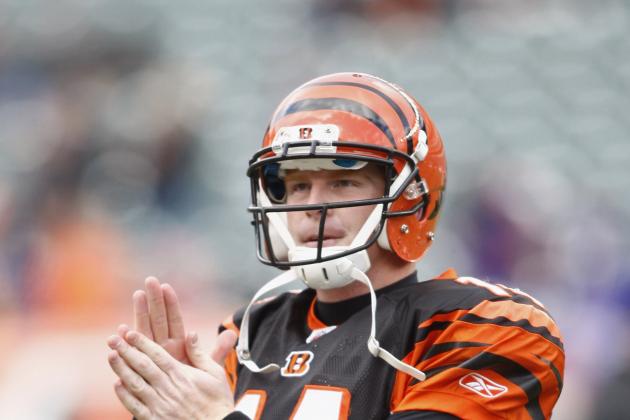 John Grieshop/Getty Images

Andy Dalton became a surprise star in 2011 after a stellar rookie campaign.
Dalton threw for 3,398 yards and 20 touchdowns last season and developed an important chemistry with fellow rookie A.J. Green.
Whether or not the Bengals can make another upset playoff run remains to be seen, but expect the bond between Green and Dalton to continue to grow.
Stat Prediction: 3,500 YDS, 22 TD, 15 INT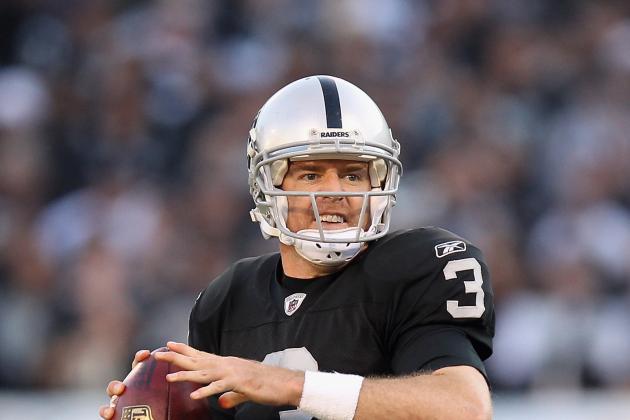 Ezra Shaw/Getty Images

Last year Carson Palmer was forced into a new offense and asked to put it on his back and carry it for over half a season.
It was no small task, and yet Palmer was able to perform admirably.
He threw for over 2,700 yards in just ten games with a 13-16 TD to INT ratio.
In 2012 he will have a chance to return to Pro Bowl form.
Palmer has had a full year to engulf himself in the Raiders playbook and get used to Oakland's playmakers.
Palmer will not be a top-10 QB in 2012, but he will make some noise.
Stat Prediction: 3,500 YDS, 25 TD, 14 INT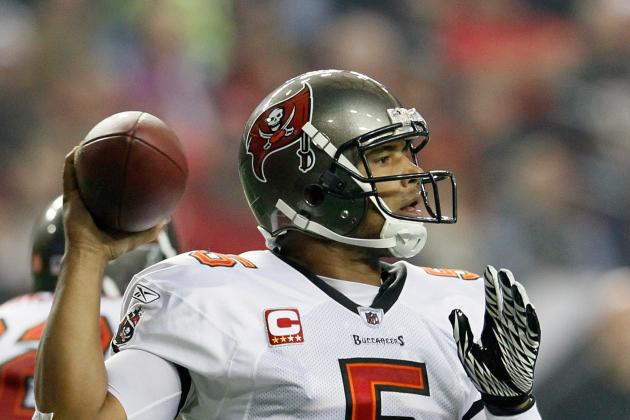 Kevin C. Cox/Getty Images

Josh Freeman took a big step backwards in 2011.
Sure, he improved his passing yards ever so slightly from 3,451 to 3,592, but Freeman went from six interceptions to 22.
The entire Tampa Bay Buccaneers team disappointed last season, but that starts with QB.
Freeman will have to right the ship in 2012 for the Bucs to even sniff the playoffs.
The NFC South is no cakewalk and Tampa Bay has a tough road ahead.
Stat Prediction: 3,600 YDS, 19 TD, 12 INT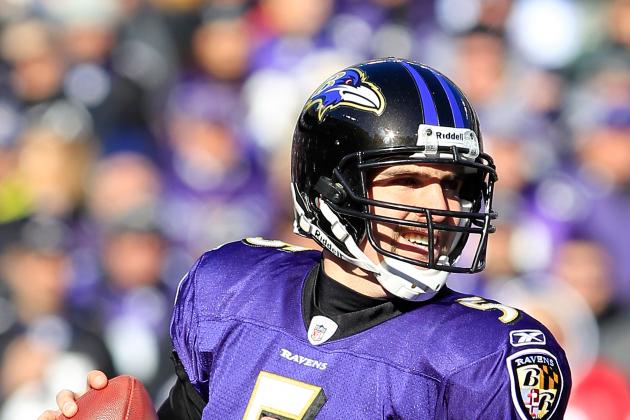 Chris Trotman/Getty Images

Joe Flacco is not exactly an exciting quarterback, but he is definitely consistent.
Flacco has thrown for just over 3,600 yards in each of the last three seasons and has hovered between 20 and 25 touchdowns.
If the Ray Rice holdout somehow spills over into the regular season then perhaps Flacco will be asked to do more, but the likelihood of that happening is slim to none.
Stat Prediction: 3,700 YDS, 22 TD, 11 INT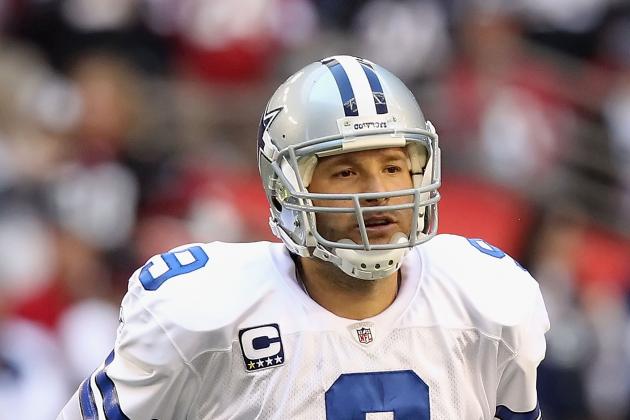 Christian Petersen/Getty Images

Will Tony Romo become the elite QB that the Dallas Cowboys need him to be in 2012?
The clock is certainly ticking on the Romo era and the pressure is mounting.
Romo has the talent to be one of the best in the NFL, but he must get rid of his choke artist image.
As far as stats go, Romo has thrown for 4,000 yards three times in his career, but I don't see that happening in 2012.
The NFC East is one of the most unforgiving divisions in football and the Cowboys have a steep climb to the top.
Stat Prediction: 3,700 YDS, 25 TD, 14 INT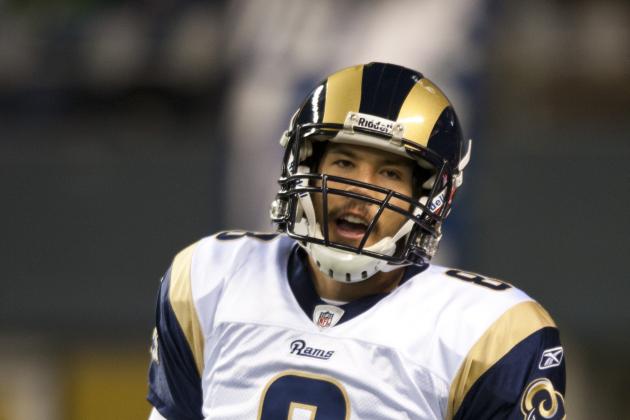 Jay Drowns/Getty Images

Remember Sam Bradford's rookie season two years ago, when he threw for 3,500 yards and 18 touchdowns surrounded by one of the least imposing offenses in recent memory?
Well, after suffering a serious ankle injury in 2011, Bradford is now ready to resume his progression in 2012.
Plus, he has guys like Steve Smith and Austin Pettis to throw the ball to.
Bradford has a ton of potential and should showcase some of that this season.
Stat Prediction: 3,750 YDS, 23 TD, 15 INT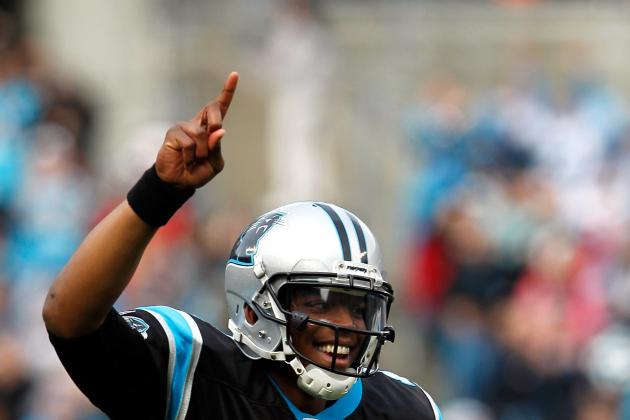 Streeter Lecka/Getty Images

Be honest, did anyone really expect that out of Cam Newton in his rookie season?
Let's run down the numbers.
4,051 passing yards
A 60 percent completion percentage
21 TD passes
700 rushing yards
14 rushing TD's
Will he suffer a sophomore slump?
It's hard to tell.
Top receiving target Steve Smith is not getting any younger, but Newton is a versatile weapon that has clearly adapted to the pro game.
Stat Prediction: 3,800 YDS, 24 TD, 18 INT, 500 Rushing YDS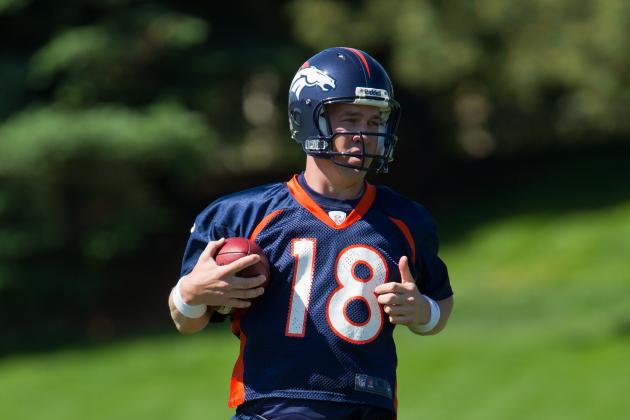 Justin Edmonds/Getty Images

Peyton Manning may actually be the toughest man to predict for on this list.
Is he the same player that consistently threw for around 4,000 yards and 30 touchdowns for 10 years with the Colts?
Or will he be affected by injury and slow to adjust to the Denver Broncos?
The former seems to be the more likely scenario for this season. Manning is healthy and one of the hardest workers in the game.
Don't expect an MVP award, but he is going to show up in a big way.
Stat Prediction: 4,050 YDS, 28 TD, 12 INT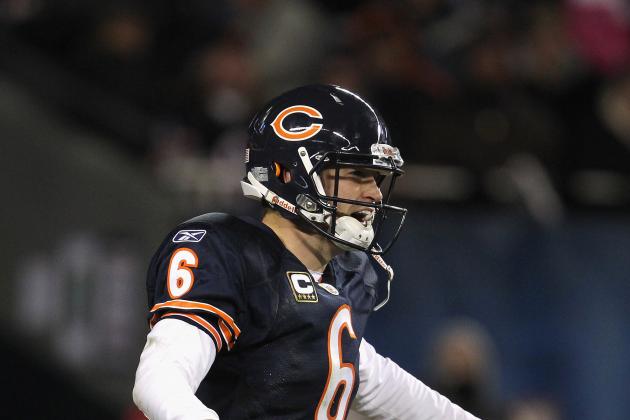 Jonathan Daniel/Getty Images

Jay Cutler and the Chicago Bears offense were really hitting their proverbial stride before the quarterback went down with injury last season.
In 2012 they look to pick up where they left off in the middle of 2011.
Cutler is still turnover-prone, and the Bears' offensive line is not going to give him days to throw the football, but this team has serious talent.
Matt Forte is one of the best all-purpose backs in the NFL and Cutler has a legitimate No. 1 receiver in Brandon Marshall.
Big things are coming for Chicago if the roster remains healthy throughout the season.
Stat Prediction: 4,100 YDS, 25 TD's, 16 INT's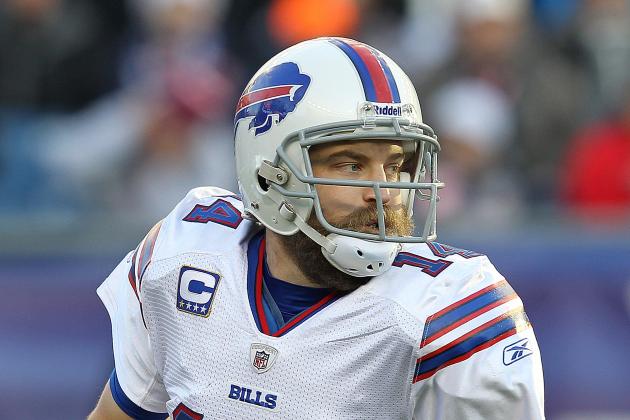 Jim Rogash/Getty Images

Put Ryan Fitzpatrick on your watch list because this guy is ready to emerge as one of the AFC's best quarterbacks.
The Buffalo Bills QB is still widely known as the guy from Harvard, but he is proving to be much more than that.
His numbers make drastic improvements each season and if he can cut back on the interceptions Fitzpatrick can lead this Bills offense to uncharted territory: the playoffs.
Stat Prediction: 4,100 YDS, 30 TD, 18 INT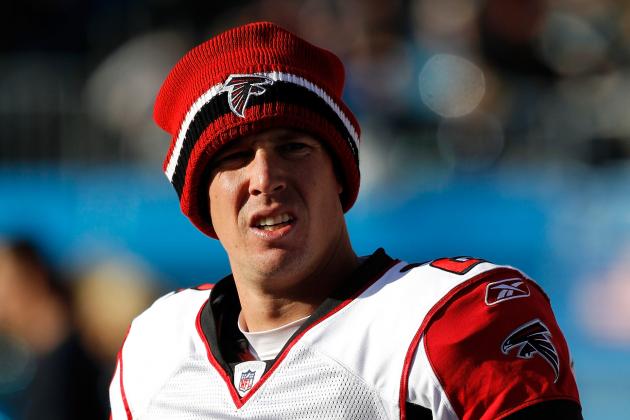 Streeter Lecka/Getty Images

2011 was the best statistical campaign of Matt Ryan's four year NFL career.
He finally crossed the 4,000-yard threshold and threw for a career high 29 touchdowns.
Look for "Matty Ice" to continue his improvement in 2012.
Roddy White and Julio Jones are one of the best receiving duos in all of football and Ryan is steadily improving as a passer.
He is not going to set the world on fire, but 4,000 yards should be a consistent theme in the coming years.
Stat Prediction: 4,150 YDS, 31 TD, 10 INT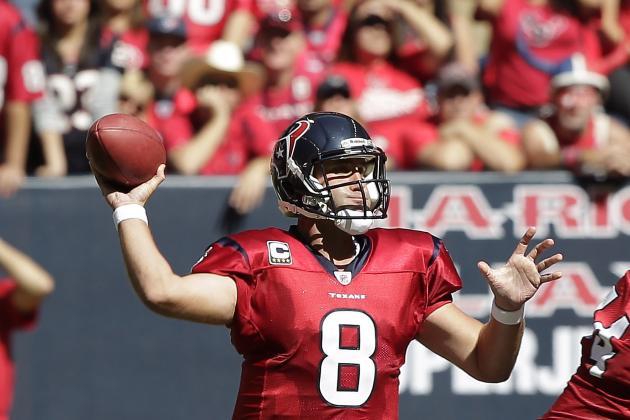 Bob Levey/Getty Images

If Matt Schaub had not fallen victim to injury last season he was on his way to another 4,000 yards passing and around 25 touchdowns.
Expect those kinds of numbers in 2012.
The Houston Texans still have their top weapons in Andre Johnson and Arian Foster, and are coming off the first playoff berth in team history.
Schaub will have no problem regaining his form this season.
Stat Prediction: 4,200 YDS, 26 TD, 10 INT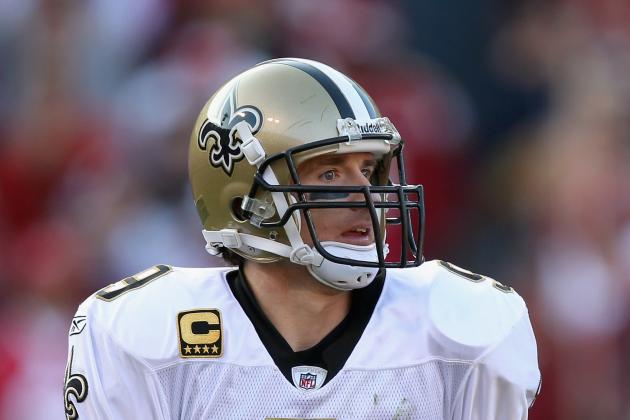 Jed Jacobsohn/Getty Images

Drew Brees is coming the best statistical season of his career and yet is likely to see a serious drop-off in 2012.
The New Orleans Saints have simply gone through too much turmoil this offseason for everything to return to the status quo right away.
With Brees waiting on a new contract it is uncertain if he will even be on the field for Week 1.
Assuming he is, Brees is still one of the best in the business, but his numbers have to fall from his astronomical 5,000 yards a year ago.
Stat Prediction: 4,200 YDS, 29 TD, 18 INT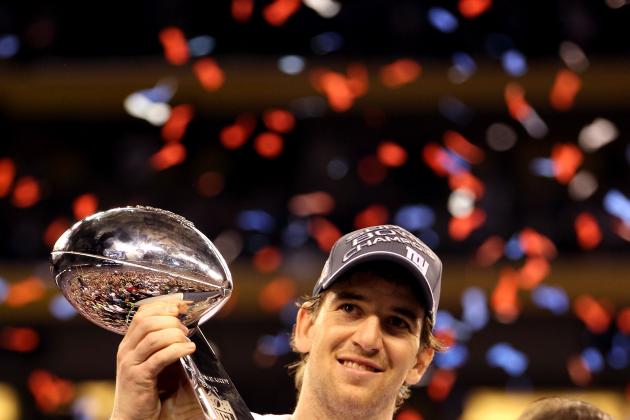 Jamie Squire/Getty Images

Eli Manning sure left little doubt about his skill level last season.
After already having thrown for over 4,000 yards in 2009 and 2010, Manning proceeded to throw for 4,933 yards in 2011.
The Super Bowl was a nice capper too, but we are focused on his stat line here and it was the best of his career.
Manning's 8.38 yards per pass attempt were the most of his career and solidified himself as one of the best QB's the NFL has to offer.
Is 2011's passing total repeatable?
Maybe not quite 4,900 yards, but Manning should continue to stay in the 4,000 yard club and throw his fair share of touchdowns.
Stat Prediction: 4,200 YDS, 30 TD, 14 INT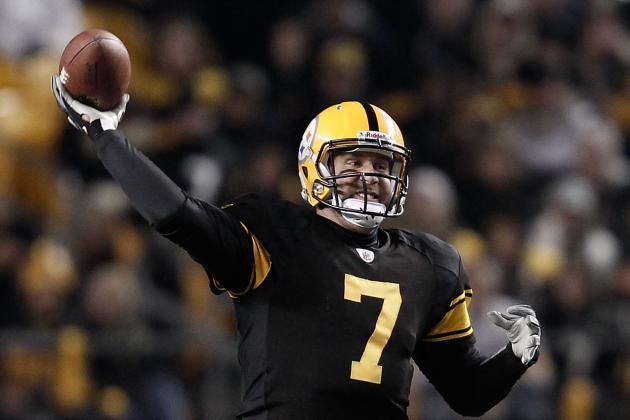 Jared Wickerham/Getty Images

The Pittsburgh Steelers offense has too many great wideouts for Ben Roethlisberger not to succeed through the air.
In 2011 Roethlisberger threw for 4,000 yards for only the second time in his career and that should continue into 2012.
Mike Wallace and Antonio Brown are both dynamic vertical threats in the passing game and "Big Ben" is almost impossible to take down in the pocket.
Something special could be brewing for 2012.
Stat Prediction: 4,300 YDS, 25 TD, 13 INT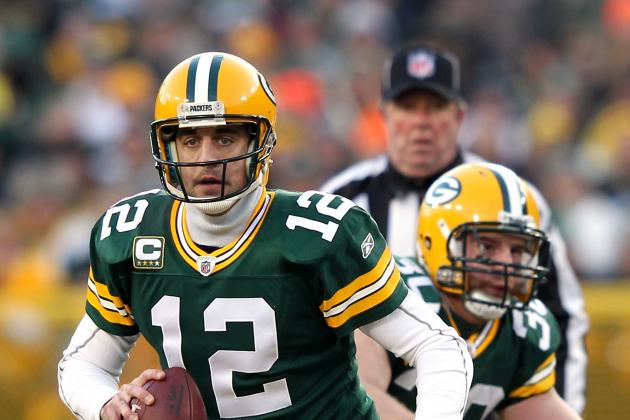 Jamie Squire/Getty Images

At this point it is almost a certainty that Aaron Rodgers will throw for 4,000 yards and at least 28 touchdowns. He has done so in three of the past four seasons.
The Green Bay Packers offense does not look like it will slow down at all in 2012 as Greg Jennings, Jordy Nelson and Jermichael Finley are all healthy and viable pass catching options.
With the departure of running back Ryan Grant there may even be more passing situations for Rodgers in 2012.
Stat Prediction: 4,350 YDS, 30 TD, 10 INT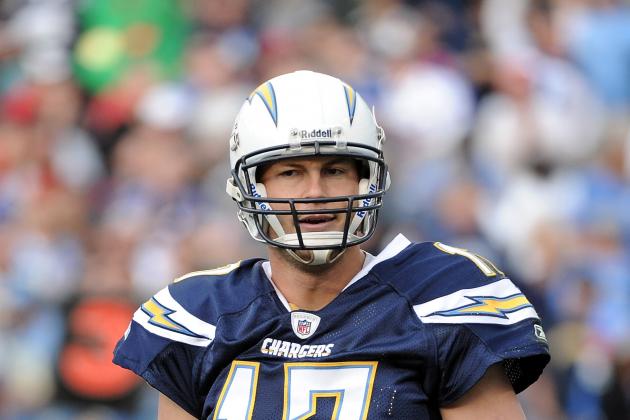 Harry How/Getty Images

Philip Rivers is widely considered to have had a sluggish 2011 season.
After all, he threw 20 interceptions and the San Diego Chargers failed to make the playoffs.
Even still, Rivers was sixth in the NFL with 4,624 passing yards and threw 27 touchdowns. Not too bad for an off year.
Expect Rivers to continue his excellence in 2012. He has thrown for at least 4,000 yards and 27 touchdowns in each of the last four seasons and there is no reason that will change.
Stat Prediction: 4,600 YDS, 34 TD, 12 INT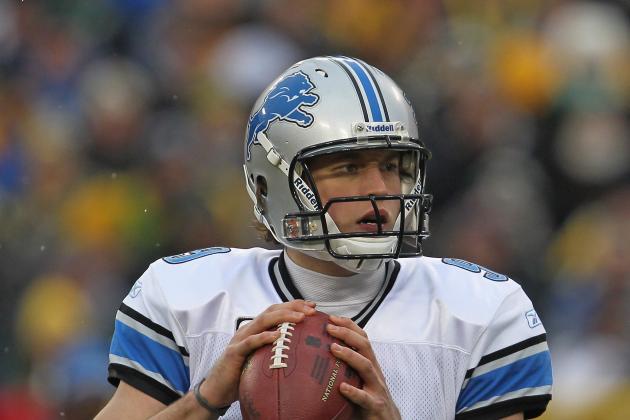 Jonathan Daniel/Getty Images

Matthew Stafford showed his ability to be an elite NFL quarterback in 2011.
He was clearly overshadowed by the performances of bigger-name quarterbacks like Eli Manning, Drew Brees, Tom Brady and Aaron Rodgers, but Stafford still joined the illustrious 5,000 yard passing club.
The Lions offense should only improve this season and Stafford continues to bond with the best receiver in all of football, Calvin Johnson.
Detroit has had clear problems with establishing a running game in recent years and that should mean a continued reliance on the aerial attack.
Stat Prediction: 4,700 YDS, 39 TD, 15 INT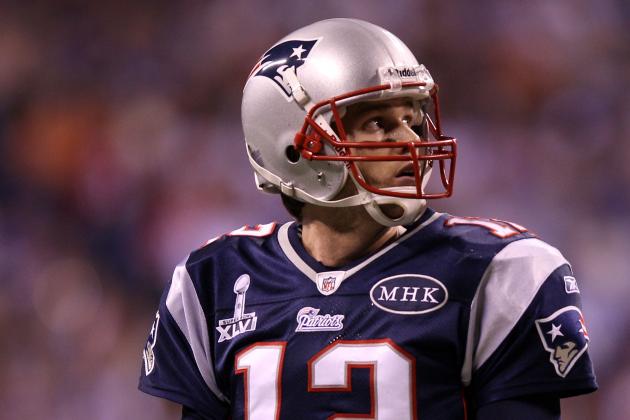 Elsa/Getty Images

Can Tom Brady become the first quarterback in NFL history to throw for 5,000 yards in consecutive seasons?
If anyone can do it he is certainly the guy.
Brady's New England Patriots still have no real rushing game to speak of and the chemistry he has developed with players like Wes Welker, Aaron Hernandez and Rob Gronkowski is tremendous.
As always the Patriots offense will go as far as Tom Brady takes it.
Stat Prediction: 4,750 YDS, 37 TD, 15 INT