NBA Free Agency: Dallas Mavericks Must Prioritize Jeremy Lin over Deron Williams
May 25, 2012

Marc Serota/Getty Images
Speculation of a big offseason acquisition this summer watered down the Dallas Mavericks' chances to defend the title. Instead of re-signing key pieces Tyson Chandler and JJ Barea to long-term deals, they cleared cap and surrounded Dirk Nowitzki with aging puzzle pieces that didn't fit, and the result was a first-round sweep at the hands of Oklahoma City.
The name that keeps getting bounced around is Deron Williams. But his back-and-forth wish list is almost as diluted as Dwight Howard's, and there is no guarantee he gives Dallas the time of day in free agency.
Die-hard Mavs fans will remember a point guard from Harvard that tore up the summer league circuit for Dallas in 2010. He went head-to-head with John Wall, and proved he belonged in the gym with the No. 1 overall pick. He even outplayed Rodrigue Beaubois, who was all but "untouchable" at the time.
Why not take a look at New York Knicks guard Jeremy Lin?
Lin was an internet sensation this season. His two week performance that started with his breakout performance against the then New Jersey Nets got him started on an NBA tour that once had him as the savior of basketball at Madison Square Garden.
This summer is the only saving grace from Mark Cuban's cap-clearing efforts. With the roster the way it is now, Dallas is on the hook for close to $41 million, giving them only a minimal amount to sign Williams and add people who can play.
But on second look, Dallas has cleared more cap than many realize. Lamar Odom is gone, through a trade or being waived. They still have the amnesty to use, which could end Shawn Marion or Brendan Haywood's time.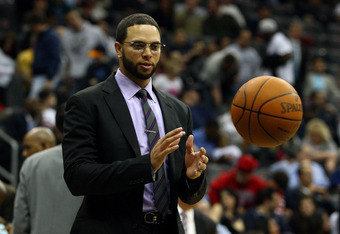 Chris Chambers/Getty Images
The question for the Mavericks is simple. Do you go "All In" in pursuit of Deron Williams? Let the debate begin. Here's the cases for the Mavericks to go after both point guards, and who is the better option.
The Case for Deron Williams
Williams is the hometown hero. He's an undeniable All-Star and an elite point guard. He's going to average 21 points and nine assists when he enters the gym. He wants to join a team with a chance to win a title, and Dallas could be that team.
Some (Charles Barkley) think Dirk is done as an elite talent. His field goal percentage was his lowest since his rookie year, and he struggled at times. Some worry that Williams might not find Nowitzki attractive as the Jesse to his James.
However, the shortened season and lack of a consistent second scorer hurt Nowitzki, especially since age is certainly a factor in the coming seasons. Dirk will be fine. Kobe Bryant's shooting percentage was his lowest since his second season, and he attempted the third highest shots per game in his career, but no one is talking about Kobe slowing down.
Dallas has the cap space to make a run at him. He's an elite talent, the likes of which Dirk Nowitzki has never played with (Steve Nash doesn't count, he was 17 and 7 guy before he went to Phoenix).
Just how far is Dallas willing to go to ensure Dirk has another superstar to chase another title with? Will they sacrifice their youth, and turn their backs on finding more consistent players in pursuit of the new NBA model of "Big 3's"?
Dallas can only offer Williams four years and $81 million. He can stay in New Jersey, or do a sign-and-trade with the Los Angeles Lakers, and get five years and $109 million on a maxed-out deal.
If you put all your eggs in the Williams basket and stumble, the market could be decidedly less attractive in the middle of free agency. It's a high-risk, high-reward proposition, and there's certainly nothing from Williams' camp that suggests Dallas is a shoe-in.
The Case for Jeremy Lin
The former Mavericks summer league star left for his hometown California and the Golden State Warriors in 2010. From there, he spent time on the bench with the Knicks before becoming a breakout star in the big apple.
Rumors are beginning to swirl about the Mavericks getting involved with their former young player. Since he is a restricted free agent, the Knicks can match any offer, but he's likely to garner much more interest than they can match, unless they dump one of the Big 3 (Stoudemire the likely candidate).
This article on ESPN from Ian Begley details another hitch in his return to New York—the designation of him as a Bird rights candidate or not. If he is, then New York can exceed the cap to re-sign him. If not, they will have to dip into the mid-level exception, likely using it all to retain him.
But, and this is where Dallas comes in, teams can back-load a potential contract to the point the Knicks might not want to match. Should someone like Dallas give him $5 million the first two years, and then closer to $10 million each of the last two, then it would be hard for the Knicks to take the salary cap hit with so much other uncertainty.
Of course, this is a risk for Dallas, too. Is it beneficial to count on Lin to be a $10 million man in 2015? That would coincide with Dirk's final year of his current contract, so would Dallas like to have that much cap inhabited by a player with only 25 starts on his NBA resume?
Lin would certainly be a lower-risk than Williams. Although he will likely be pursued like an elite player, Lin would represent the second-tier of free agents that teams would pay to plug in, not the top-tier like Williams or Roy Hibbert, who will command close to maxed-out contracts.
Conclusion
While Williams is the higher-regarded player with an international pedigree and a reputation as a top five point guard, Lin is the smart move for Dallas.
He's only going to cost $5 million or so in the first two years of the deal, which will give Dallas a better chance at surrounding Nowitzki with young talent (a la the San Antonio Spurs).
Additionally, Lin would work great in Coach Rick Carlisle's system. He's a bigger version of Barea from 2011, younger than almost anyone on the roster and as seen in New York, he can run the pick-and-roll with the best of them.
Lin in Dallas would open up a myriad of other options in free agency, as well. Jason Kidd and Jason Terry both might want to return at the right price. Ian Mahinmi is going to require more money. With Williams, your financial options are limited past draft picks, undrafted free agents and D-League prospects.
Williams will be the popular choice for Dallas fans. Why not? He's one of the best at his position, a local product, and he would easily be the best supporting player Dirk has ever had.
But Lin fits the mold of what this Dallas team won a championship with. He's a player no one gave a chance to, then blew up after a series of injuries and good fortune left him as the NBA darling on the league's most noticeable team.
Donnie Nelson would surprise, and likely frustrate, Dallas fans by signing Lin. But it's the right move financially, and it would help Dallas in both the short and long term by maintaining cap flexibility and giving them a legitimate chance to add more than one player before calling it quits in free agency.