Lakers Rumors: Deron Williams for Pau Gasol Sign-and-Trade Benefits Both Teams
May 24, 2012

Chris Chambers/Getty Images
Could a trade of Pau Gasol for Deron Williams benefit both the Los Angeles Lakers and Brooklyn Nets?
With the future of both players in question with their current teams, it's an idea that is going to be discussed at length until the 2012 offseason officially kicks off.
Does Williams really want to commit long-term to a Nets team with so many uncertainties? Does Gasol want to play another season with the trade winds swirling around him? For each star, there are more questions than answers at this point.
Needless to say, both players have the same question running through their mind: What happens next?
Brooklyn needs a player with true star power for its inaugural season in the Barclays Center. If Williams bolts via free agency, the Nets will be left with a plethora of cap space but no star to build around. As we have seen previously under general manager Billy King, financial flexibility does not necessarily translate to success in the free-agent market. 
Whether it was Travis Outlaw (five years, $35 million), Johan Petro (three years, $10 million) or even Jordan Farmar (three years, $12 million), King hasn't exactly done anything to inspire when hes had cap space at his disposal.
This is not a team that can afford to make any more mistakes.
Despite Williams spending the beginning of his offseason with King and Mikhail Prokhorov in Turkey, the talented point guard has stated that he is "no closer" to making a decision about his future than he was at the end of the season.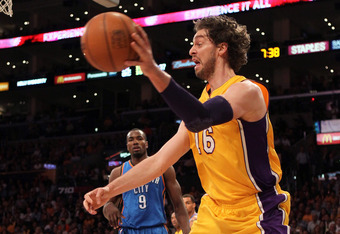 Stephen Dunn/Getty Images
Similarly, Gasol doesn't know where he stands in regards to his future. Although he's signed for the next two seasons for more than $38 million, the Lakers have already shown a willingness to trade him and there is an expectation that they will look to do so once again.
The Lakers are a team with limited options. Los Angeles' sole trade chip is Gasol, but the big man will be 32 in July and is due a tremendous amount of money. With Kobe Bryant's $30-million plus salary looming for the 2013-14 season and the Lakers hoping to extend Andrew Bynum's contract beyond next season, the Lakers need to move Gasol to turn this team back into a legitimate title contender.
Los Angeles needs to make a splash. The Lakers tried to deal Gasol in a package deal for Chris Paul before the season began, but we all know what happened once David Stern got involved. The bigger question now becomes whether or not the team can still land another star point guard using Gasol as trade bait.
Here is where it gets interesting: Sam Amick of Sports Illustrated reports that Williams is "interested" in the idea of joining the Lakers.
A source close to the three-time All-Star said he would be interested in joining the Lakers, though it would have to be via a sign-and-trade deal.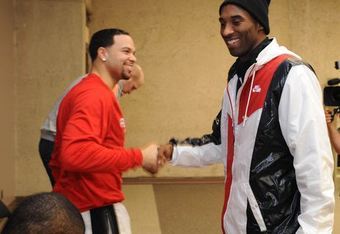 Here comes the million dollar question once again: Does a Gasol for Williams swap work for both parties?
Brooklyn needs a complement to Brook Lopez beneath the basket, and Los Angeles needs a definitive answer at the point guard position. Such a move would allow both teams to address a need, but the decision will ultimately be Williams' to make.
Lakers' general manager Mitch Kupchak does his best work when nobody expects him to make a bold move, but dealing Pau for D-Will is going to have to be facilitated by Williams' desire to join the Lakers.
With the chance to usher Los Angeles into the post-Kobe Bryant era and serve as the superstar of the team, is that an opportunity Williams really wants to pass up? Williams could instantly compete for a championship with Bryant and Bynum, and the Lakers would have one of the most impressive "Big Three" combos in the entire league.
Williams has the chance to be a part of something big for the Lakers, and although the same could be said of the Nets, there is far more uncertainty in Brooklyn than there is in Los Angeles.
The Lakers would do well to upgrade their point guard position, but the Nets must open their first season in Brooklyn with a star in the lineup.
Something's got to give.