Carmelo Anthony: New York Knicks Must Trade Their Superstar to Win Championship
May 24, 2012

Chris Chambers/Getty Images
Carmelo Anthony is certainly one of the best pure scorers in the NBA. But he's owed more than $41 million over the next two seasons, with an early termination option that would pay him another $22.6 million in 2014-15, if he does not exercise the clause in his contract.
He is the jewel in the Knicks crown and would fetch a king's ransom in a trade. Just look at the package the Knicks sent to Denver for him in 2011. It took three teams, involved 13 players and entailed the following: Denver got Wilson Chandler, Raymond Felton, Danilo Gallinari, Timofey Mozgov, the Knicks' 2014 first-round draft pick, the Warriors' 2012 second-round pick, the Warriors' 2013 second-round pick and $3 million in cash.
Those picks that used to belong to the Warriors were briefly the property of the Knicks from the David Lee sign-and-trade, which netted the Knicks Anthony Randolph, Ronny Turiaf and Kelenna Azubuike. None of those players are with the team any longer, with Randolph and cash being express mailed to the Minnesota Timberwolves so Donnie Walsh could get 'Melo in Madison Square Garden.
New York ended up getting Anthony, along with Chauncey Billups, Shelden Williams, Anthony Carter and Renaldo Balkman.
If you fast-forward to 2012, you'll find that the Knicks already exercised their amnesty clause on Billups (which could have been useful for Amar'e Stoudemire, who is now uninsured and unmovable, leaving the Knicks to hope for a surprising renaissance next season), and they cut Balkman to sign J.R. Smith, meaning they are on the hook to pay the former almost $1.7 million not to play for them next season.
In a nutshell, the Knicks freed up a ton of cap space and inked Stoudemire in order to try and lure LeBron James. When he took his talents elsewhere, they moved heaven and earth to get 'Melo, even if their coach (who shall remain nameless) didn't want him and he didn't fit with their other offensive pieces.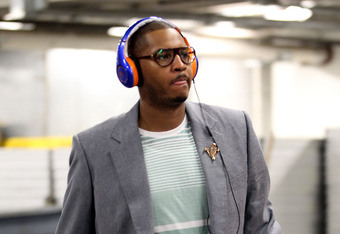 Marc Serota/Getty Images
Now, even with that coach gone, they should move heaven and earth to get rid of Carmelo Anthony.
Next season, the Knicks currently have five players under contract. One of them is Toney Douglas who got a $2 million extension in January even though the team doesn't want to play him at point guard. It only gets worse from there, and this is a team that has endured considerable turmoil.
Aside from valuable All-Rookie first-teamer Iman Shumpert, 'Melo, Amar'e and Tyson Chandler are promised over $53 million next season.
Oh, and the Knicks' "Big Three" are due another $57 million in the 2013-14 season. The salary cap this season was $58 million, by the way.
Anthony averaged 22.6 PPG, 6.3 RPG and 3.6 APG in the 2011-12 regular season. He certainly stepped up his game in the playoffs, posting 27.8 PPG, 8.2 RPG and 2.2 APG. But there is a butterfly effect to Anthony's game. Much has been made of his "isolation" style of offense. Which is to say, "give me the ball and I'll try to score."
The NBA playoffs often feature the best defensive teams in the league, and Miami certainly exhibited that. They fronted the pick-and-roll and did their best to deny Anthony the entry pass. When he did get the ball, the Heat showed surgical help defense whenever Anthony even sniffed the paint.
While Anthony did indeed step up his game in terms of defense and rebounding once Mike Woodson took over (why wasn't he playing to his capabilities before that?), it still remains to be seen whether Anthony is a championship-caliber player. Aside from his only year of college basketball at Syracuse, 'Melo has consistently made early exits from postseason play, both in Denver and New York.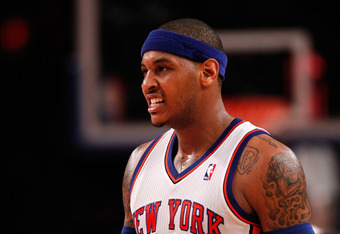 Jeff Zelevansky/Getty Images
In his career, with the exception of the 2009 season in which the Nuggets lost to the Lakers in the conference finals, Anthony's teams are 5-28 in the playoffs. Regardless of the talent around him, that is an abysmal record for a player who carries himself like a marquee superstar.
Simply put, 'Melo does not make the players around him better. It's no coincidence that Linsanity arrived when Anthony was out nursing a sore groin. Jeremy Lin elevated the play of everyone around him and invigorated a lackluster squad on both offense and defense.
When 'Melo returned, they promptly went 2-8.
There's no doubt that Anthony is a rare talent and carries tremendous value in the NBA market. Many teams would love to have him on the roster. And that is why the Knicks must trade 'Melo and rebuild the team with the bounty they get in return. It's difficult to speculate on trade packages, but a talent like 'Melo would deliver a substantial package in exchange.
The Knicks currently have an aging but sometimes effective Amar'e Stoudemire, who could be freed up without 'Melo's isolation. That would also give more room on offense to the Defensive Player of the Year, Tyson Chandler. And they have breakout rookie Iman Shumpert, who flashes explosive offense and stifling defense. That is a potent core for the next couple of seasons.
Regardless of who plays point guard for them, trading 'Melo would give the Knicks several more players and probably some draft picks as well (the Knicks have no draft picks in 2012), and a better chance to advance in the 2013 playoffs.
It would also give them more wiggle room under the salary cap, instead of smothering their roster under the burden of three megabucks players. 'Melo has had his chance in New York, and he failed miserably. Let some other team pretend to themselves that he is a champion.
Without a title, you have won nothing. Carmelo Anthony may very well join Patrick Ewing, Dominique Wilkins, Charles Barkley and Karl Malone in the Hall of Fame one day. But like theirs, his fingers will be cold, oh so cold. And he won't have Michael Jordan to blame for the lack of rings.