Jeremy Lin: New York Knicks Barren at Point Guard, Elimination Looms in Game 5
May 8, 2012

Drew Hallowell/Getty Images
The New York Knicks staved off elimination in Game 4 without Jeremy Lin, but with Baron Davis out for the year, they are in desperate need of help at the point when they face another elimination game against LeBron James and the Miami Heat on Wednesday.
The Knicks held off the Heat 89-87 on Sunday afternoon to snap their NBA-record streak of 13 consecutive playoff losses. Amar'e Stoudemire turned in a sparkling double-double (20 points, 10 rebounds) despite the stitches in his hand, and Carmelo Anthony poured in 41 points to lead the Knicks to their first playoff win since 2001.
But ailing point guard Baron Davis finally broke, suffering a gruesome dislocation of his right kneecap (known to doctors as a patella) in the third quarter of Game 4.
The Miami Heat bench could be seen cringing as they watched Davis writhing on the court in pain. After several minutes, he was carted off on a stretcher and could be seen smiling and laughing with teammates, but his jovial attitude could have been because he was in shock.
With Davis done for the year, that leaves the Knicks with only two point guards on the roster—Mike Bibby and Toney Douglas. While Bibby did hit some key shots down the stretch of Game 4, it's unclear if he is capable of playing an entire game against the stout Miami defense after averaging just 14.3 minutes per game this season.
And the Knicks seem almost completely unwilling to insert Toney Douglas into the lineup. He hasn't played at all since their April 20th loss to Cleveland, and even with Lin out following knee surgery and Davis suffering from numerous nagging injuries, Douglas averaged just 11.8 minutes in the month of April.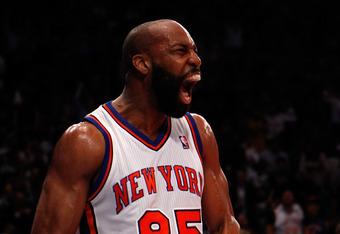 Jeff Zelevansky/Getty Images
Coach Mike Woodson wasn't optimistic about Lin's return in his Monday morning conference call with the media. NJ.com's Alex Raskin quotes Woodson as saying, "I'm not counting on him to play" in Game 5. While Lin was able to practice on Wednesday last week, he experienced soreness in his knee on Thursday.
And even being able to practice by no means indicates that he's ready to step on the court and compete at the level required for Game 5. As Woodson told ESPN on Thursday:
It was nice seeing him run up and down, but it's a little different when you're talking about playing playoff basketball and you've got to push and hold and cut and defend guys that are coming at you full speed. We've just got to wait it out and see where we are with him.
That being said, Woodson is usually understated about the injury report, taking the approach that until the doctors tell him a player is cleared to participate, he makes his game plans without them.
Woodson could have Carmelo Anthony dribble down every time and turn around at the post, but that probably wouldn't be effective against the active Heat defense. Alternatively, J.R. Smith could play point, but he can be prone to turnovers and has an affinity for shooting from anywhere on the court.
The Knicks played rookie Iman Shumpert at the point earlier in the season, but he was lost to a torn ACL in Game 1 of the series.
As it stands now, the Knicks will have to rely on Mike Bibby, and perhaps even Toney Douglas, to run the point and hope for the best on Wednesday night in Miami.
But if the magic of Linsanity earlier this year taught us nothing else, it's that you should never count out Jeremy Lin. He could drive everyone Linsane with an impersonation of Willis Reed and help the Knicks hobble to victory in Game 5 and, perhaps, beyond.
No NBA team has ever come back from a 3-0 deficit in a playoff series. For now, the Knicks will take it one game at a time.
UPDATE: CBSSports.com reports that Jeremy Lin has been ruled out for the entire series with the Miami Heat, even if it goes seven games. Mike Woodson told the New York Times, "He's not ready."