NBA Rumors: Lakers Must Monitor Ramon Sessions' Role If He Returns
May 23, 2012

Harry How/Getty Images
Ramon Sessions may or may not be a member of the Los Angeles Lakers next season, but if he is, it'd best be on new and better-defined terms.
The 26-year-old point guard, whom the Lakers acquired at the NBA trade deadline this season, struggled mightily on both ends of the floor during his first trip to the playoffs. Yet, according to Kevin Ding of the Orange County Register, Sessions said after his exit interview on Tuesday that management wants him back. And, moreover, that he wants to be back:
"Definitely hope to be here. Hopefully, everything works out."

"It was definitely clear leaving the meeting (with Kupchak and Lakers coach Mike Brown) that they wanted me back."
That being said, Sessions has yet to decide whether or not he'll exercise his player option, which would pay him $4.6 million next season, but he has until late June to do so.
Whether the Lakers (or any other team, for that matter) would be willing to spend substantially more than that on a point guard of Sessions' middling caliber is another story entirely.
He played well for L.A. (offensively, anyway) during the regular season after coming over from the Cleveland Cavaliers, averaging 12.7 points, 3.8 rebounds and 6.2 assists in 23 games, 19 as a starter. But once the playoffs started, it became clear why Sessions had played for four NBA teams (and spent some time in the D-League) during his four-year career. He played hesitantly and without much confidence, averaging 9.7 points (on 37.7 percent shooting from the field), 3.0 rebounds, 3.6 assists and 1.8 turnovers per game.
More importantly, Session proved to be a liability on defense. Sessions' speed and athleticism apparently wasn't enough to so much as slow down Ty Lawson of the Denver Nuggets (19.0 points, 6.0 assists against the Lakers in Round 1) or Russell Westbrook of the Oklahoma City Thunder (25.6 points, 5.4 rebounds, 4.6 assists vs. L.A. in Round 2).
To that effect, Ding notes:
Sessions allowed that there are a lot of "the little things" on defense he still needs to attend to, things that weren't prioritized on his previous losing teams. This was the first time Sessions was on a team with a winning record, and he was clearly uncertain at times in the playoffs.

Sessions said winning is a priority to him, but also to "become one of the top guards in the league." He intends to work this offseason to learn how to play without the ball in his hands more considering how much Kobe Bryant has it with the Lakers.
That's all well and good—and Sessions' goal of transforming himself into a top-tier guard is admirable, if not borderline delusional—but wasn't the Lakers' objective in making a change at the point to improve their perimeter defense and ease Kobe's offensive burden? 
At 26, Sessions still has some upside to spare, though, at this point, his deficiencies point to a future better served as a backup. He's quick, with the ability to hit floaters and drive to the basket, and his outside shot has improved considerably.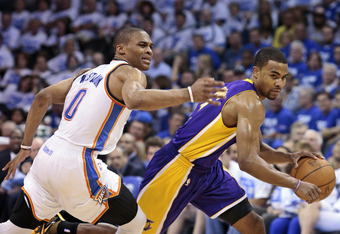 Brett Deering/Getty Images
But he's never been a strong defender, and his vision and creativity as a passer are decent, but far from great.
The question then becomes, is a player of Sessions' profile worth the money for the Lakers, as a backup or otherwise? L.A. already has one overpaid reserve guard—Steve Blake, at $4 million per year through the 2013-14 season—and it has almost no financial flexibility to begin with as currently constructed. 
At this point, it's entirely possible that Sessions, acutely aware of his declining value on the free-agent market, opts in to the final year of his deal and forces the Lakers' hand.
Either way, it's clear that the Purple and Gold will need better point guard play, be it from Sessions or someone else, if they're to contend for titles while Kobe Bryant can still walk. There will be no (nixed) blockbuster trades for Chris Paul this time around, though the Lakers must hope they can find a way to acquire a player who either relegates Sessions to the bench or renders him entirely irrelevant.