NBA Playoffs 2012: Funniest NBA Memes Updated for Each Remaining Playoff Team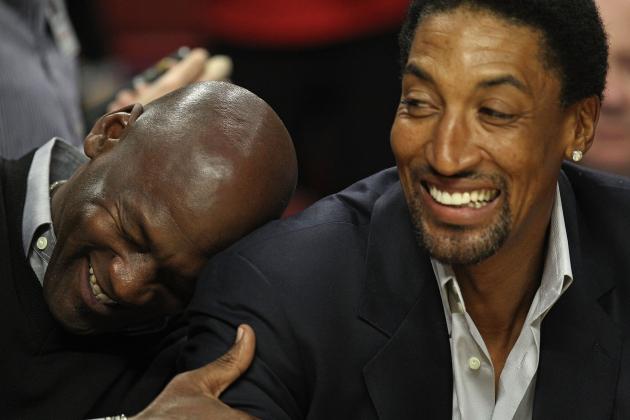 Jonathan Daniel/Getty Images

Memes have taken the Internet by storm, and I will add to that craze with some more hilarious NBA memes to share with you today.
For those of you who don't know, memes are images that are passed electronically from one Internet user to another. Those images usually will have words or captions that are in some way funny and humorous to the masses.
Last time we met, the Los Angeles Clippers and Lakers were still participating in the NBA playoffs' second round and the Indiana Pacers had the upper hand over the Miami Heat.
Oh, how times have changed.
Here are the funniest memes hand-picked by yours truly for every remaining playoff team.
Enjoy!
All memes are from NBA Memes, unless otherwise stated.
Begin Slideshow

»
I looked up the word "unstoppable" in the dictionary and there was this picture.
With every sweep they inflict, the San Antonio Spurs are taking over the NBA—again.
Manu Ginobili, Tony Parker and Tim Duncan hoisted the Larry O'Brien Trophy in 2003, 2005 and 2007. Duncan added another ring in 1999 before the Argentinian shooting guard and French star came to the NBA.
The trio looks to add another title in 2012.
San Antonio is averaging 102.5 points per game in these playoffs. That is the best in the NBA.
The Spurs are unstoppable yet again.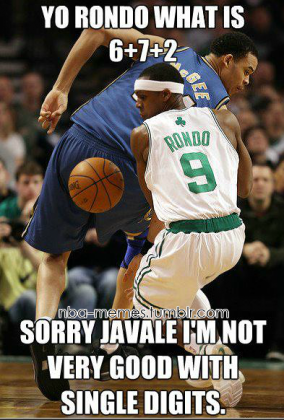 Just take a look at Rajon Rondo's stat line against the Philadelphia 76ers this series.
Game 1: 13 points, 17 assists
Game 2: 8 points, 13 assists
Game 3: 23 points, 14 assists
Game 4: 15 points, 15 assists
Game 5: 13 points, 14 assists
Rondo is a huge reason why the Celtics are one win away from a berth in the Eastern Conference Championship.
No one expected them to get this far. Critics called them "old" and "outdated," and rumors swirled that the Big Three might get broken up.
So much for that talk.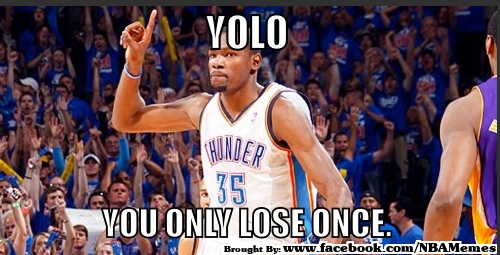 The Oklahoma City Thunder have been absolutely phenomenal in these playoffs.
They swept the defending champions Dallas Mavericks in the first round and beat Kobe Bryant and his Los Angeles Lakers 4-1 in the second round.
Kevin Durant and his Big Three have only lost once in these playoffs.
The San Antonio Spurs have never lost in the 2012 playoffs.
Those two teams will meet in the Western Conference Championship. Rejoice, NBA fans!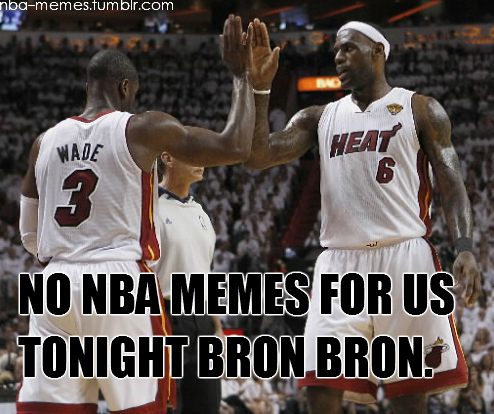 The media absolutely killed the Miami Heat after they went down two games to one against the Indiana Pacers. Cries of "trade Dwyane Wade" rang from every mountainside in the United States of America.
In a sense, everyone overreacted.
The Heat are up 3-2 in the series and the delicate balance of the world has been restored. LeBron James put up 40 points, grabbed 18 rebounds, dished out nine assists and played shutdown defense in order for South Beach to even up the series with a 101-93 win in Game 4.
In Game 5 the MVP scored 30 points and assisted eight times while grabbing 10 rebounds. Wade responded to the controversy by putting up 28 points in a 115-83 Game 5 beatdown.
The Heat have escaped the wrath of the media—for now.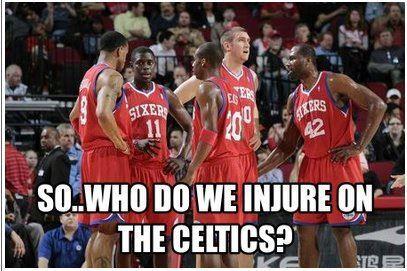 They aren't many Philadelphia 76ers memes on the Internet, and I looked through every nook and cranny for a suitable meme to post here.
Come on, Philadelphia fans.
If the Sixers will injure anyone on the Celtics it will have to be soon. Beantown is up 3-2 but no team has won two games in a row in this series, so Philadelphia has a chance.
The only problem is that Boston can beat you in many different ways. With Rondo, Kevin Garnett, Paul Piece and surprisingly Brandon Bass all being huge contributors for the Celtics, the 76ers have their hands full.
They have one last-ditch effort to save their season coming up.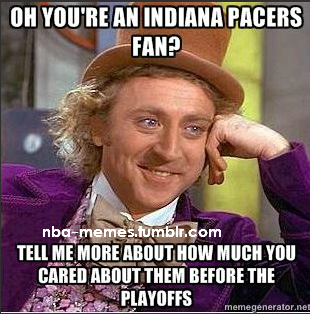 Condescending Wonka, when done right, is hilarious. This meme was done right. and it is smart.
The Indiana Pacers were near the bottom of the league in stadium attendance during the regular season. After they took two games from the Miami Heat, however, Danny Granger and company became the hottest thing since Tim Tebow.
Many Heat haters have jumped on the Pacers bandwagon and claimed to be fans of Roy Hibbert. In the last week I have met more Indiana fans than I have in my entire life.
It will be interesting to see what will happen to these fair-weather fans and if they will stick around next season.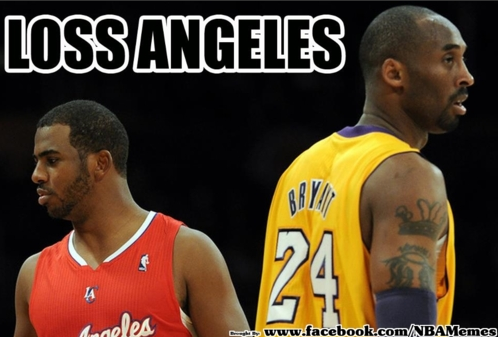 That was clever. Very clever.
This is going to be a long offseason for Clippers and Lakers as they dwell on what went wrong in preparation for next season.
I hope you enjoyed reading this and it gave you a laugh. Good luck to your playoff team!