Washington Redskins Secondary: The Pass vs. the Present
May 21, 2012

Al Bello/Getty Images
Like it or not, the NFL is a passing league, with some very impressive quarterbacks—and in 2011, the Washington Redskins secondary struggled to cope with the aerial threat that they posed.  
Mike Shanahan has taken steps to rectify this, both in free agency and through the draft. There is now healthy competition for a place on the roster, and the scope for improvement is high.
I'm not sure that Brandyn Thompson did enough last year to merit inclusion in 2012, and the acquisition of Madieu Williams means that Reed Doughty should now be pushed further down the depth chart.
In terms of progression, the second game against the Giants is the yardstick against which I will judge the coming season. Interceptions from DeAngelo Hall, Oshiomogho Atogwe and Josh Wilson—along with innovative play-calling from Kyle Shanahan and Jim Haslett—meant that the Redskins were able to stuff the run and limit Eli Manning to a 45.5 percent completion rate.
They looked like a unit in that game and gave us a glimpse of what could have transpired had they been able to play that way from Week 1.
Hall and Wilson both return in 2012—along with Kevin Barnes and DeJon Gomes—­and I fully expect to see them start. Hall will need to improve upon his overall performance from last year, but the newly-arrived competition should bring out the best in him.
I will admit to being a little surprised that Atogwe was cut. It's very reasonable to argue that he wasn't the player he used to be—his salary was needed elsewhere and his injuries threw up further concerns about his future—but to replace him with Brandon Meriweather and Cedric Griffin seemed like a bit of a slap in the face.
Now, I'm not here to court controversy in the offseason—and I'm certainly not denying the talent that those two players possess—but it just comes down to a simple human element: I don't think I trust them.
Meriweather makes big hits, but he's not consistent with his tackling and has incurred numerous helmet-to-helmet penalties and off-field incidents, including the DWI he received just days after becoming a Redskin.
Cedric Griffin had a catastrophic 2011, looking totally lost and out of position as he was frequently left exposed by receivers. He was noticeably slower after blowing both ACLs in back-to-back seasons, and he looked to be on his way out after refusing to take a pay cut in Minnesota.
The person who holds all the keys to the secondary is Raheem Morris. Despite my trademark role as the harbinger of doom, I genuinely believe he can assuage my doubts about character and discipline, having dealt with players of that ilk in Tampa Bay.
I'm confident that he can get Meriweather's focus back on football, and switching Griffin from cornerback to safety will allow him to restore some of the fire that was lacking upon his return to the NFL. If there's one thing that is certain about Cedric Griffin, it's that he's a fighter.
The man Griffin will likely be competing with is experiencing something of a reunion, having been drafted by Bruce Allen and playing under Raheem Morris at Tampa Bay. Tanard Jackson will hopefully serve as an example to Fred Davis and Trent Williams, having served a one-year suspension for repeated drugs violations. Some wise words in their ears certainly wouldn't go amiss ahead of the season.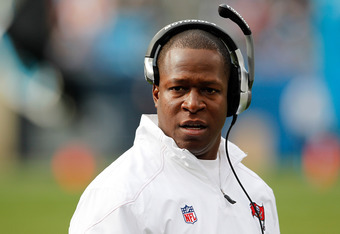 Streeter Lecka/Getty Images
Jackson is a physical, big-time player and has the capacity to start straight away. Again, there are concerns that his best days are behind him after losing some of his pace due to injury, but his familiarity with what Morris expects from his safeties should enable him to make a solid contribution.
For me, the wild card at the safety spot is Jordan Bernstine. He brings flexibility to the scheme, having played at both safety positions as well as cornerback. He could make an impact on special teams, while also being useful in nickel and dime packages.
Bernstine is yet another victim of injuries—playing just one full season at Iowa—but he's a hard worker with a great attitude and a ton of upside, including an impressive 41-inch leap. I wouldn't be surprised to see him sneak his way onto the roster somewhere.
Chase Minnifield, meanwhile, has the opportunity to become the steal of the draft. Being the son of a Pro Bowler gives him the lineage, and going undrafted gives him the motivation. I'm getting bored of mentioning the injuries, but he underwent arthroscopic knee surgery at the beginning of the year, which likely caused teams to remove him from their boards.
Minnifield is a two-time All-ACC First Team player with a great understanding of receiving routes, along with an impressive physicality that should give him a chance to make the field in his rookie season. Much like Bernstine, he could see his first action at nickel corner.
Although the secondary has something of a patched-up feel to it, Mike Shanahan has done a good job of bringing in players with different strengths, as well as a good mix of youth and experience. Their success rate this year hangs on the eternal question:
Will they perform to their potential?
If the answer to that question is "yes," Eli Manning may have to wait a little longer to exact his revenge.