Baltimore Orioles Quickly Becoming MLB Road Warriors
May 18, 2012

Jamie Squire/Getty Images
For the first time in nearly a decade, Baltimore radio stations are talking baseball first and foremost, as opposed to conversation of the upcoming Ravens football season. No fault of Orioles fans, football has become the dark lager to help drown ones sorrows.
But as the 2012 big league season progresses, it is becoming more and more apparent that Orioles fans are witnessing something special.
At 25-14, the Birds boast the best record in baseball. For Orioles fans that watched the team dart out to a similar record in 1997, en route to the ALCS, life could not be better. Yet Orioles fans who watched their team disintegrate to 74-88 record after a similarly fast start in 2005 are guardedly optimistic.
However, in neither campaign did the Orioles earn a 9-6 record after enduring a brutal 15-game stretch like they did this May, that included the New York Yankees,  Texas Rangers, Boston Red Sox and Tampa Bay Rays.
The very fact that Baltimore escaped this meat-grinder of a schedule intact is impressive, to say the least.
Still more impressive, the Orioles have become resolute, never-say-die like road warriors this season. This is an important indicator for a ball club striving to reach the playoffs for the first time since Cal Ripken Jr. and Company's magical run in 1997.
The Orioles are 13-5 on the road this season, which is one game better than the Texas Rangers in this category.
But it is the Orioles current seven-game road winning streak that has peaked the worries of home teams that see Baltimore on the schedule. What used to be easy victories for these teams are no more, as the Yankees, Red Sox and Kansas City Royals can attest. Each of these teams fell victim to the Orioles gritty play during this stretch.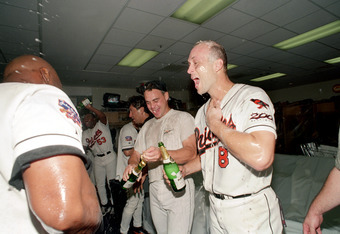 Doug Pensinger/Getty Images
This weekend the Orioles look forward to an exciting three game series versus another ball club that has far exceeded expectations—the Washington Nationals.
At 23-15, the Nationals are off to the best start since moving from Montreal in 2005. The team boasts an exciting young hurler in Stephen Strasburg, as well as a young phenom in 19-year-old Bryce Harper.
Combine these two budding clubs with a great ballpark that is Nationals Park, and one has the makings of a potentially great series.
As a baseball fan who loves to see new teams rise from the ashes of misery, I could not ask for anything more.
Related Articles:
Orioles Showing Signs of Being Different From Recent Past
Orioles Tough May Schedule May Dictate Club's Course