2012 NBA Free Agents: Veterans Who Must Slash Salary to Join Contenders
May 23, 2015
Christian Petersen/Getty Images
The 2012 NBA free-agency class isn't anything extraordinary this year. There are no LeBron James-, Amar'e Stoudemire-, Chris Bosh-types that teams are patiently hoarding cap space to spend on over the summer.
In fact, it might just be the opposite. Instead of giving out max deals, franchises may be looking to pick up some veteran stars for a cheaper price than they are used to.
Let's take a look at some of these aging players that will have to take a pay cut to win a ring.
Steve Nash
The two-time MVP has accomplished almost everything possible during his long and prosperous NBA career, with the notable exception of raising a banner.
After two stops in Phoenix and some time in Dallas, Nash has been on a lot of contenders and playoff teams. He just hasn't been able to join a squad good enough to win it all.
If the 38-year-old is willing to work with, say, the Miami Heat's brass to fit a new contract under their cap room, the future Hall of Famer could add "NBA champion" to his resume.
Antawn Jamison
The 35-year-old forward has carved out quite a career for himself, although he's been largely forgotten over the past two seasons on the Cleveland Cavaliers.
Jamison was brought over by Cleveland to help LeBron James win a ring, but obviously that never came to fruition. Antawn has still got time and one last contract to try and make his dream a reality.
Plenty of competitive teams need capable big man in their rotation—and considering no franchise is paying him anywhere near his $15 million 2012 salary—it's likely that Jamison lands with a good roster next year.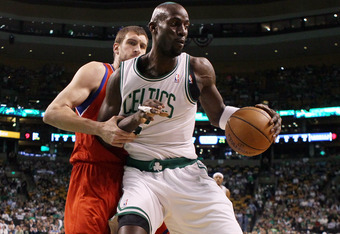 Elsa/Getty Images
KG helped erase all doubts about his greatness when he helped lead the Boston Celtics to a ring in 2008. However, the man has a competitive fire that burns greater than most other people in this world.
He's certainly not satisfied with Boston's playoff failures since winning in the NBA Finals, and he's definitely not going to play out his last few years for a terrible team for a few extra dollars.
Look for "The Big Ticket" to play for whatever price, as long as the organization gives him a chance to win.