Portland Trail Blazers: How to Make Them Contenders in 2012-13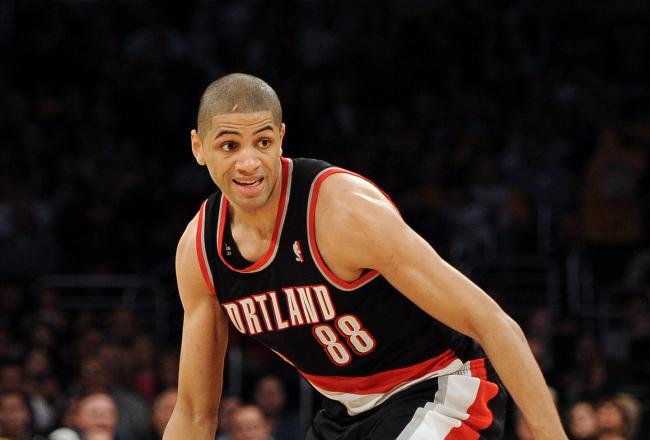 Harry How/Getty Images
With the second round series' of the NBA playoffs quickly marching on, teams like the Portland Trail Blazers have been temporarily placed on the back burner. But soon that will change, with the NBA draft lottery looming in a week and a half, and free agency later on this summer.
The Blazers are coming off a terribly disappointing season, but because of a couple of shrewd trades and some financial flexibility, the will have a chance to rebuild quickly this offseason.
It's easy to be skeptical with the kind of luck this franchise has had in the past. LaMarcus Aldridge is really the only star on the team at this point, and while Nicolas Batum certainly has that potential, he needs to be more consistent and stay healthy.
Beyond those two, the team really doesn't have a lot of foundational talent at this point. Teams like the Oklahoma City Thunder, the San Antonio Spurs, and the Boston Celtics have all proven that having three or four real stars, guys who know their roles, along with quality depth, is the key to competing year after year.
This has been a fluky season. The Chicago Bulls already fell victim to injuries, and the Miami Heat look like they might be the next ones to have a once promising season fall off the rails completely. The Blazers were also hurt by injuries, of course, and so that's one thing that needs to be avoided going forward.
The Thunder have become successful so quickly because their top four players have all avoided missing significant time due to injuries. Sure, Kendrick Perkins gets hurt sometimes, but his presence isn't a determining factor for them.
Should the Blazers bring back Kaleb Canales as head coach?
The Blazers need to follow that model going forward. They need to go after guys who not only have talent, but have strength, stamina, and a track record of durability. There's never any guarantee that a guy can't get hurt; just look at Dwight Howard this season. However, putting more of an emphasis on injury avoidance is something this team can't afford to ignore any longer.
One thing that's for certain is that the roster will look very different next season. Aldridge, of course, will be around. He's about the only sure bet at this point. Guys like Wesley Matthews, Elliot Williams, Nolan Smith and Luke Babbitt will probably be in Portland, barring an trade. Same goes for Kurt Thomas, and potentially Joel Przybilla.
Beyond that, nothing is really for sure. Jamal Crawford will probably go. Jonny Flynn and Hasheem Thabeet didn't really show too much during the last few games of the season.
Two guys the team needs to focus on are Nicolas Batum and J.J. Hickson.
Batum continued to show improvement last season, and is still one of the young, rising talents at his position. The Blazers need to do what they can to keep him, but if the price goes higher than $9 or $10 million per season, then they may need to reconsider. However, at his age and talent level, it might be worth the cost.
Hickson was probably the best Blazer down the stretch last season after the team claimed him off waivers in March. His talent is undeniable at this point, but the question remains of how he would fit with the team long term. He's good enough to be a starter, but that would mean having either him or Aldridge play center.
Portland would be undersized at that point, but if they can find a way to make it work, that might be their best bet in solidifying their frontcourt rotation for next year.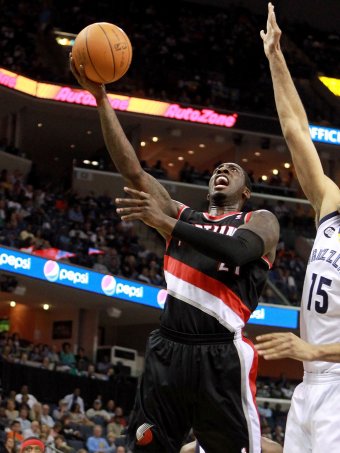 Andy Lyons/Getty Images
No one knows who the Blazers will take in the NBA draft this summer. It all depends on what happens with Batum, Hickson, and also if they have a coach and general manager in place by that time.
If Batum goes, Harrison Barnes could be a good replacement. Kendall Marshall, Barnes' teammate, looks to be the best point guard in the draft, and the team could benefit greatly from his playmaking ability.
Of the free agent point guards available, Goran Dragic might be the best bet. Deron Williams is clearly the better player, and even Steve Nash would be a step up, but neither guy could be counted on to stay healthy.
There are a lot of possibilities for this team. What they need to is make a plan centered around getting a couple young, durable stars to pair with Aldridge, and stick to it. The Thunder did it and took the Blazers' place as the up and coming team out west. With a little luck, Portland just might be able to give them some competition next year.
This article is
What is the duplicate article?
Why is this article offensive?
Where is this article plagiarized from?
Why is this article poorly edited?

Portland Trail Blazers: Like this team?