NFL Rumors: News, Analysis and Reaction to Week's Hottest Buzz
December 2, 2016
Chris Graythen/Getty Images
The NFL never sleeps.
Need proof?
Here's the latest on this week's hottest buzz.
Roll out the Red Carpet for…Chase Daniel?
That's right. Due to the stagnant, swampy movements of contract talks between the New Orleans Saints and franchise quarterback Drew Brees, Chase Daniel is penciled in as the starter entering camp.
Adam Schefter spoke on SportsCenter as recently as Tuesday, May 15, saying that because Brees and the Saints aren't making any progress regarding contract negotiations, Daniel will be taking first-team reps at camp.
Rotoworld.com suggests the wait for Brees could last all the way "until the July 16 deadline to sign franchise players to long-term extensions."
It's pretty much a given that Brees will be lining up under center for the Saints in 2012. But for an organization that has had such a tumultuous offseason, you would think that it would try to ink its franchise player as soon as possible to get the good-news generator pumping.
But if Daniel can impress, maybe the Saints won't need to extend Brees (kidding…). 
More Bad News for Jason Peters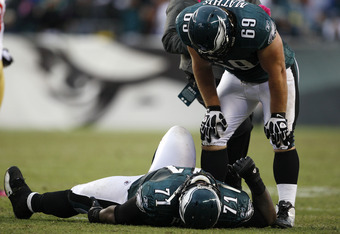 Rich Schultz/Getty Images
According to Derrick Gunn of Comcast SportsNet Philadelphia via Twitter, Philadelphia Eagles left tackle Jason Peters ruptured his Achilles tendon a second time.
ESPN's Hannah Storm reported on SportsCenter that Peter's support device malfunctioned while he was walking around in his kitchen, and he subsequently fell on his face and re-injured himself. Per Storm, Peters now plans to sue the company.
And he may need to.
Jeff McClain of the Philadelphia Inquirer & Daily News suggests Peters' career could now be in jeopardy. Fortunately, the Eagles picked up another former Buffalo Bill in Demetress Bell.
Tim Hightower is the No. 1 RB in Washington
Despite impressive showings from Roy Helu and Evan Royster last year, veteran running back Tim Hightower remains the favorite to be the starter in the Redskins' backfield in 2012. Mike Jones of the Washington Post reports that…
Per Richard Campbell of Washington Times, Hightower has not been fully cleared just yet, though he's expected to be ready for the beginning of the year.
Hightower's veteran presence will be a positive for the Redskins. But with head coach Mike Shanahan—the notorious fantasy football running back joker—there's no telling how the situation will unfold. There's decent talent out in D.C., and competition is usually a good thing at most positions.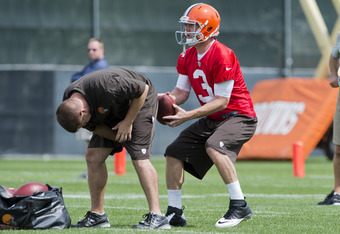 Jason Miller/Getty Images
Brandon Weeden Impressing Browns
Head coach Pat Shurmur has been impressed with rookie quarterback Brandon Weeden so far, according to Nate Ulrich of the Akron Beacon Journal.
Following the Browns' rookie minicamp, Shurmur praised the rookie's accuracy, and it's no secret he already has a very strong arm.
Though Ulrich noted in a previous article that "working under center is clearly a work in progress" for Weeden, it looks like the starting quarterback job is the 28-year-old first-year signal-caller's to lose.
Pairing Weeden with No. 3 overall pick Trent Richardson may be just the kind of fresh excitement the Browns and their fans need.
Mark Ingram Struggling to Get Healthy
The bad news continues for the New Orleans Saints. Mike Triplett of the New Orleans Times-Picayune reported via Twitter that the "team will probably have to back off Ingram at the start of training camp, but should have [the] green light for regular season."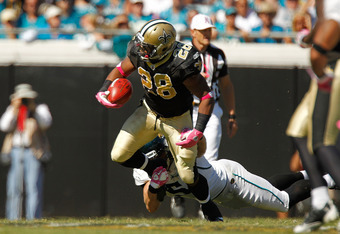 Mike Ehrmann/Getty Images
Per Rotoworld.com, "Ingram has undergone three surgeries over the past three seasons, two on his left knee."
Even if Ingram can't give it a full go early in the season, the Saints should still be fine at running back. Veteran Pierre Thomas, Chris Ivory and spark plug Darren Sproles can all contribute.
The bigger concern is the Ingram's long-term health and durability at a position that recycles players faster than any other.
Matt Flynn Front-Runner for Seahawks' Starting QB
It's no surprise that rookie quarterback Russell Wilson "open[ed] eyes at camp," according to ESPN.com, considering his work ethic and athleticism. It's also not surprising that head coach Pete Carroll stated that Wilson would compete for the starting job.
NFL coaches never want players to feel safe, and the Seahawks' staff certainly isn't going to hand the starting quarterback job over to anyone.
However, Seattle signed Matt Flynn in free agency to a three-year, $19.5 million deal with the intention of him starting.
Wilson is an impressive, mature young man with intriguing upside. And fans want to know just as badly as the Seahawks do whether he can overcome his height in the NFL. But both all parties will have to wait to find out, as Flynn should take the reins in Week 1.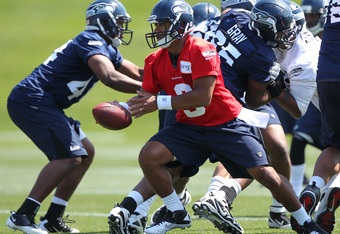 Otto Greule Jr/Getty Images
Jaguars Dedicated to Blaine Gabbert…Or Are They?
Despite signing free agent Chad Henne this offseason, new Jaguars head coach Mike Mularkey said that Blaine Gabbert will continue to lead the offense in 2012.
NFL.com's Albert Breer reported that "there won't be a quarterback competition at Jaguars camp" and that "Mularkey's staff should help" the second-year quarterback make strides in 2012.
Gabbert looked awful last year, but it's fair to give him more time on the job. He'll have a full offseason this year and a new, dynamic No. 1 wideout in Justin Blackmon.
On the other hand, Henne enters a good situation for playing time. For if Gabbert continues to struggle, he's a capable backup who could win back a starting job.
In fact, Don Banks of SI.com suggests that Henne has a realistic shot at winning the job as early as August.
Wes Welker Tips His Hand, Gives in, Signs Tender
Well, that was quick. Apparently, Wes Welker was just taking a little time off and wasn't ever a real threat to hold out due to his contract situation.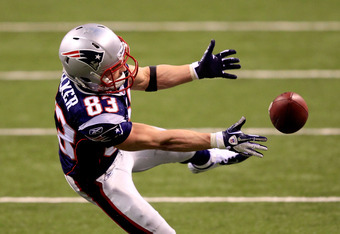 Chris Trotman/Getty Images
Via Pro Football Talk, "Welker said on WEEI that there's no way his contract negotiations will drag out so long that he sits out any games."
Bleacher Report's AFC East Lead Blogger Erik Frenz discusses the situation from both perspectives. Welker, of course, wants a long-term deal and job security.
But according to Frenz, "the Patriots no longer have a reason to sign Welker long term. They have already accounted for the money he'll be due in 2012, so signing him this year would have no instant gratification."
It's one of the unfortunate parts of the NFL being a business. Welker means a lot to the team, organization and its fanbase, but signing him to a hefty long-term deal is tricky considering his age and injury risk.  
Ultimately, Welker folded, signing his franchise tender according to Boston Globe NFL writer Greg A. Bedard. Welker will be at OTAs next week.
Brandon LaFell Leads Carolina's No. 2 WR Battle
Carolina Panthers wideouts should be champing at the bit to become Cam Newton's No. 2 wideout, and according to Panthers insider Darin Gantt via Twitter, Brandon LaFell is the leading candidate.
LaFell makes a lot of sense lining up opposite veteran Steve Smith. Last year, he made 36 catches for 613 yards, good enough for a 17.03 yards-per-catch average. So he can definitely take the top off a defense and draw some attention away from the dynamic Smith.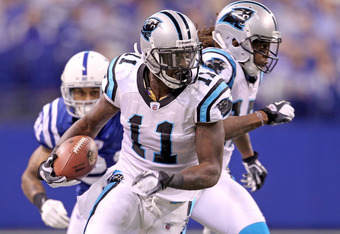 Andy Lyons/Getty Images
The Panthers are quietly establishing some talented depth at the wide receiver spot, too. Rookies Joe Adams (Arkansas) and Wes Kemp (Missouri) have intriguing upside. Meanwhile, David Gettis, Seyi Ajirotutu and Armanti Edwards look to continue to grow in the offense.
If some of these wideouts can start producing, Carolina's offense could create even more fireworks.
Keep an Eye on Jaguars' Rashad Jennings
Maurice Jones-Drew can't be the bowling ball back that he is forever.
Rotoworld.com points out that Jones-Drew has averaged 350-plus total touches each of the last three seasons (combining rushing attempts and receptions). He's coming off a 2011 campaign that saw him touch the ball a career-high 386 times.
Combine that with the fact that he is apparently unhappy with his contract situation, according to Vito Stellino of the Florida Times Union and Jaguars beat writer Tania Ganguli via Twitter, and there is reason to monitor the Jags' backfield.
Meanwhile, backup Rashad Jennings is heading into a contract year, and there's no doubt he's looking to take advantage of every opportunity he gets.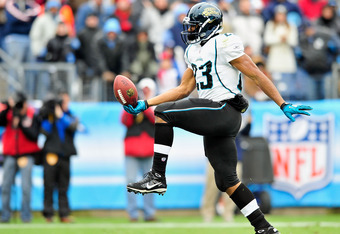 Grant Halverson/Getty Images
Stellino believes Jennings will be the main beneficiary of any time that Jones-Drew misses.
A.J. Jenkins Shows Up Out of Shape at 49ers Camp
For a player joining a team that was a couple of plays away from the Super Bowl last year, rookie wide receiver and first-round draft pick A.J. Jenkins failed to impress at 49ers camp.
According to Matt Barrows of the Sacramento Bee via Twitter, "Jim Harbaugh definitely wasn't impressed by the stamina of his rookies," including Jenkins.
The 49ers made addressing the wide receiver position a priority in the offseason, signing free agents Randy Moss and Mario Manningham and drafting Jenkins in Round 1. They also have Michael Crabtree and tight end Vernon Davis competing for looks. So it's obvious they mean business.
Jenkins will need to step it up if he wants to log meaningful playing time in his rookie season. And the best way to do that is to get on the head coach's good side and out of his doghouse.   
Bills' QB Vince Young Speaks to Media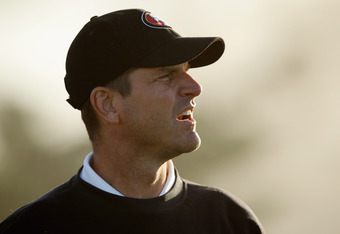 Ezra Shaw/Getty Images
In his first press conference since joining the Buffalo Bills, quarterback Vince Young spoke to the media at BuffaloBills.com and expressed his excitement about coming to Buffalo.
Young sounded refreshingly humble and mature in the presser, pointing out that he has grown a great deal over the past several seasons. He understands that his one-year, $2 million deal with the Bills is to compete with Tyler Thigpen for the backup spot behind starter Ryan Fitzpatrick. And he genuinely seems okay with that.
Obviously, nobody wants to merely be a backup, but Young knows that his opportunity with the Bills is an important one on his journey toward proving himself again. He highlighted that head coach Chan Gailey and quarterbacks coach David Lee offer a tremendous amount of knowledge and expertise at the quarterback position, and Young appears determined to soak it all in.
Though he may start out as the backup, the former No. 3 overall pick knows that his number could be called to hit the field at any given moment. And he'll be ready if that happens.
For a more thorough breakdown of Young's presser, check out my article.
Kenny Britt Still Ailing
Titan Insider reported a few days ago that wide receiver Kenny Britt may require a second surgery on his troublesome right knee.
Any time missed would be too much time missed for Britt, who, when healthy, has proven to be a dynamic No. 1 wideout. His nine touchdowns in 2010 put him on the map, and he has a career yards-per-catch average of 17.5.
Some folks were joking that when the Titans drafted Kendall Wright in the first round that it was as insurance for another Britt injury. Well, the situation is no longer a joking matter.
Britt has all the tools for Tennessee to build its offense around him, but if he can't stay healthy, it will be a major blow.
Nothing is official yet, but the fact that Britt's health is a topic of discussion is reason enough for concern.
Follow @JoshCembellin on Twitter