Fantasy Football Draft 2012: Matt Forte and Injured Stars Worth the Gamble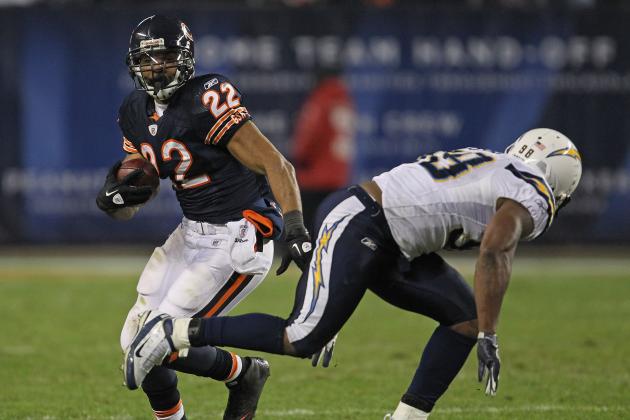 Jonathan Daniel/Getty Images

Don't let Matt Forte's MCL sprain fool you; he can still carry your fantasy football team.
Actually, because of his injury he holds even more value. Inevitably there will be other owners in your league who pass on the ultra-productive back because he's not a "safe" pick. They may be right; he isn't "safe," but some risks are worth taking.
In 2011, Jamaal Charles was considered a fairly safe pick who had no history of major injuries, but that didn't stop him from blowing out his knee and breaking fantasy football owners' hearts everywhere. In truth, any player in the NFL is an injury hazard.
Peyton Manning has been as close to an ironman as there has been in the NFL and he missed the entire season in 2011.
In order to succeed in fantasy football, you have to be willing to roll the dice on some players. Here are some stars that are coming off injuries that are worth the risk in 2012.
Begin Slideshow

»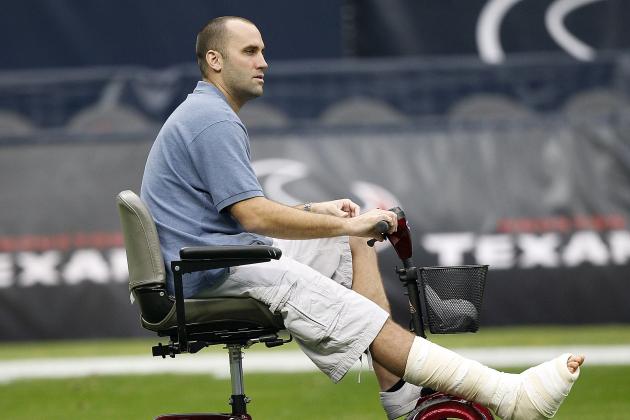 Bob Levey/Getty Images

Matt Schaub probably won't single-handedly win you your fantasy football league, but he will provide some nice value come draft time.
Schaub was knocked out for the season after 10 starts last season thanks to a right Lisfanc fracture (that's a foot injury, for anyone wondering). However, in those 10 starts Schaub was a consistent producer.
Schaub won't be an elite quarterback anytime soon; the Texans simply don't throw the ball enough for Schaub to put up the gaudy numbers of Drew Brees and Aaron Rodgers of the world. What Schaub does bring is reliability.
If you're a fan of addressing quarterback in the later rounds, then Schaub is a great target as he's unlikely to sink your team—out of 10 starts last season he only scored single-digit fantasy points three times.
With one of the best receivers in the game in Andre Johnson, he's also going to have a breakout game or two along the way that always makes him a threat to score big points. Schaub had two games in his 10 starts in which he scored 20 or more points.
With an entire offseason to allow his foot to heal, Schaub should be a steal in most drafts for 2012.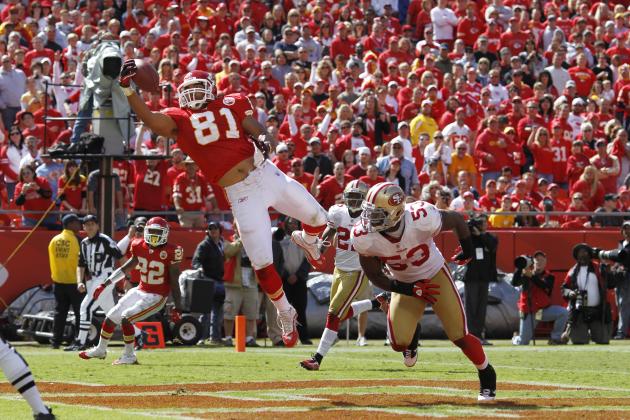 Joe Robbins/Getty Images

Tony Moeaki is a name that many fans have already forgotten about, and really who could blame them.
After a solid rookie campaign in 2011, Moeaki lost his entire second season in the NFL when he was placed on injured reserve after injuring his knee in the preseason. Moeaki had all of last season and this offseason to rest and rehab his knee and should come into 2012 looking to make an impact.
The Chiefs offense should be markedly improved from last season with the return of Jamaal Charles, the signing of Peyton Hillis and the improvement of second-year wide receiver Jonathan Baldwin.
With all of the improvement across the entire offense for the Chiefs in 2012, Moeaki should see ample opportunity to put up numbers.
Moeaki will make a great sleeper at the tight end position and should be drafted well below his potential value due to his season-ending injury last season.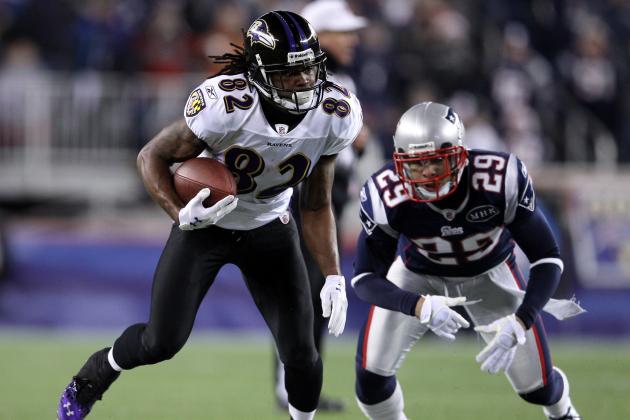 Elsa/Getty Images

Torrey Smith certainly made an impression on fantasy football owners in his rookie season. After scoring zero fantasy points in his first two career starts, Smith tallied an incredible 34 points in standard scoring leagues after hauling in three touchdowns against the St. Louis Rams.
The Baltimore Ravens speedster was frustrating to own in 2011 as his inconsistency made him a lineup gamble every week.
In the offseason Smith was forced to undergo surgery for a double sports hernia but according to the Baltimore Sun, Smith should be 100 percent come time for camp to start.
Smith can already be considered a risky pick because of his hot-and-cold nature at this early juncture in his career, but as he becomes more comfortable with the offense and quarterback Joe Flacco, he could develop into an elite wide receiver option.
Smith's huge upside makes him well worth the risk that any lingering effects from his groin injury may present.
Doug Pensinger/Getty Images

You can't talk about players coming into 2012 recovering from injuries without talking about Peyton Manning.
As if you didn't know, Manning missed the entire 2011 season with the Indianapolis Colts thanks to nagging neck injuries that required multiple surgeries and led to a highly publicized and uncertain time frame for return.
After the Colts decided to part ways with the former franchise quarterback, Manning chose to sign with the Denver Broncos, and thus the debate on the value of Manning has begun. There's no doubt that Manning is one of the greatest of all time, both in the traditional football sense and the fantasy football sense.
The question is how much of Peyton Manning are we getting?
If the answer is anything close to a version of the pre-neck injury, Manning then he is a must-own. It doesn't matter what pieces are around Manning; he has always found a way to produce in his career.
If the Broncos are willing to bet 96 million dollars that they can get elite play out of Manning, then you should be willing to take a chance on the quarterback early in your draft.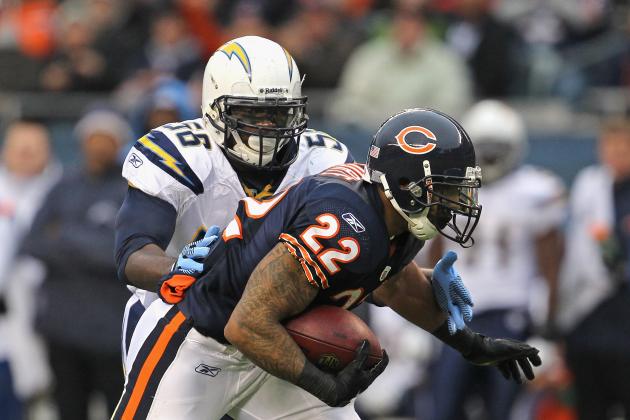 Jonathan Daniel/Getty Images

Matt Forte missed the last four games of the 2011 season with an MCL sprain. Don't let that scare you off though; Forte should be a great fantasy running back in 2012.
Before the MCL sprain, Forte was putting together a great fantasy season. Three times he went for over 20 points, and out of 13 starts he scored in double digits 10 times.
Despite a great season prior to the injury, Forte's stock will be down thanks to his injury, potential holdout and the signing of backup Michael Bush. Wise fantasy owners should ignore all of those red flags and take Forte.
In the end, Forte shouldn't miss any games from his holdout or his injury.
If he's on the field, you want him on your team. The presence of Michael Bush should only enhance Forte's numbers. The key to Forte's production is his versatility. Forte doesn't score many touchdowns but he is able to make up for that by scoring plenty of points in the receiving department.
Bush is a great power runner between the tackles and may steal Forte's thunder around the goal line but Forte has always been valuable despite his lack of touchdowns. Bush won't steal many opportunities in the passing game as that is really Forte's bread and butter.
Snagging Forte while his stock is down is definitely a risk worth taking.