Illinois Program Bodes Well for the Future of Patriots' Tavon Wilson
May 15, 2012

Ezra Shaw/Getty Images
Just as rookie minicamp got underway, defensive back Tavon Wilson—a second-round pick out of Illinois—signed his rookie contract for four years and $4.2 million.
Will he be worth it?
Analysts questioned the selection, saying Wilson wasn't rated a second-round talent. Though Wilson has the versatility that head coach Bill Belichick likes, there were other safeties available with higher draft grades than Wilson.
People will question the logic behind the Wilson selection, but it's tough to bet against the history behind University of Illinois defensive backs. Start by looking back just 10 years.
Back in the 2003 NFL Draft, New England spent a second-round selection Eugene Wilson, a cornerback out of Illinois. The season started with an embarrassing 31-0 loss to the Buffalo Bills.
By the second game of the season, Wilson was in the starting lineup at safety.
The decision paid off—Wilson finished the season with four interceptions and nine passed defended. More importantly, the defense was first in the NFL in touchdown passes allowed and interceptions as the Patriots eventually won Super Bowl XXXVIII.
Wilson played five years with the Patriots, accumulating 10 interceptions, 29 passes defended, two forced fumbles and four fumble recoveries. In his eight total years with New England and Houston, Wilson had 14 interceptions, 41 passes defended, three forced fumbles and four fumble recoveries.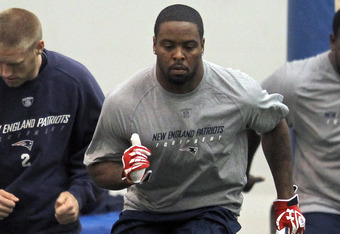 Jim Rogash/Getty Images
Based on New England's scouts, Tavon Wilson fits what the Patriots want out of their defensive backs—the versatility to play either corner or safety, and the ability to play zone or man.
But if they don't want to believe in the Patriots' system, they should believe in the Fighting Illini program that produced both Wilsons and several other productive defensive backs.
Eleven defensive backs from the University of Illinois played in the NFL during the 1990s. Four were clear busts. The remaining DBs were either productive careers or are having productive careers according to statistics from Pro-Football-Reference.com:
Player
Career
Interception
Forced
Fumble
Fumble
Recovery
Eugene Wilson
2003-present
14
3
4
Scott Turner
1995-2003
5
2
3
Keith Taylor
1988-1996
13
0
4
Christian Morton
2004-2006
1
0
1
Henry Jones
1991-2002
18
7
9
Filmel Johnson

1995
0
0
0
Kelvin Hayden
2005-present
11
4
2
Chris Green
1991-1995
2
0
0
Vontae Davis
2009-2011
9
1
0
African Grant
1990
0
0
0
Alan Ball
2007-present
3
1
1
Total

62 seasons

76
18
24
The careers of these Illinois alumni won't predict what kind of player Tavon Wilson becomes, but this sample gives Tavon Wilson a 64 percent chance of being a good player. Wilson's chances improve dramatically when how these previous Illinois players entered the league is taken into consideration.
Three of the four bust players (Morton, Johnson and Green) were seventh-round picks. Grant was undrafted. Turner and Ball were also seventh-round picks, though they were better than the four busts.
The remaining players were selected in the fifth round or higher. Their production proved why they were picked early.
Eugene Wilson (second round) started 86 of 96 games played.
Taylor (fifth round) had seven interceptions in 1989.
Jones (first round) turned in an All-Pro season in his second year by leading the league with eight interceptions.
Hayden (second round) was arguably the Colts' best corner for four years before moving on to Atlanta as a reserve.
Davis (first round) quickly became a starter for the Dolphins and has 31 passes defended in three years.
The five above combined for 65 interceptions.
Being drafted by the Patriots gives Tavon Wilson a very good chance of developing into a solid, productive player. But even before arriving at Gillette Stadium, Wilson's chances of becoming a productive player are very good thanks to the Illinois program.
Those chances improve dramatically based on when Wilson was drafted. 
Questions? Comments? Send to randolphc82@comcast.net.