Washington Redskins: Win-Loss Predictions of the 2013 Season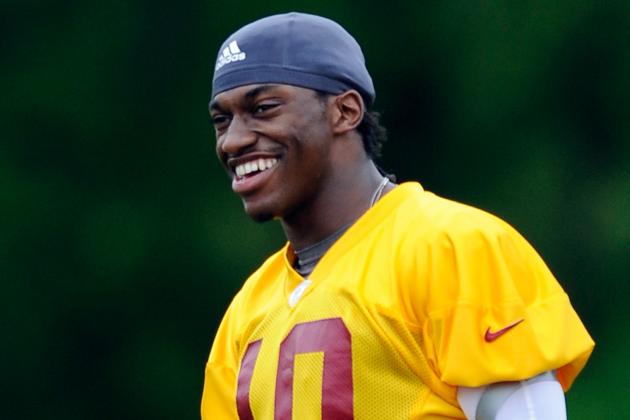 Patrick McDermott/Getty Images

Here is something that I'm predicting: The Redskins will once again look very impressive in the preseason. Robert Griffin III will play well along with his fellow teammates.
The preseason has tricked us in the past; even as far back as Spurrier's debut in Osaka, Japan. The past two preseasons have been an illusion for us desperate Redskins fans.
I remember watching Rex Grossman methodically moving the ball down the field against the starters of the Baltimore Ravens last year. Right there, I started to believe (maybe just a little) that we might survive with the enigmatic Grossman.
Even though I'm going to watch all four games in their entirety, I know to take the exhibition season with a grain of salt. It appears that each team has a different approach to them, and the Redskins seem to come out swinging with Mike Shanahan at the helm.
So what I'm going to do is ignore the performances in August. I will not let them dictate my predictions for the upcoming regular season.
I know that sounds pessimistic, but I feel it to be rational.
Now onto the regular season; I'm looking at a record of 8-8. Now that might discourage some readers, but I'll be the first to admit that I'm okay with finishing .500.
For one, it's a realistic improvement from a five-win team last year. They still have a lot of chemistry to develop and once again have a pretty gruesome schedule.
Even though former rookies Joe Flacco, Matt Ryan and Andy Dalton all made the playoffs their first year, that doesn't happen too often.
I want to see a competitive team with zero off-field dramatic distractions and not one snap for Rex Grossman. We achieve that, finish .500 and beat the Cowboys at least once, I will accept.
I know I'll get a few comments saying: "We're going 10-6 and taking the NFC East! HTTR!." Please know that I want that to happen more than anything. In fact, I hope I'm dead wrong on my prediction. I pray we go 10-6.
I don't care if I'm wrong on every prediction because that's what being a Redskins fan is all about. All we want to see is wins.
I would be fine going winless in my fantasy football league (Even though that's an impossibility, your 2011 fantasy football champion thank you very much) and be subject to criticism probably my entire life if that ever happened if somehow that translated to the Skins winning.
Below you will find a win-loss prediction of the 2012-2013 season, and I'll be dividing the 16 games into quarters. I'm doing that because NFL franchises like to approach their seasons quarterly, and it might make my job a little easier.
Begin Slideshow

»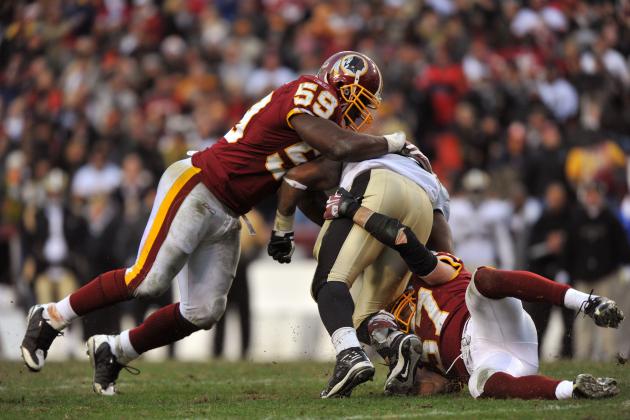 Larry French/Getty Images

Washington Redskins at New Orleans Saints, prediction: Loss 27-20
For the second year in a row, the Redskins will face a very talented team which is going through tremendous adversity to start the season. While last year it was the Giants and their slew of injuries, this year, it is the Saints.
No longer the darlings of the NFL, the Saints may have the worst reputation in the league. The Saints are the face of "bountygate" as they will be without suspended head coach Sean Payton, linebacker Jonathan Vilma and defensive end Will Smith.
There are two ways to look at this; some franchises rise above the public mockery and stick to the "master plan" as they continue their success, or teams are too rattled to focus on the task at hand. I say when you have a leader like Drew Brees, you will find a way to win.
That being said, the Saints are too good of a football team (especially at home) to lose. I think the Skins can keep it within one possession, but they have a championship-caliber offense, and you can only hope to contain them.
Washington Redskins at Saint Louis Rams, prediction: win 24-13
Uh oh, trap game. Why does this game scare me? Well in years past, the Redskins were notorious for playing down to lesser opponents.
Even though the Rams have improved, the Redskins are flat out better than them. Does that guarantee a win? Absolutely not, but I'm expected a new and improved mindset coming out of Redskins Park.
The Skins rebound after their loss to the Saints and take care of business as they attack the Rams weak run defense and mix in a heavy dose of Fred Davis.
I still consider this to be a real test, though. The Redskins are supposed to beat this team; let's see how they react to that.
Cincinnati Bengals at Washington Redskins, prediction: loss 17-13
Don't look now, but the Bengals may be good and good for a long time. They hit on absolute gems in A.J. Green and Andy Dalton and most likely selected two more starters this year.
I went back and forth with this one, but I see the Bengals coming out on top. They have an underrated defense, and with the amount of youthful talent on their roster, I can only assume they are going to be better.
This is another loss you can't hang your head on. The Bengals are a playoff team and are currently better. I envision a defensive battle with one distinct play probably breaking my heart as usual.
Washington Redskins at Tampa Bay Buccaneers, prediction: win 31-10
Robert Griffin's breakout game as the Redskins finish the first quarter of the season at 2-2. Once again, the Redskins are the superior team. The Buccaneers are starting over with new coach Greg Schiano, and despite their overall impressive draft, they still have a long way to go.
However, in this game the Redskins have a secret weapon. Former Buccaneers head coach Raheem Morris is now coaching the defensive backs in Washington. Even though the schemes will be different, Morris knows the players strengths and weaknesses personally and will provide that knowledge.
31-10 sound a little bit overzealous? Well it's about time. I've stated in the past that the Redskins could play DeMatha High School, and the game would still come down to the last minute. Well, how about we blow a team out, just once. I'm not asking too much, am I?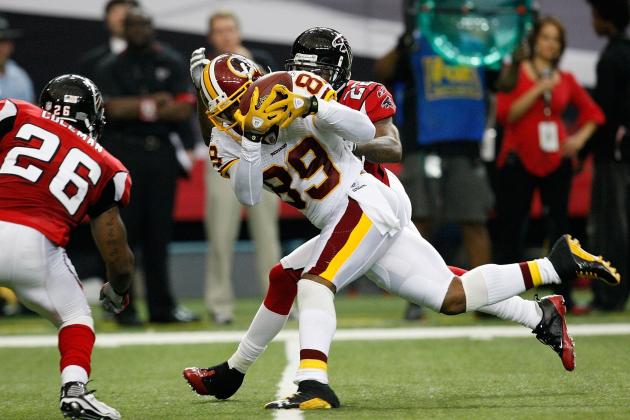 Kevin C. Cox/Getty Images

Atlanta Falcons at Washington Redskins, prediction: win 26-24
Upset alert! The Falcons are a good team and have been ever since Matt Ryan arrived in 2008. How am I still not sold on them? I have just always considered them beatable.
I think Mike Shanahan out-coaches his counterpart Mike Smith in this Week 5 battle in another nail biter. DeAngelo Hall will be motivated to play his former team where there is obvious bad blood. (Remember the last Falcons game he challenged Mike Smith to a fight after the game? Here's a refresher: http://www.youtube.com/watch?v=U2LxXFYujSk)
The former Pro Bowl cornerback decides to make a play this week in a deciding fashion. I have a knack for calling turnovers, I really do.
Minnesota Vikings at Washington Redskins, prediction: win 14-9
It won't be pretty, but the Redskins will finally beat a team they should have for the third year in a row.
With Adrian Peterson's productivity in question after a knee injury which ironically occurred last year against the Skins and other major holes on the roster including my indifference on Christian Ponder, I expect a defensive game that will be somewhat sloppy. We'll see some dropped passes, fumbles and inexplicable penalties which tend to happen with young teams.
All that considered, the Redskins should win this game. Once again, this is a team that they should beat. Games like this make me so nervous, angry and confused. It may seem miniscule now, but beating a team like this would be huge for the Redskins.
It's one thing to lose, but it's another to get embarrassed. Losing to a team like this has deflated the Skins before. That can't happen again.
Washington Redskins at New York Giants, prediction: loss 20-10
The Giants are going to come out swinging against the Redskins, as they should. For some divine reason last year, the Redskins beat the Giants handily in both games they played.
The Giants kept their roster as is from last year excluding some help at receiver. Even though I don't expect them to repeat as champions this coming season, they are still a great team with the league's most dangerous pass rush.
To this date, this might be RG3's biggest test. We know he's an athlete, but can he avoid Jason Pierre-Paul, Osi Umenyiora, Justin Tuck and others?
The game will be closer than the score, but the Giants pull away in the fourth quarter.
Washington Redskins at Pittsburgh Steelers, prediction: loss 21-13
I'm pretty confident about this one. The NFC East is a tough division and arguably the hardest, but can the Redskins keep up with the physicality of the Pittsburgh Steelers or the AFC North for that matter?
I don't think so, and it's hard for an inexperienced Redskins team to go into one of the toughest stadiums in the league and beat the historic Steelers.
Although they might not be the same "smash-mouth" team they once were, they contend for a Super Bowl every year. Steelers will come out on top, unfortunately.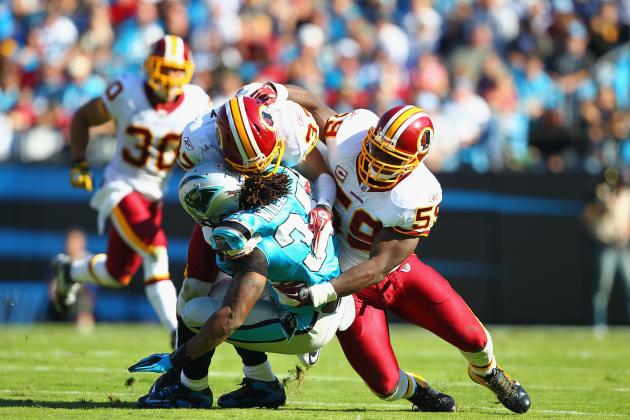 Dilip Vishwanat/Getty Images

Carolina Panthers at Washington Redskins, prediction: win 30-28
The Panthers could make a playoff run this year. Offensively, they are ready. Cam Newton has exceeded expectations and then some. Defense is where they need to improve and that's what they focused on in the draft and free agency.
Although I like the Panthers this year, I still like the Redskins going out on top. They played miserably against Carolina last year as Cam Newton showed the defense up.
The Skins will have another shot at stopping Newton and the high-powered Panthers offense in what will be the most entertaining game of the season.
ESPN and other networks should be all over this game; the past two Heisman winners going against each other as two of the NFL's brightest young stars.
Kyle Shanahan will throw everything but the kitchen sink into this game. Expect some deep passes, reverses and maybe a momentum shifting special teams play.
Philadelphia Eagles at Washington Redskins, prediction: loss 24-16
As I mentioned above, NFL teams look at their schedule in quarters. The third quarter of the Redskins season is the most important as they face each of their division opponents consecutively.
You want to go to the playoffs? Beat your division opponents, something the Redskins have struggled mightily in.
I hate saying this, but I think the Eagles could make a Super Bowl run. That's right Eagles fans, it actually might be "your year."
The Eagles offense can keep up with anyone, especially with an improved offensive line. Their linebacking corps and defensive line had upgrades, too.
Andy Reid will be coaching for his job, and Michael Vick is on the wrong side of 30, but the Eagles have the Redskins number.
The games have been competitive, but they continue to slip away late in games. Unfortunately, I don't see that ending as the Skins continue to struggle.
Washington Redskins at Dallas Cowboys, prediction: loss 23-20
When the Redskins and Cowboys play each other, throw all records out of the window. Those games are always either entertaining or heartbreaking.
Playing on Thanksgiving, the Redskins will be on national television. Now that might be exciting for some fans, but the Redskins do not perform well nationally.
How's that for analysis? I don't think the Redskins will win because they rarely win on big stages. It's true, during a shortened week away from home. The Redskins will have their backs against the wall.
I'm picturing the Skins having a distinct shot at winning, and something maddening will happen. I'm getting frustrated just thinking about it.
New York Giants at Washington Redskins, prediction: win 17-16
The Redskins get revenge at home. Since the Skins have been playing in Landover, home field advantage has been a relative unknown.
I'm hoping that will change with Robert Griffin, a lot of great PR strategies and taking the seats out of FedEx making it a stadium only for Redskins fans.
In your standard NFC East matchup, the Redskins come out on top using a heavy dose of their running backs and play-action passes. The goal is to keep Eli Manning on his back as Ryan Kerrigan and Brian Orakpo will be heavily relied upon. (As they should be every game)
An advantage for Washington this game is the few days of extra rest they get after their Thanksgiving game. As they are in the second half of the season, any extra day will be much appreciated.
In addition to that, I like that the bye week is in week 10. We've learned in the past, fast starts don't get you in the playoffs, it's how the Redskins do at the end. Having a late bye week could save an injury or two, which is certainly vital.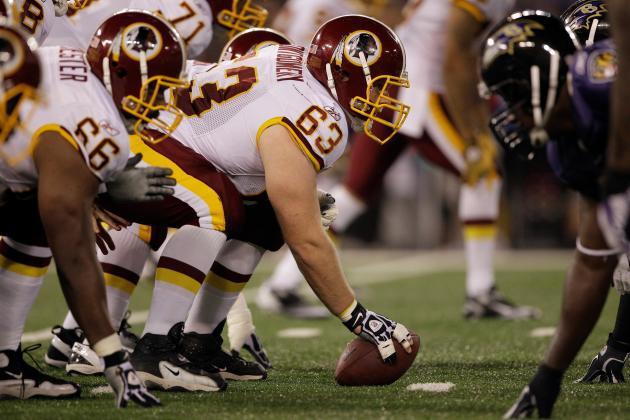 Rob Carr/Getty Images

Baltimore Ravens at Washington Redskins, prediction: loss 17-7
I'm not looking forward to this game. Losing to your cross town rival is never fun. I don't hate the Ravens, it's hard not to respect an organization that does things the right way. Frankly, jealously probably has a lot to do with it.
Being only 40 miles away from a class franchise is simply not fair.
Similar to the Steelers, the Ravens physicality will be too much for the Skins to handle. The Ravens contend for the championship almost yearly as well, and they should be ready to make another run.
Even though I'm predicting a loss, the young Redskins can gain valuable experience going against a team like the Ravens.
Washington Redskins at Cleveland Browns, prediction: win 20-6
That's right, I'm not letting any trap games happen this year, even though I'm probably wrong. The Browns are also in a transitional phase maybe even more than the Redskins.
While they have an unnoticed defense, I still predict the Redskins will come out on top. The Browns lack any receiving threats, which will be a difficult task for Browns rookie quarterback Brandon Weeden.
If you haven't noticed, I've had a lot of low-scoring games on our defense. Well last year was a big improvement, going from one of the worst defenses in Redskins history in 2010 to being the 13th ranked overall unit in 2011.
The defense is progressing slowly, but there should be no reason why they won't finish in the Top 10 in total defense this year.
Washington Redskins at Philadelphia Eagles, prediction: loss 23-16
This pains to me to predict, but I just don't see the Redskins beating the Eagles this year again. They have too many weapons offensively, and they should have a much improved defense.
Similar to almost every NFC East game, it will be close and hard-fought, but the Eagles just have too much talent. DeSean Jackson must have really hated the Redskins growing up because he's been torching us ever since he got into the league.
In a previous article, I stated that the Redskins secondary is the most concerning to me. The Eagles have the receiving threats that scare the daylights out of me. I'm hoping by Week 16, they are able to find some answers at these positions.
Maybe DeJon Gomes turns into a valued starting safety or DeAngelo Hall starts making plays again and undrafted rookie Chase Minnifield becomes a solid nickel corner. All major questions. All of which will be answered at some point.
Dallas Cowboys at Washington Redskins, prediction: win 27-24
It's about time. Finish the season on a good note and beat the hated Cowboys. It won't come easy of course as Neil Rackers (yeah I just went there) kicks the deciding field goal with only seconds remaining.
The Redskins complete their season and return to .500 and are only a small step away from the playoffs.
Similar to last year, Shanahan will rely on one of his running backs, maybe Evan Royster late in the season.
There's nothing worse than losing to the Cowboys, but there's nothing better than beating them.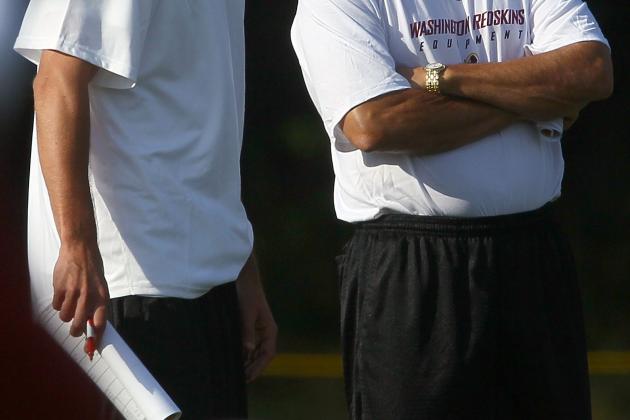 Win McNamee/Getty Images

They improved their win total by three games, which is no easy feat. Robert Griffin III had a successful rookie campaign along with his favorite targets in Pierre Garcon and Fred Davis.
They finished 3-1 against the NFC South and 1-3 against the AFC North. Unfortunately, they struggle against their division opponents going 2-4.
While this may seem negative to some fans, going 8-8 is perfectly fine, especially with a rookie quarterback playing against two of the best divisions in football in the NFC East and AFC North.
I predict Ryan Kerrigan, Trent Williams and Fred Davis to make the Pro Bowl and Santana Moss to return to his 2010 form.
There's no reason to hang our heads, the Skins made a step in the right direction, and their record properly reflects that. They only have a few pieces of the puzzle to complete now, not the whole set anymore.