WWE: How Orton Will Fare in over the Limit Fatal 4-Way Match
May 15, 2012

Welcome to the fourth and final part to the four-part series that will break down the upcoming Fatal 4-Way match for the WWE Heavyweight Championship at Over the Limit on May 20.
We have taken a look at the champion Sheamus, Alberto Del Rio, Chris Jericho and now Randy Orton.
Orton hasn't held the title since August of last year, when he won it from Christian. Christian and Orton went back and forth several times in 2011 for the title. It all started when Orton took the title from Christian after only two days of his first WWE Championship reign.
His two title reigns in 2011 were battles with Christian when he won it from Christian after he had held it for only two days. This was Christian's first WWE Heavyweight Championship reign and led to the two men exchanging the title back and forth.
Christian held the title for a total of 30 days, Orton 110. Not unfamiliar to title reigns, Orton has also held the WWE Championship a total of six times. 
Orton has had several "reputations" in the WWE universe.
He's been in trouble for steroid use; he's been in trouble for harassing Diva's; and it's often said, that if Randy doesn't like you and complains about working with you, you won't be working too many matches any more.
He uses his clout and back-stage politics to really promote himself up the ladder. 
The ICW is well known for complaining about Super Cena, but slowly now, the Super Orton aspect is taking over. While many think Orton's finishing move is the RKO, I believe its the Camera Pose.
You know when an Orton match is over when you get a close-up, viper-eyes glare, camera pose.
Match over!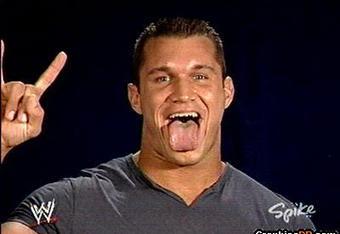 What the Fatal 4-Way means to Orton and the title
Orton will fare in a Fatal Four-Way match the same way he has fared in all his matches since they're pretty much exactly the same every time. We'll get some clothes lines, drop kicks, the slowest DDT from the second rope ever, a quick sidewalk slam, his impression of Lord Voldermort and then a RKO.
If Orton loses this match, it won't be clean or his fault.
We can't possibly bring Super Orton down a notch. His anti-hero attitude somehow continues to captivate most fans and everyone still seems to get all excited when he starts pounding his fists on the mat. 
Orton will get the title again this year. It's only a matter of time before gold is around his waist again. The company loves him and loves slapping him on the cover of video games and Kmart commercials. But will it be at this Fatal Four-Way, or will it come later where it can be a one-on-one situation and Randy can get his spotlight.
How does this carry his story?
Randy's story has been the same since his Legend Killer days in 2004, outside of a time when it was said, medically, he couldn't control his anger.
Randy hasn't changed much. He's the arrogant guy who apparently is containing the rage of the Hulk under all those tattoos.
The BOOM prediction
If you haven't guessed it yet, I'm NOT a Randy Orton fan.
For all the chants to Cena of not being able to wrestle, for all the guff he gets about using the same four moves, we have his evil twin Randy Orton doing the same thing.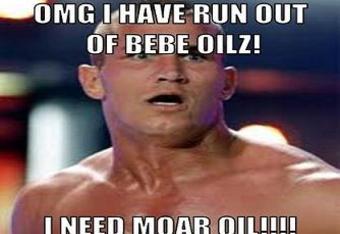 Orton's matches are predictable.
His attitude and character hasn't changed in nearly eight years and he gets wins from whining not from winning. I'm sure he's already called how this match will end regardless of him being in the ring with the likes of Jericho and the young talent of Sheamus and Del Rio. 
I'm predicting Sheamus retains, but don't be surprised if Orton still turns on him after the win and hits him with an RKO. 
Be sure to check out the previous three parts here: Part 1, Part 2 Part 3 You can also check out other articles in regards to the WWE and pop culture over on The BOOM PAGE.
Follow these guys on Twitter @captoutstanding and @boompage for WWE fun, funny stuff cool stuff and the occasional venting.