NBA Trade Rumors: Latest Notes on Ben Gordon, Rashard Lewis and More Trade Chips
May 14, 2012

Kevin C. Cox/Getty Images
Eight NBA teams are still alive for the Larry O'Brien Trophy, which leaves 22 others to stew over their shortcomings and map out a path to championship contention in the meantime.
With that in mind, let's have a look at some of the latest and juiciest tidbits of trade talk making their way through the league's rumor mill at the moment.
To call the Ben Gordon signing a disaster for the Detroit Pistons would be something of an understatement. Gordon poured in better than 18.5 points per game during his first five NBA seasons, with the Chicago Bulls, but has seen his production drop to 12.4 per game since assuming a reduced role in Motor City.
That's despite inking a five-year, $50 million deal with Detroit during the summer of 2009.
Sam Smith of Bulls.com noted on Friday that the Pistons figure to field offers for, and work the phones to drum up interest in Gordon's services this summer. Whether they find anyone willing to talk remains to be seen and will likely be contingent on GM Joe Dumars' willingness to take back a bad contract in return. Gordon is owed $12.4 million for next season and figures to exercise his player option for 2013-14, which will pay him another $13.2 million.
As Vince Ellis of The Detroit Free Press pointed out on Sunday, if that doesn't work out, the Pistons could always wipe Ben's contract from their salary cap with the one-time amnesty clause.
Rashard Lewis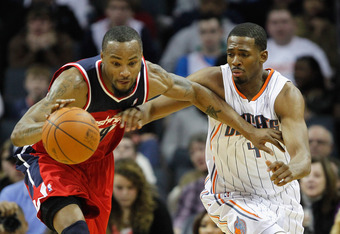 Streeter Lecka/Getty Images
Speaking of the amnesty clause, Rashard Lewis may well find himself on the waiver wire by way of the provision this offseason.
Or, as Michael Lee of The Washington Post pondered on Monday, the Washington Wizards could use Lewis' expiring contract to their advantage. The 32-year-old forward missed 34 games last season but could be valuable to a team looking to shed salary in anticipation of the more restrictive luxury tax that's due to kick in next year. Lewis is due $24 million during the final year of his deal, which includes a $13.7 million buyout.
Then again, if nobody bites, the Wiz might just as easily buy Lewis out themselves and move forward with their rebuilding project accordingly.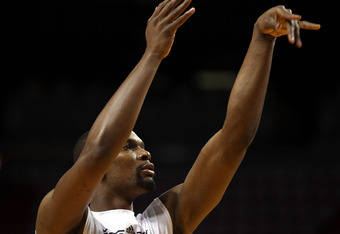 Marc Serota/Getty Images
Chris Bosh's lower abdominal strain won't be the cause for his departure from the Miami Heat, if the team ultimately decides to move him, though it certainly won't help his case. Sam Smith suggested that Bosh will be out of South Beach somehow, perhaps even in a sign-and-trade deal with the Brooklyn Nets involving Deron Williams.
Such a move would leave Miami's thin front court even thinner, though not necessarily in a bad way. The Heat could pluck a free-agent big man or two (Kevin Garnett? Kris Humphries) off the market at a discount, especially if they win the title this year.
Of course, finding touches for LeBron James, Dwyane Wade and D-Will would represent another challenge for Erik Spoelstra, though one that just about any coach in the NBA would be more than willing to deal with.