10 Position Battles to Watch in Philadelphia Eagles' Training Camp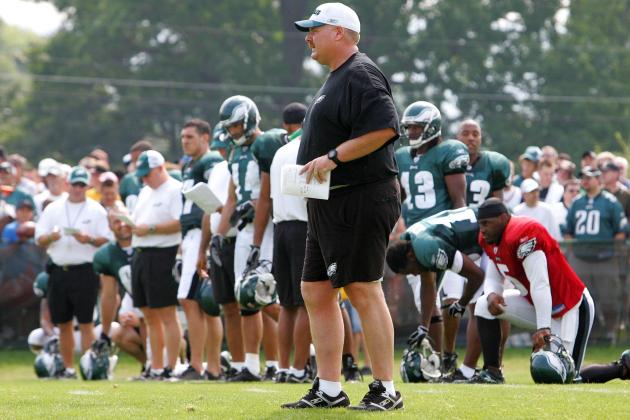 Jim McIsaac/Getty Images

2012 will be a great year to check out the Philadelphia Eagles training camp in Bethlehem, Pennsylvania. There isn't a quarterback controversy or any major positions up for grabs, but there are some younger players that will be gunning for some key role positions and a couple of starting spots.
What really makes the Eagles camp battles so interesting is their impressive late-round draft picks and a few undrafted free-agent pickups. You take away the Dallas Cowboys' first-round pick, Morris Claiborne, you can make the argument the Eagles had a better draft haul with just their late-round draft picks and their undrafted players than the Cowboys had the entire draft. They will make training camp exciting.
After the sixth round, the Eagles drafted running back Bryce Brown, wide receiver Damaris Johnson, safety Phillip Thomas, punter Ryan Tydlacka, cornerback Cliff Harris and running back Chris Polk. Bryce Brown had just three carries in the 2011 season while both Harris and Johnson missed the 2011 season altogether. All three players would have been drafted had they stayed out of trouble and on the field their senior seasons. Polk has injury concerns, and Tydlacka wasn't seen as an elite college punter. All of these players will push for starting jobs this summer.
The Eagles are loaded with up-and-coming talent. There is competition everywhere minus outside of the skill positions that are pretty much set. Michael Vick isn't going to get any competition, but his left tackle, backup and No. 2 running back will certainly see plenty up at Lehigh University.
Begin Slideshow

»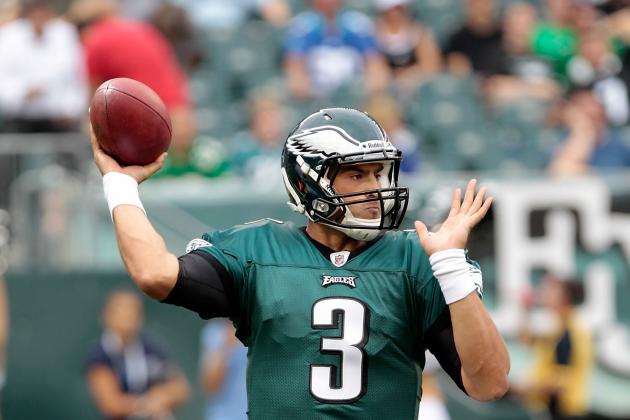 Chris Trotman/Getty Images

The back-up quarterback spot is an interesting one in Philly. Michael Vick will get hurt and miss some time in 2012. That much we know. He missed three starts, couldn't finish two more and should of been taken out of another in 2011. In the games that Vick started healthy and finished healthy, the Eagles were 7-3. In the games the back-up quarterback had to start or finish the game, the Eagles were 1-4.
Clearly the Eagles need a reliable back-up quarterback.
Mike Kafka came in for an injured Vick twice in the 2011 season. He looked great one week and overwhelmed the next. In Week 2, against the Falcons, Kafka looked like a pro. He completed seven out of nine passes in the fourth quarter with his only incompletions coming on a dropped Jeremy Maclin pass and a failed Hail Mary attempt. Kafka threw a very accurate football and showed the composure of a five-year pro.
The Eagles lost the game, but that was more on the defense giving up 14 points in the fourth quarter and Jeremy Maclin dropping a pass that would of given the Eagles a first down deep in Falcons territory with less than two minutes left.
Week 3 was a different story. Vick was knocked out of the game with less than 12 minutes to go. When Kafka took over, the Eagles were down 22-16. His first pass was intercepted. It was a deep ball to DeSean Jackson that he under threw. The deep ball isn't the strength of his game. Maybe Andy Reid was trying to surprise the Giants by going deep on Kafka's first pass, but it failed badly.
The next time he saw the field, the Eagles were already down 29-16 with less than four minutes to go. He finished with just 35 yards and two interceptions.
Kafka is a somewhat limited quarterback. He doesn't throw a good deep ball. He still has a very quick release, a great feel for the blitz and throws a very accurate ball on intermediate routes.
Trent Edwards will be his competition for the back-up role. He has been a starter before back when he was in Buffalo. He has taken some serious beatings dating back to his days at Stanford. He has the experience and a slightly stronger arm over Kafka, but he will have to really impress in camp to not only win the back-up role, but earn a spot on the roster.
Rookie quarterback Nick Foles has already earned the third-string job. The Eagles didn't spend a third-round draft pick last April only to cut him a few months later. He is also a bit of a project, so the backup role is probably out of the question right now. It will be interesting to see if he is being groomed to be the backup in 2013 or if he is just trade bait down the road.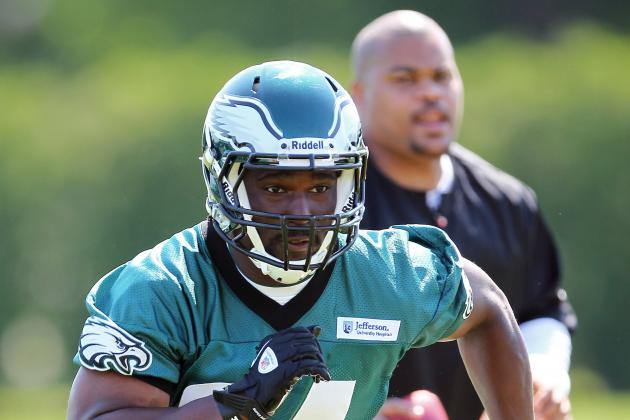 Rich Schultz/Getty Images

LeSean McCoy is the man at running back. Eventually this summer, he will get a shiny new deal. The guys that will be backing him up are just trying to earn a roster spot. Dion Lewis and Ronnie Brown were his backups last season. Lewis is still here, now in his second season, while Brown is a ghost in this town. That's what happens when you attempt a pass on a run at the goal line.
One seventh-round draft pick and undrafted free agent will be competing for not only the third-string running back spot, but maybe McCoy's backup as well. Lewis isn't a lock to back up Shady or even make the roster. He had limited opportunities last season and didn't make the most of them. He looked like a future starter in the 2011 preseason. He has potential, but he has to show more of it this summer to keep his job.
Bryce Brown is the player I am most interested in seeing at training camp. He was one of the highest-rated players coming out of high school. He was expected to become a dominant college running back, but gave very little to Tennessee and Kansas State before entering the draft early. He seemed more interested in improving his draft stock than he was at helping his school win football games.
Andy Reid has been spending extra time with Brown at mini-camp. Brown is a 220-pound back who runs a sub 4.4 40. He is a very similar back to Trent Richardson. They are both are bigger backs who run extremely well and catch the ball out of the backfield with ease. Richardson is a much more polished back thanks to his three years at Alabama. If Brown takes to coaching well, he should earn a roster spot based on potential and athletic abilities alone.
Chris Polk was rated as high by some as the third or fourth highest-rated running back in the 2012 NFL draft. So why was he undrafted? He has some serious shoulder injury concerns. It's unclear if the injuries are serious or not. If he is healthy throughout camp and preseason, he should earn a roster spot. He is a really good all-around back. He catches the ball well and is solid in pass protection. He is also a very powerful runner. He was the center of the offense at Washington the past three seasons.
Dion Lewis is still a good running back. He isn't reliable as a third-down back and doesn't catch the ball as well as any of the other Eagles running backs. Lewis has a leg up on the competition. He doesn't have commitment issues and he is healthy. Should be an interesting battle. They way these guys perform this summer could go a long way in determining if the Eagles will run the ball more in 2012.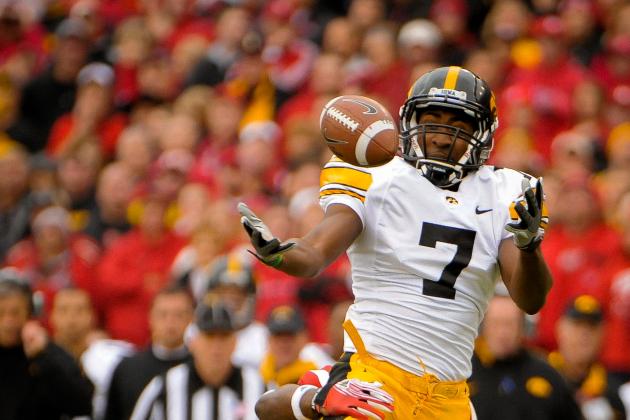 Eric Francis/Getty Images

DeSean Jackson, Jeremy Maclin and Jason Avant are locks as the top three wide receivers. The fourth spot, which could also see more time in the red zone, is up for grabs. This player could also be the key back-up outside receiver as well.
Riley Cooper was that guy last year. He had decent numbers in his second season. He started three games in 2011 and finished the year with 16 receptions for 315 yards and one touchdown.
Cooper had plenty of opportunities last season to earn a bigger role. The Eagles are desperate for a physical red zone target, and he did little to help in that area. He may look like a bigger receiver at 6'3", 220, but his play doesn't back it up. He constantly waits for the ball to come to him and struggles with his timing on jump balls.
This is where Marvin McNutt comes in. The Eagles flat out stole McNutt last April in the sixth round. He is built a lot like Cooper. Same height and about the same build at 6'3", 215. He runs much better than Cooper, and he plays a lot more physical.
This past season at Iowa, McNutt played with an inexperienced quarterback and a carousel at running back while playing in a very conservative offensive scheme. He still put up over 1,200 yards and 12 touchdowns in 2011. He isn't a No. 1 receiver at the next level. He doesn't possess that elite top speed you want in your No. 1. He is a very polished route runner who has good quickness. It will be exciting to see what he can do when he isn't one of the three best players on the field. He will get plenty of one-on-one matchups.
It will be McNutt versus Cooper for that fourth receiver spot. The winner has a chance to make a big impact in the red zone. They both have that body type. It's just a matter of showing at on the field.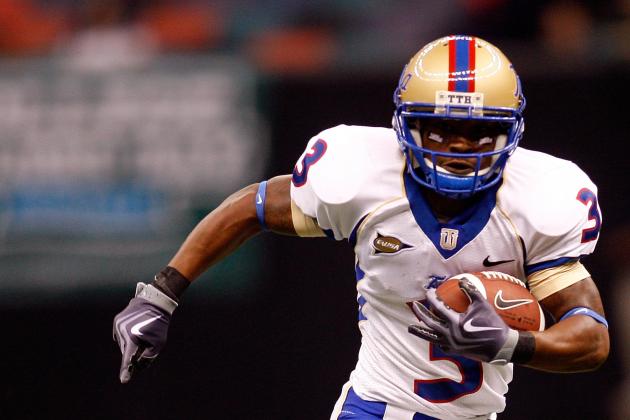 Chris Graythen/Getty Images

The Eagles are a pass-happy team. They always have been under Andy Reid. The fifth wide receiver on the depth chart means more in Philadelphia than it does on other NFL rosters. You also have to consider that DeSean Jackson and Jeremy Maclin both missed starts last season as well, so there is a chance he will get bumped up on the depth chart due to injury at some point.
The player that loses the battle for the fourth wide receiver spot would be the favorite to win this spot, but my dark horse would be Damaris Johnson, an undrafted free agent out of Tulsa. He is an electric wide receiver with good return ability.
Johnson didn't play in 2011 at Tulsa because of his off-the-field issues. In the past two seasons, Johnson had just under 2,000 total receiving yards and over 2,000 yards on kickoffs. He also had 560 rushing yards and seven touchdowns in 2010.
Chad Hall also figures to be a part of the competition for the final wide receiver spot. He has just 14 career receptions for 135 yards in his first two years in the league, both in Philly. He has been used as a receiver, a running back and a returner. He failed to wow anybody in any role.
This spot is more wide open then most people think. If McNutt wins the fourth receiver spot, which he should, then Cooper's spot on the team is in serious jeopardy. A player like Johnson who has good return abilities would have a leg up on someone like Cooper who is just a marginal possession receiver.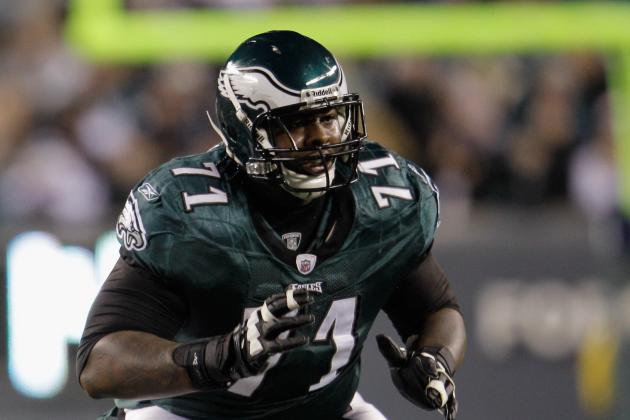 Rob Carr/Getty Images

The Eagles have the best left tackle in football, Jason Peters. It's hard to say if he is a better pass-blocker or run-blocker because he is so great in both areas. He has the athleticism of a tight end to get up field on screens and draws, which is incredible for a 320-pound-plus linemen. He really is the total package at left tackle. He has no weaknesses.
Unfortunately for the Eagles, he ruptured his Achilles last March and is very unlikely to play this season. That leaves a huge gaping hole on the left side of the line.
Demetress Bell was signed as a free agent this spring. He is a gifted athlete who has struggled with his technique and staying healthy for an entire season. When I watched some of his tape from last season, I saw a player that is a much better fit in Howard Mudd's blocking scheme. He isn't as strong as you would like a left tackle to be put he is plenty athletic for the position. His athleticism will be better served under coach Mudd. He won't set back and wait for the pass-rusher as much as he did in Buffalo.
King Dunlap also figures to be a part of the competition at left tackle. He has started at both tackle positions and has done a pretty good job in spot starts. He started for Jason Peters at left tackle in 2010 against the Atlanta Falcons. He was matched up against Jon Abraham, and he shut him out for four quarters.
Having success in a spot start or two is one thing; doing it for an entire season is a whole other animal.
Remember Dimitri Patterson? He took over at cornerback opposite of Asante Samuel in 2010. He had a couple of really good starts before quarterbacks started to figure him out and tore him apart.
Ideally, the Eagles would start Bell at left tackle and keep Dunlap as the key reserve linemen who can play both tackle and guard spots. Bell has to earn that starting role. I love his athleticism. He is your typical Howard Mudd left tackle.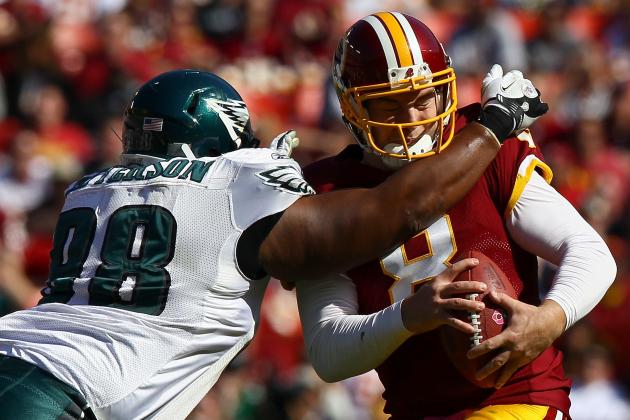 Win McNamee/Getty Images

The starting defensive tackle position is wide open in Philadelphia. More specifically, the nose tackle. The Eagles line up their defensive tackles a little bit different than most 4-3 defenses. In the wide-9 scheme, the Eagles line up one defensive tackle, more like a nose tackle, between the left guard and the center. The other defensive tackle, the under tackle, lines up outside of the right guard, closer to the right tackle.
The starting under tackle for the Eagles will most likely be Cullen Jenkins, with Fletcher Cox seeing close to 45 percent of the snaps. The nose tackle in the wide-9 scheme is up in the air. Mike Patterson, Antonio Dixon, Derek Landri and Cedric Thornton are all battling for two or three spots on the roster.
Dixon is coming of IR after tearing his triceps muscle last season. He has played just four games in the wide-9 last season. He made just four total tackles in those games. It's still unclear if he is a good fit in the wide-9 or not. He is probably more of a run-stuffer than a pass-rusher and maybe a better fit in another 4-3 defense.
Mike Patterson is still a solid starter, but he is also coming off brain surgery. He won't be ready for football activities until training camp. Brian surgery isn't minor surgery; there is no guarantee that he will be the same player in 2012. Other tackles will get an advantage during mini camp while Patterson is on the mend.
Derek Landri belongs on the Eagles roster. He shouldn't be the starter, but he is a very good rotation player in the wide-9. He just had a knack for getting into the backfield.
Cedric Thornton is a total wildcard in camp. He was an undrafted free agent last season and spent the year on the practice squad. Thornton will be gunning for a roster spot. I expect the Eagles to keep five defensive tackles during the season. He would have to beat out either Dixon or Landri unless Patterson isn't the same player following major brain surgery.
One of these players is going to get the boot this summer. I have no idea which player. My gut says Dixon loses out, but it's hard to give up on a player that was so effective in Sean McDermott's just two seasons ago.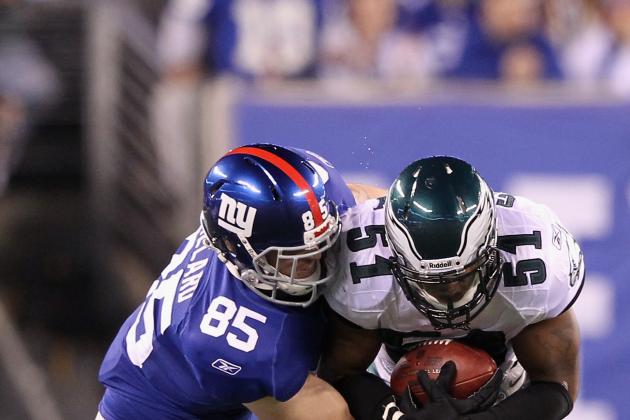 Al Bello/Getty Images

The weak side linebacker position is probably the 12th-most important position on the Eagles defense. Ten other positions will player every down, and the slot corner will probably see more time on the field than the WILL linebacker.
The weak side linebacker will be responsible for covering the running back and helping in run support. They won't see the field on obvious passing downs and any third down that is over four yards to go or more.
Jamar Chaney, Casey Matthews and Brian Rolle are the leading candidates. Either Matthews or Chaney could be moved to middle linebacker to serve as DeMeco Ryans' permanent backup.
Each player adds something a little bit different to the position. Chaney has the most experience and is the best athlete. He looked great in a couple spot starts in 2010, but his play declined greatly in 2011 as a full-time starter. He will either become a really good starting NFL linebacker or he will be out of the league in two years. I don't know which one; I really don't.
Casey Matthews has great instincts. He isn't physical or athletic enough to handle the middle linebacker spot in front of the wide-9 scheme. I love his heart and football I.Q., but I don't know if he has the physical tools to be a starting linebacker. The weak side linebacker spot makes the most sense for Matthews, as he would be able to play in space, but he got burned at that spot last season in a Week 3 loss to the New York Giants. Another year in the NFL may do wonders for him.
Brian Rolle is the safe choice here. He did a a good job last season in 13 starts. He is the shortest starting linebacker, at 5'10", since Sam Mills at was a starting linebacker for the Carolina Panthers in the 90s. The lack of height issue seems to bring out the best in him. He plays with a real chip on his shoulder. If he was six feet tall, he would be a starting linebacker without a doubt.
A lack of height isn't a big deal for a weak side linebacker. It makes him harder to pick up for blockers in traffic, and he will be covering running backs about the same height as him.
This should be the closest position race in training camp.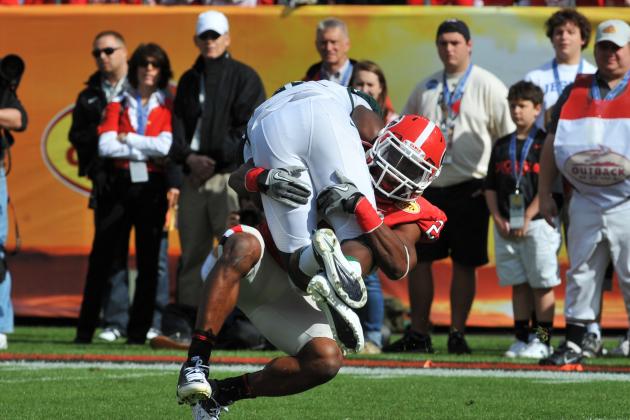 Al Messerschmidt/Getty Images

The slot corner may be the most undervalues position in football. Far too many teams run a majority of their offense in three and four wide receiver sets to not have a solid slot corner. The slot cornerback has become a position of its own. The slot corner isn't the third-best corner on the team; he has the best slot corner on the team.
Teams with mediocre slot corners will get burned by the Wes Welker, Marques Colston and Victor Cruz's of the NFL. All three of those players work primarily out of the slot, and all had at least 1,100 receiving yards and at least eight touchdowns in 2011.
Presently, the Eagles have two solid slot corners, veteran Joselio Hanson and rookie Brandon Boykin. Hanson has been a solid slot corner for a long time, but his play has been declining, and he is in the final year of his current deal. Boykin should challenge Hanson for the slot corner position in camp this summer.
Boykin has a great deal of potential. He played primarily in the slot this past season at Georgia. He is a perfect fit at the position and could give the Eagles a third shutdown corner in a loaded secondary. He has the quickness, physicality and ball skills needed to be great in the slot.
The Eagles could elect to either use both Hanson and Boykin in the slot on dime packages or just cut Hanson altogether. It would take either a pretty stellar camp by Hanson or a lousy one for Boykin for him not to win the slot corner spot. His skills are far to great not to be an immediate impact player right away.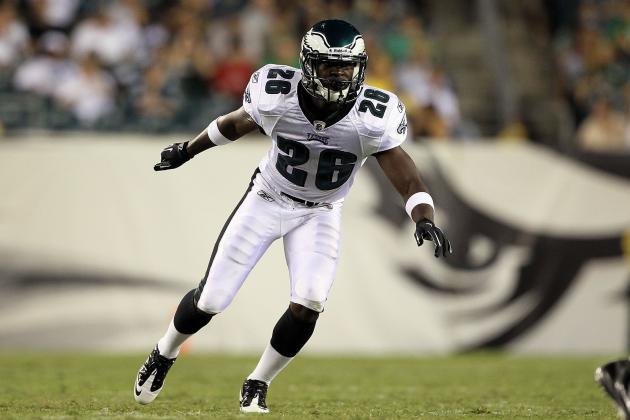 Jim McIsaac/Getty Images

Kurt Coleman is the starting strong safety in Philadelphia, for now. He is a nice defensive player, He isn't a gifted athlete, and he is a tad bit smaller than you would want in a starting safety. Nonetheless, he is a nice starting safety.
Coleman had 78 tackles and four interceptions in 2011, which is pretty solid for a player who lost his starting job at one point in the season. He plays incredibly hard and always is around the football. He struggled in pass coverage at times and is prone to missing tackles in the open field.
This is where Jaiquawn Jarrett comes in. He was really robbed last summer with a very brief offseason program. You can't expect a rookie safety to become an NFL starter in just a few weeks with the team. He has to learn the defense, adjust to the speed of the game and handle everything else that goes along with being an NFL player. That's a lot for a rookie to take on in less than two months.
Jarrett will really push for a starting job this summer. I would be surprised if he didn't eventually earn a starting job at some point this season. He is a very smart football player that plays very physical and has the athleticism to be a really good coverage safety as well.
He was the vocal leader and the best open field tackler in college at Temple. That is exactly the type of player the Eagles crave for their secondary. His progression will be something to watch at Lehigh.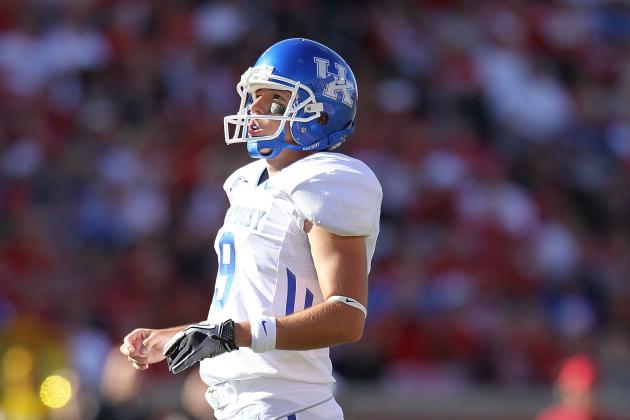 Andy Lyons/Getty Images

Last season, the Eagles made the change at punter from Sav Rocca to Chas Henry. Rocca wasn't a bad punter, but he didn't have a huge leg and struggled to down punts inside the 20. Henry was an undrafted free agent last season who beat out Rocca for the starting punter job.
Henry isn't a bad punter, but he is a risky punter. His approach and technique on his punts take far too long. The NFL is too fast of a league to have an nonathletic punter with a slow release.
Henry averaged 42.9 yard per punt and downed 19 of his 66 punts inside the 20. He finished 28th in yards per punt and 25th in punts downed inside the 20 (both ranked below Rocca). Combine low rankings with a slow delivery, and you have a very replaceable punter.
The Eagles didn't draft any punters, but they did signed an undrafted prospect, Ryan Tydlacka out of Kentucky. Tydlacka averaged 43.6 yards per punt in 2011, less than a yard than Jacksonville Jaguars third-round draft pick, Bryan Anger.
Tydlacka had 19 of his punts 73 punts downed inside the 20 and also had 20 more punts booted over 50 yards. It's unclear if he has better accuracy or a bigger leg than Chas Henry, but he will certainly get his chance in training camp this summer, just like Henry got last year at Lehigh.