Why the Seattle Seahawks Are the Perfect Fit for HBO's Hard Knocks
May 15, 2012

Otto Greule Jr/Getty Images
HBO's incredibly popular Hard Knocks series suddenly can't buy interest.
It's not that nobody wants to watch. No NFL team wants to put itself under the searing gaze of dozens of all-access HD cameras, nor have their uncensored locker-room words live forever.
The last season of Hard Knocks followed the New York Jets' run to the AFC Championship Game, and the never-ending stream of hilariousness that is Rex Ryan, their, uh, boisterous head coach. It was great football and great entertainment.
They're a hard act to follow.
Bleacher Report columnist Chris Trapasso came up with the anatomy of a perfect Hard Knocks team, and I liked his criteria. I've found a franchise that misses on a couple of points, but are a perfect fit on the rest. I'm talking about the Seattle Seahawks.
Star Players
Okay, the Seahawks don't really have any star players. In fact, casual NFL fans likely couldn't name five starters on the Seahawks roster. Nike thinks the Seahawk with the most star power is Kam Chancellor.
Potential Holdouts
Seattle has already signed everybody. No potential holdouts.
Veteran-Laden Locker Room
Look, this makes 0-for-3 and that's a strikeout—but stick with me here.
Potential for Success
There is potential for success. There is potential for great success.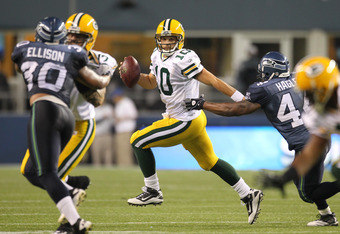 Otto Greule Jr/Getty Images
Though the San Francisco 49ers ran roughshod over the NFC West, the Seahawks finished one game behind the 8-8 Arizona Cardinals. Given the Rams' 2-14 implosion and likely rebuilding year, the 'Hawks only have to improve a little to be in contention for a Wild Card spot.
Given (presumptively) a big upgrade at quarterback in former Green Bay Packers quarterback Matt Flynn, plus an extremely deep draft class that addressed many needs, the potential is there for the Seahawks to improve much more than a little.
A Club Looking For More Notoriety
Nike recently took over as the uniform supplier to all 32 NFL teams. Only one requested a full redesign and rebrand, with all the Nike bells and whistles: Seattle.
Let's face it, the Seahawks are an anonymous team. They have no stars (see above), they finished an anonymous 7-9 in 2011, they traded down out of each of their first two picks. They're a team with no buzz, at all, whatsoever.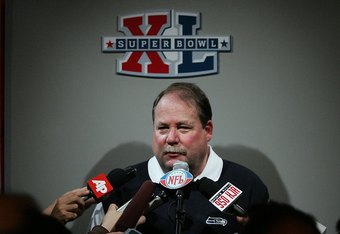 Harry How/Getty Images
Of course, it doesn't help that they're Seattle: the most geographically isolated NFL team. The notorious East Coast bias works against them—as does their 2002 shift from the AFC to the NFC, which shattered their traditional rivalries.
Former head coach and GM Mike Holmgren got the Seahawks to Super Bowl XL, but after that gut-wrenching loss, the stars who got them there departed—and after one disastrous 4-12 year, Holmgren did too.
Since then, the Seahawks have been searching for an identity—and yes, a little bit of notoriety. Their willingness to be Nike's guinea pig got them an hour of exclusive airtime when the entire NFL-watching world was fixated on the new uniforms. People were talking about the Seahawks again, even if only to mock the busy-looking duds.
Hard Knocks would not only get people familiar with the unassuming-but-solid young talent Pete Carroll has put together, but get them invested in the payoff on his labors, as well.
The Right Coach
Pete Carroll is no Rex Ryan. In fact, if anything he's Ryan's opposite: handsome, trim, dignified. Carroll was the face, voice and unquestioned leader of one of the greatest college football programs of the last 50 years.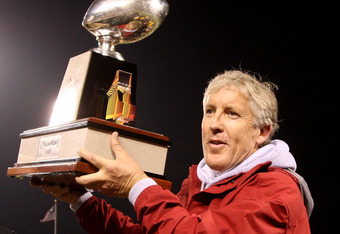 Jed Jacobsohn/Getty Images
Carroll took over USC in 2001, after the once-mighty program had spent a decade or so excruciatingly hitting the skids. Worse, both NFL teams left L.A. just six years before, making USC and its cross-town rival, UCLA, the only football to be had in the second-biggest city in the American football world.
Carroll led the Trojans to 97 wins in 116, turning USC into a perennial national title contender and the program into a magnet for elite recruits and celebrity fans nationwide. Through it all, he handled the pressure of maintaining that success (and, occasionally, falling short of the expectations it set) with grace, class and aplomb.
So Carroll is a big-time coach who knows how to handle himself in front of a camera. Better, as his work with the inner-city kids near USC's campus shows, he knows how to handle himself when the cameras aren't looking.
Carroll should not only be okay with the Hard Knocks attention, he should welcome it.
And if you think he can't be funny, check out this prank he pulled on USC DE Everson Griffen:
The Seattle Seahawks might not be the kind of team the HBO staff wants: They won't draw their own audience; they don't have any star power; they don't have any buzz; and they have little hope of keeping up with the division champion 49ers.
But they just might be exactly the team the HBO staff needs: a young, hungry team with a lot of potential, a lot of stories yet to be told, a desperate need for attention, and a media-savvy coach who knows how to handle it—and draw some of his own.