San Francisco 49ers: Why LaMichael James Is Destined to Succeed
May 14, 2012

Thearon W. Henderson/Getty Images
Although LaMichael James won't be carrying the ball 300 times like he did for the Oregon Ducks, he should be a key part of the San Francisco 49ers offense in 2012.
Drafted 61st overall, James was one of the best running backs in college football over the last three years.
After getting the starting job as a freshmen, the 5'8" speedster went on to rush for 1,546 yards and 14 TD. In his sophomore campaign, James went for 1,731 yards and 21 TD. That year he was a Heisman Trophy finalist, even though he missed one game with a suspension.
In 2011, he returned and led the Ducks to their first Rose Bowl win in 95 years. Despite missing two games due to injury, James racked up four separate 200-yard games, on his way to over 1,800 yards and 18 scores.
After three years at Oregon, James goes down as one the best Pac-12 running backs of all time. If he returned for his senior season, he probably would have broken the Pac-12 rushing record and the NCAA record held by Ron Dayne.
As impressive as James' collegiate career was, how will his skills transfer to the fast-paced environment of the NFL? His speed does present problems for defenses, but will his small frame be able to withstand the punishment of the NFL?
San Francisco 49ers head coach Jim Harbaugh seems to think so. In a press conference in late April, Harbaugh talked extensively about James and his role with the 49ers via Tim Kawakami of the San Jose Mercury News.  
I don't think that he'll be limited to just a third-down back. Then you have to take into consideration fourth down, too.This is somebody who has a chance to evolve into a punt returner, a kick-off returner, he's got to work on his hands in those situations, returning punts. And that may be X amount of time before he's really ready to do that. We've got a pretty good darn returner in Ted Ginn as it is now. But that will definitely create a possibility down the road for us. He's proven that he's a multi-down back, in our eyes..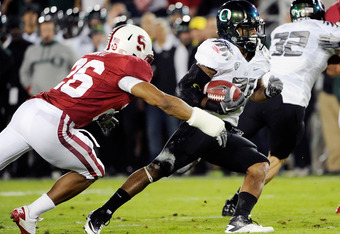 Thearon W. Henderson/Getty Images
Coaching at Stanford, Harbaugh saw James twice, and is aware of what James could bring to the 49ers offense. In his two games against the Cardinal while Harbaugh was coaching, James rushed for 382 yards and four touchdowns.
With three running backs ahead of him on the depth chart, James has a lot to prove before he gets major playing time. His versatility and speed will allow the 49ers to create mismatches. 
Despite his lack of size, James offers a skill set that has become more popular in the NFL. Think Darren Sproles. 
Like Sproles, James was a stud in college, but he may not be an every-down back. Yet, because of his speed, he is a major weapon on the field. 
Last year, Sproles rushed for 603 yards on just 87 carries. For everyone doing the math at home, that's 6.9 yards per carry. He also caught 86 balls for 710 yards and seven touchdowns, while returning punts and kicks.
Sproles, however, plays for the New Orleans Saints, one of the most prolific offenses in the NFL, with the record-setting Drew Brees at quarterback.
That being said, Sproles demonstrated that an undersized running back with speed can be a integral part of an offense in the NFL.
The 49ers are hoping James can do the same, and based on his results at Oregon, there is no reason why he can't succeed. 
So what does the future hold for James and the 49ers? Obviously, with his "home run" ability, the 49ers will try to get the ball in his hands, with a chance to score.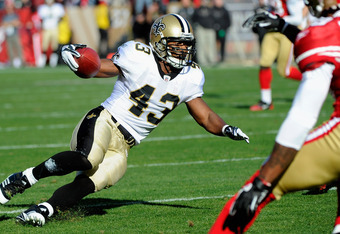 Thearon W. Henderson/Getty Images
Although James didn't catch the ball out of the backfield much at Oregon, look for the 49ers to get him into open space on some quick screens or check-downs.
Since the 49ers have running backs Frank Gore, Brandon Jacobs and Kendall Hunter already on the roster, the pressure is off James to carry the load on the ground. He will be able to find his role in the offense, even if that means returning kicks or playing special teams.
With the extra talent on offense this year, look for the 49ers to open up the playbook, and don't be surprised if James is part of the offensive resurgence.