NBA Playoffs 2012: 5 Reasons Why Memphis Grizzlies Lost Series to Clippers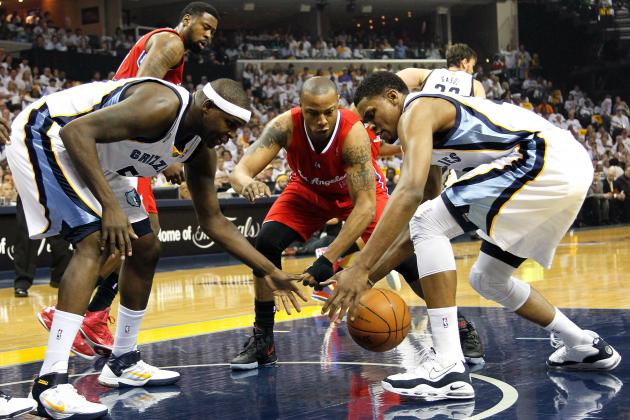 Kevin C. Cox/Getty Images

The Memphis Grizzlies' season came to a sudden end on Sunday as the Grizzlies ran out of steam in their Game 7 loss, falling to the Los Angeles Clippers, 82-72. Rudy Gay and the Grizzlies looked terrific as they rallied from a 3-1 deficit, but the Clippers looked in Game 7 like they stole the grit and grind that had characterized the Grizzlies.
While Marc Gasol put forth a valiant effort on both ends to help rally the home team, the Clippers took advantage of major mistakes by the Grizzlies. Los Angeles realized it could turn Memphis' high-energy play into sloppy play. O.J. Mayo didn't do anything for his free-agent stock after Game 3 by shooting horribly through most of the remaining games.
Following is a list of the key things that tore the Grizzlies from the comeback series win for which they had hoped.
Begin Slideshow

»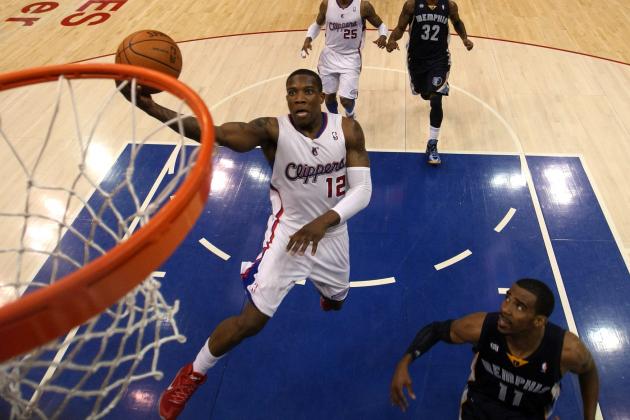 Stephen Dunn/Getty Images

When the series was on the line on Sunday, the Clippers played smarter than the Grizzlies. They took better shots, resulting in a field-goal percentage that was 6 percent higher than that of the Grizzlies (38.5 percent to 32.5 percent).
They attacked Tony Allen and Hamed Haddadi. Knowing that Haddadi is slow and doesn't move his feet well, they drove at him, drawing fouls on three occasions. Also, the Clippers took advantage of a bad pass by Haddadi for a quick three-pointer.
They dared Allen to take shots, and Allen fell flat, going 3-of-8, missing all three jumpers. The Clippers charged at Allen with around 2:15 left, forcing him to start Memphis' desperation fouling early and getting him to foul out.
Also, the Clippers were clever to mirror the Grizzlies' foul strategy at the end of the game. The Grizzlies were an above average foul-shooting team in the regular season (75.9 percent, 13th in the NBA). Only Allen and Mike Conley shot 80 percent or better at the line. Allen was fouled out, so he couldn't take free-throw shots.
L.A. avoided fouling Conley, and went after O.J. Mayo, Marc Gasol and Quincy Pondexter, none of whom are impressive foul shooters. Each of them spit his pair of free throws.
The foul strategy helped stunt any comeback attempt the Grizzlies had in mind.
By playing smarter and more in control, the Clippers were able to run the show in the decisive game.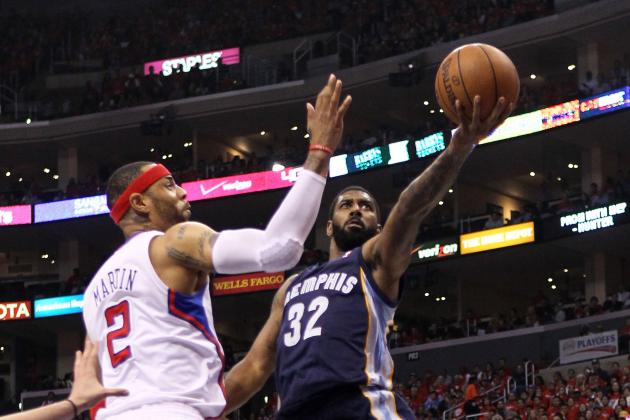 Stephen Dunn/Getty Images

If O.J. Mayo wanted to secure a big contract for himself in free agency, he didn't impress any possible suitors with his performance in this series. He shot 27.9 percent (17-of-61) from the field in the seven games.
After Game 2, Mayo could hardly hit a shot. He shot worse than 20 percent from the field in four of the last five games. In Game 7, Mayo tried to shoot himself to relevance, but hit only one of 11 field-goal attempts.
Mayo sometimes takes a high number of shots to score an impressive amount, but taking an average of one shot for every two minutes of play didn't do anything for him or the Grizzlies.
In Games 5 and 6, Lionel Hollins saved Mayo from himself, holding him to 14 and 18 minutes, respectively.
Perhaps Hollins could have plugged the ineffective shooting by keeping Mayo under 20 minutes in Game 7.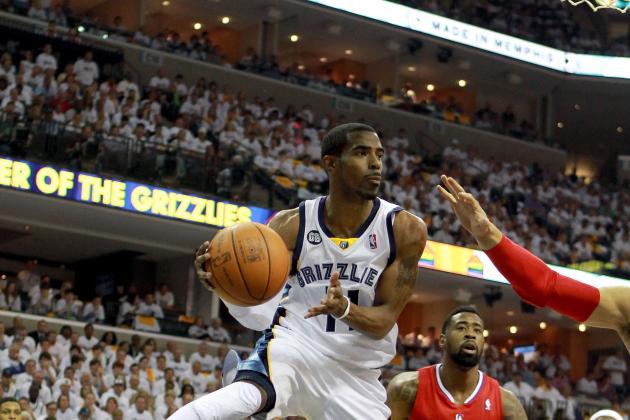 Andy Lyons/Getty Images

The Grizzlies were anything but sure-handed this series. They committed 14.4 turnovers per game. In three games, they committed 16 or more turnovers. In losing Games 3 and 4, the Grizzlies coughed up 17 and 16 turnovers, respectively. In Game 6, they managed to survive their 20 turnovers.
Even more than just turnovers, the Grizzlies generally played sloppy. Indeed, that caused many of the turnovers. Still, their offense was a clusterbomb. Often, they rushed shots and made silly passes. Sometimes the ball bounced around the Grizzlies' half of the court like a pinball, lacking direction or aim.
In Games 5 and 6, the Grizzlies came out with lucky bounces on a few possessions, but didn't get those bounces in Game 7.
A team must be more than lucky to win. That team needs to be in control, and the Grizzlies weren't.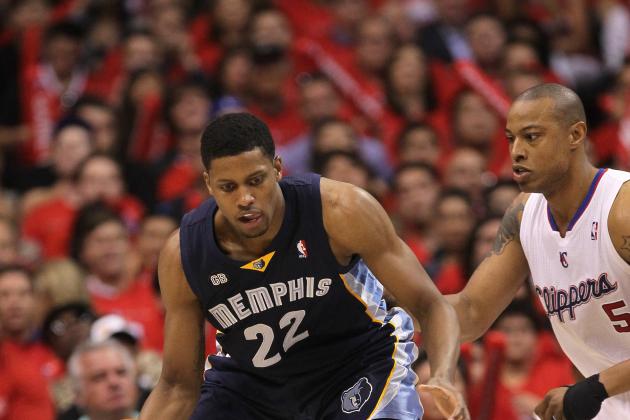 Stephen Dunn/Getty Images

Fortunately for Rudy Gay, he doesn't have a high enough star to be labeled as one who can't deliver in the clutch. He didn't deliver when needed in the losses in this series. Gay missed game-ending shots in Games 1 and 3. In Game 1, Gay would have been alright to pass on taking the last shot.
With the various looks the Grizzlies had on that play, he could have passed it to Marc Gasol, among others. Giving it to Gasol would have given them an easier chance to hit the game-winner.
The same was true in Game 3. Mike Conley rotated it to Gay, and Gay stepped back and took an unconscionable three-point shot, even though the Grizzlies just needed a two-pointer to win it. Also, Gay could have deferred to Gasol, who was standing open at the top of the key.
Game 4 saw Gay try to do too much on offense. He took 25 field-goal attempts—way too many for an balanced shooting team like the Grizzlies—and made only eight.
In Game 7, Gay did well shooting the ball (7-of-15 FG, 19 points), but turned the ball over four times. He had the ball picked away by Mo Williams during the Clippers' decisive 9-2 fourth-quarter run.
Gay might not be a star that his team looks to for vital energy in the clutch, but he is Memphis' leading shooter and main ball-handler. He would have served his team much better by playing smarter in this series.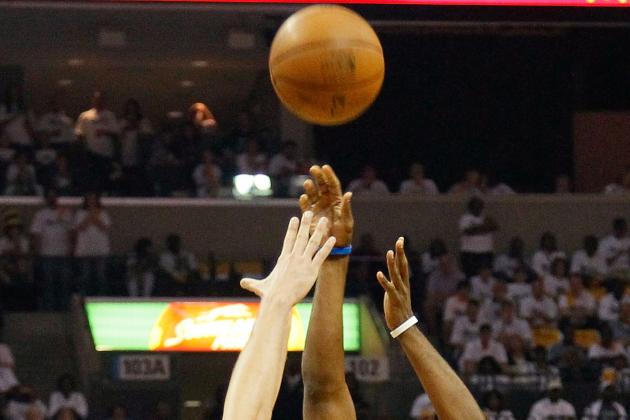 Kevin C. Cox/Getty Images

Chris Paul was too good for the Clippers when it all came to a head in this series.
He was rock-steady in the first four games, averaging 22.5 points, 8.8 assists, 2.5 steals and five rebounds per game. In Game 1, he keyed the Clippers' fourth-quarter comeback with six assists. In Game 2, he dropped 29 points, hitting 10 of 17 shots.
Even after straining his right hip flexor in Game 5, Paul went strong in the last two games. In Game 6, he fouled out, but not before collecting seven assists and three steals. In Game 7, he had 19 points and nine rebounds, putting forth his second nine-rebound game of the series.
Paul did an excellent job facilitating the Clippers offense, and the Grizzlies did little to stop it.