NBA Free Agency 2012: 7 Former All-Stars Who Should Take a Pay Cut to Join Heat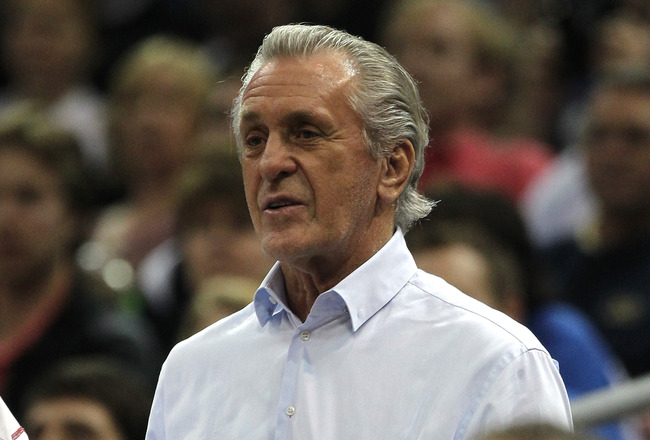 Jonathan Daniel/Getty Images
Summer is coming, which means the Heat will be trolling for stars to stuff onto the USS Larry O'Brien. This two-year roster tweak will most likely continue until the day championships merely fall into their collective lap; there is no such thing as 'too easy.' So what kind of potential haul can the Heat expect?
With the budget they currently have the best they can offer is a mid-level exception, which means whomever hops aboard will likely be doing so at discount rate. In this vein, there will always be an incentive for over-the-hill stars without a title to join a contending team in order to make one last push at that elusive ring.
Please bear in mind: Jason Kidd, Tim Duncan, Ray Allen and Kevin Garnett are free agents this summer, but this list will assume that, having each been crowned champion already, they don't need to lower themselves to ring-chasing in South Beach.
Vince Carter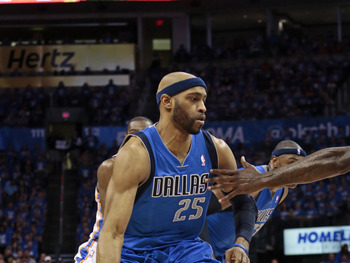 Brett Deering/Getty Images
The athlete formerly known as Vinsanity has never been much of a tryer. He's always preferred to get by—back when that was an option—on eye-catching highlight reel fodder and once boasted a fanbase made up largely of people who place more importance on fireworks than substance. When things stopped being easy for him, he never quite knew what to do with himself...
Vince Carter and the Miami Heat were made for each other.
Carter's usefulness is nearing its end, but that might not stop Miami from gambling on his name brand. If Carter wants to win a championship before fading into the well-deserved role of full-on has-been, he had best understand the widening gap between the player he is and the player he was, and take the veteran's minimum.
Steve Nash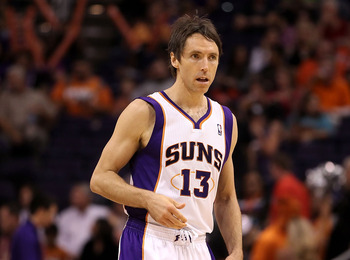 Christian Petersen/Getty Images
I'm reluctant to have Nash on this list for a variety of reasons.
First, he's technically not a former All-Star yet...
Secondly—and this is purely subjective—there's a certain competitive honor in Nash's career path that completely clashes with Miami's culture of easy-bake success.
On the one hand, you've got a team full of guys notorious for giving up on their teams to go ring-hogging in the prime of their careers. On the other, you've got a guy who chose to stay with a struggling team well into his twilight years. To see these guys team up would be like watching Luke Skywalker convert to the dark side, and yet Nash has earned the right to chase a ring with his years of loyalty and dedication.
It's an interesting paradox. For many, the question is which is the greater injustice: LeBron James winning a fistful of cheap rings, or Steve Nash never winning one at all?
Kenyon Martin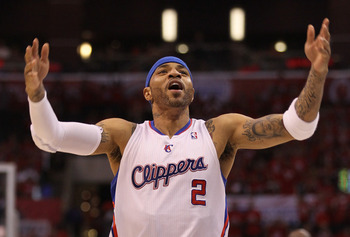 Stephen Dunn/Getty Images
Kenyon Martin is another guy whose athleticism is all but history, and nobody would mistake him for a guy in his prime. Meanwhile, he would have some bargaining power in terms of selling his services to the Heat. After all, Miami would presumably love to have a power forward who isn't 75 percent marshmallow.
The real question is whether Martin wants to leave the rather sweet deal he's got in Clip-town, but if his thirst for a title is anything like LeBron's he'd gladly trade in a realistic shot (which he has now) for a guaranteed ring (which Miami can offer).
Unlike LeBron, he has no particular legacy to throw away in the process, so money would be the only obstacle.
Antawn Jamison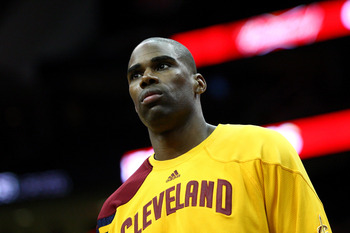 Chris Chambers/Getty Images
Antawn Jamison already has history as a roster band-aid to make LeBron James happy, so why not give him an encore? His game resembles Chris Bosh's in that he can't be counted on to do too much in the post, but he can stretch the defense with his range (which extends to the three-point line).
Still, Jamison has not aged very gracefully. His effectiveness suffered mightily the last time he played alongside LBJ—a pattern that Heat fans no doubt refuse to acknowledge—and hasn't exactly recovered since. Jamison doesn't have a lot of leverage with which to bargain his way onto the Heat beyond his multi-faceted (albeit fading) offense.
The lack of demand for a poor man's Chris Bosh (past his prime, no less) would drive Jamison's price down quite a bit, but the Heat probably wouldn't mind adding a new cog to their inside-out game. As with all their pursuits, however, they're not prepared to have it to hurt too much—in this case, their wallets.
Grant Hill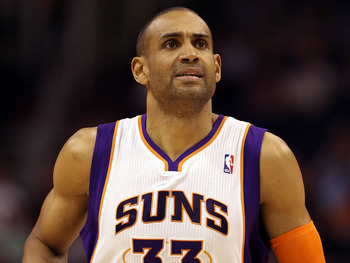 Christian Petersen/Getty Images
Much like his aforementioned teammate, Grant Hill is another class act (a dying breed) who's toiled for his entire storied career—inury-related hiatus notwithstanding—without winning a ring. Despite his uncannily ageless play, there's no getting around the fact that he's pushing 40, and he's going to hang it up sooner or later.
Not that Miami is in desperate need of yet another versatile wing player, but if Hill can price his services low enough, the Heat would gladly add a guy as versatile and team-oriented as himself.
Once again, however, this would mark a complete heel turn on the part of one of the NBA's more sympathetic players. Whether or not Hill is willing to mortgage fan support towards easy success is another question altogether.
Chris Kaman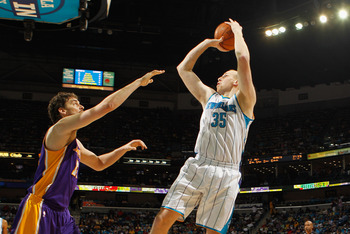 Chris Graythen/Getty Images
This one would make the most sense for both parties. Kaman is looking for a stable home—which he probably won't find in New Orleans—and the Heat are looking for absolutely anyone who can solidify the scrapyard they call a center rotation.
Kaman is the most reputable of all the entries on this list, and though his All-Star status is a thing of the past, he's the only one still in his prime. He's a go-to scorer in the back-to-the-basket mold, and the Heat would jump at the chance to add that to their offense as long as they can make ends meet financially.
The question facing Kaman is two-fold: First, is he prepared to take such a massive pay cut in his prime earning years, and secondly, is he prepared to assume the label of shameless ring-chaser with so many good years left in the tank? If the answer is yes, then this could be the move that sticks a fork in every NBA team north of Miami for years to come.
Elton Brand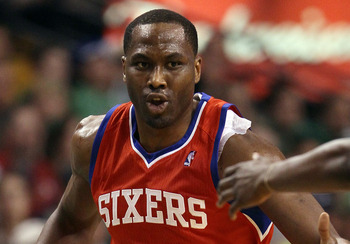 Elsa/Getty Images
Depending on how tired Elton Brand is of toiling away with nothing to show for it, he might be amenable to playing in South Beach for a decreased salary.
Brand may no longer be the player he was in his earlier years, but even on his worst night he's still a mid-level performer. As far as Miami, they would no doubt be ecstatic to (finally) have a guy capable of playing like a real power forward—read: post scoring, tough rebounding, competent defense... although he won't do wonders for Miami's spacing.
Also, given Erik Spoelstra's documented propensity to play the 4 at the 5, Brand could make one of the best undersized centers in the East. He'd have to practically give his services away, but as always, the payoff would be at trip on the Easy Street train to a championship, if not several.
Keep Reading

Miami Heat: Like this team?