76ers vs. Celtics: Paul Pierce, Andre Iguodala and the Matchups That Matter
May 11, 2012
Elsa/Getty Images
After a hard-fought, physical series against the Atlanta Hawks, the Boston Celtics turn their attention to a familiar Atlantic Division foe in the Philadelphia 76ers.
Game 1 tips Saturday at 8 EST on TNT and will feature the continuation of a season series that saw the Sixers win two of three meetings. Considered perhaps the fiercest and most longstanding rivalry in basketball, the Celtics own a 10 to four series advantage dating back to the 1957-58 season.
For their part, a reinvigorated 76ers franchise hopes to advance beyond the second round, where they find themselves for the first time since 2003. A playoff-tested but injury-ridden Celtics squad stands in their way, hoping for a return to the Conference Finals after last year's ouster at the hands of the Miami Heat.
This figures to be a defensively focused series, with each team averaging just over 89 points allowed per game through the regular season.
In fact, each team ranks among the top three in the NBA in opponents' points per game, opponents' made shots per game, and opponents' field goal percentage. Simply put, the Celtics and the Sixers both love to play defense and slow the game down, and we'll almost certainly see that happen on Saturday and throughout next week.
Given the likelihood of a low-scoring affair, points will be at a premium. Here, we'll break down the two most closely contested individual matchups of the series as well as identify the ways in which these teams can exploit their more obvious advantages in the series.
Disagree? Have something to add? Share it below in the comments.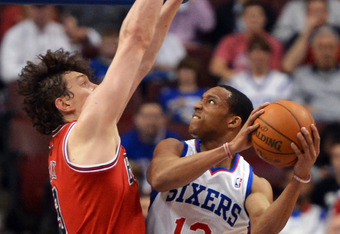 Drew Hallowell/Getty Images
Avery Bradley and Evan Turner
Bradley and Turner are a pair of young athletic guards each currently starting at the 2.
Bradley's calling card is without a doubt his pesky perimeter defense, while Turner has a more developed offensive touch that incorporates a solid mid-range game with excellent athleticism around the rim. Bradley has struggled on offense at times this year—and at no time more so than Round 1—but has shown a proficient mid-range shot off the dribble, an inconsistent but developing spot up perimeter game and excellent weak side cutting instincts.
Turner's size (6'7") could pose a problem for the smaller Bradley, and his struggles to check the much taller Joe Johnson in Round 1 could signal another tough series for the second year player.
Look for Bradley to struggle when Turner sets up in the mid-post or lowers his shoulder and drives to the rim. Kevin Garnett's Game 6 block party (5) against the Hawks won't be enough to discourage a Philadelphia team that much prefers to get its buckets in the lane.
Andre Iguodala and Paul Pierce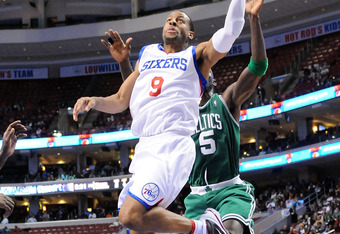 Chris Chambers/Getty Images
On the other side of the floor, we'll see a battle between Boston's "professional scorer" Paul Pierce and Philly's perimeter defender extraordinaire, Andre Iguodala.
Pierce has been hobbled with an MCL sprain since Game 4 of the first round, and after playing 40 tough minutes on Thursday night, will likely not be at full strength. Any diminished effectiveness will certainly hurt Boston, as Pierce's monster Game 3 put Boston in the Round 1 driver's seat.
Iguodala has shown that he can handle even a healthy No. 34, holding Pierce to 16, 20 and 17 points in three meetings this year. If Pierce is healthy—which seems like a dicey proposition at this point—the Celtics will need him to take more than the 12 shots per game he averaged against the Sixers in the regular season.
Everyone Else
Rajon Rondo, Boston's sullen floor general, will have to summon some of his big game magic and thoroughly dominate the Sixers' serviceable but much less talented Jrue Holiday to give the C's an offensive lift.
Big contributions from Kevin Garnett, who will go against a combination of Spencer Hawes and Elton Brand, will also be necessary if the Celtics hope to prevail.
For Philadelphia, Lou Williams' effectiveness in creating his own shot against a stingy Boston defense will be key, as without a prototypical go-to scorer, the Sixers could find themselves in trouble late in the game.
The status of Ray Allen's ankle will continue to preoccupy the Beantown faithful, as will Mickael Pietrus' current shooting slump.
Both teams are gearing up for what should be a grinding, closely contested series. Fans of gritty defensive basketball shouldn't miss this one.